Thai Sticky Drumsticks Recipe | Food Diaries | Chef Zarnak Sidhwa | Thai Food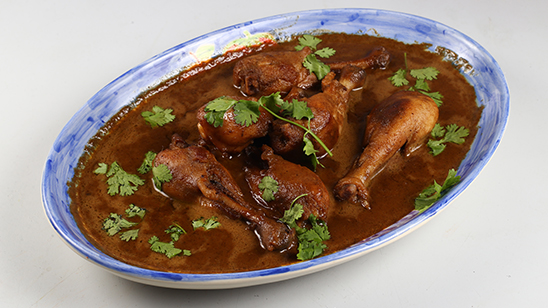 Sep 28, 2023 at 04:12 AM (GMT -04:00)

Check out the Thai Sticky Drumsticks Recipe in Urdu. Learn how to make best Thai Sticky Drumsticks Recipe , cooking at its finest by chef Zarnak Sidhwa at Masala TV show Food Diaries. Check all the Pakistan Cooking recipes in Urdu of Masala TV. Also Check Thai Sticky Drumsticks Recipe , ingredients and complete Method.
Thai Sticky Drumsticks taste so good, it will sweep you off your feet. Try these over the weekend.
Watch this Masala TV video to learn how to make Thai Sticky Drumsticks , Date and Cocoa Smoothie and Lemon Almond Swiss Roll Recipes. This show of Food Diaries with Chef Zarnak Sidhwa aired on 20 July 2021.
Ingredients:
Chicken drumsticks 6
Coconut cream 400gm
Thai green curry paste 1-2 tbsp
Lemon zest and juice 1
Honey 3 tbsp
Method:
Mix the coconut cream, curry paste, lemon zest and juice and 1 tbsp honey together, then remove a little of the marinade into another bowl and set aside. Add the chicken to the large bowl and leave to marinate for at least 2 hours or preferably overnight. Arrange the chicken on a baking tray, and bake at 200 degrees C for 30 minutes, turning the chicken over halfway through. Mix the remaining honey into the reserved small bowl of marinade. Brush half of this over the chicken, then return to the oven for 10 minutes more. Serve with a salad once done.
Ingredients:
Frozen bananas 2
Cocoa powder 3 tbsp
Pitted dates 1/4 cup
Yogurt 3/4 cup
Coconut milk 1/2 cup
husk 2 tbsp
Peanut butter 2 tbsp
Ice cubes 1 cup
Method:
Add frozen banana to the blender along with the cocoa powder, chopped dates, yogurt, coconut milk, husk, peanut butter and ice cubes. Blend until smooth. Pour into 2 tall glasses and serve immediately.
Ingredients for Sponge Roll:
Eggs 4
Caster sugar 3/4 cup
Oil 1 tbsp
Milk 2 tbsp
Lemon essence 1 tsp
Flour 1 cup
Baking powder 1 tsp
Salt 1/2 tsp
Lemon yellow food color a pinch
Icing sugar 1/2 cup
For Filling and Frosting:
Cream cheese 8 oz
Unsalted butter 1/2 cup
Icing sugar 4 cups
Vanilla essence 1 tsp
Other ingredients:
Milk or sugar syrup as required (to brush)
Fresh mint leaves to decorate
Almonds to decorate
Lemon slices to decorate
Method:
Grease a 10×15" Swiss roll pan and line with parchment paper. Beat eggs for exactly 5 minutes in a stand mixer with a whisk attachment. Slowly add caster sugar and oil. Next add milk and lemon essence. Switch the whisk attachment for the paddle attachment. Sift in flour, baking powder and salt. Mix until well combined. Mix in food coloring a little at a time until a bright yellow color is achieved. Pour batter into the prepared pan and tilt pan to distribute batter evenly. Bake at 180 degrees C for 7-10 minutes. Cake is done when it springs back when pressed with fingers. On a work surface, sprinkle a large cotton tea towel with the icing sugar and immediately turn the cake onto the tea towel without delay. Peel off paper and immediately roll cake into the tea towel, beginning at the narrow end. Roll tightly and as evenly as possible. Do not wait for roll to cool. It will crack then. Place rolled cake on a wire rack seam-side down and let cool completely. Meanwhile prepare the frosting by beating the cream cheese and butter. Add icing sugar and vanilla essence. Beat until a thick frosting forms. If needed, beat in more icing sugar. Transfer 1/4 of the frosting to a piping bag fitted with a large French pastry tube. Unroll the cooled cake and cover with the frosting. Roll the cake up tightly, and then roll the cake into a sheet of plastic wrap; refrigerate until firm, about 1 hour. Remove the chilled cake from the plastic wrap to a serving plate. Brush generously with milk or sugar syrup. Pipe a line of frosting down the top center of the cake. Decorate with lemon slices, almonds, mint leaves and serve immediately.

Thai Sticky Drumsticks Recipe in Urdu and English
At Masala TV you can check complete Thai Sticky Drumsticks Recipe in Urdu and English. This is one of the best recipes by chef Zarnak Sidhwa at Masala TV show Food Diaries. Check out the other best recipes of chefs Zarnak Sidhwa.
Top relevant recipes of Thai Sticky Drumsticks Recipe in Urdu