Korean Sticky Wings Recipe | Food Diaries | Zarnak Sidhwa | Korean Food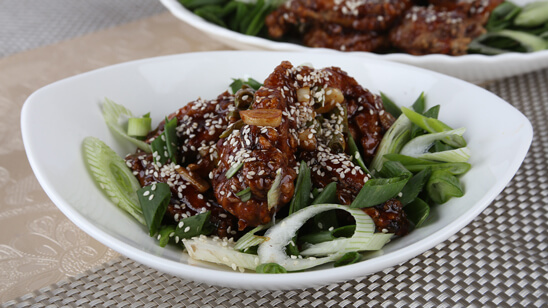 Sep 25, 2023 at 04:32 PM (GMT -04:00)

Check out the Korean Sticky Wings Recipe in Urdu. Learn how to make best Korean Sticky Wings Recipe , cooking at its finest by chef Zarnak Sidhwa at Masala TV show Food Diaries. Check all the Pakistan Cooking recipes in Urdu of Masala TV. Also Check Korean Sticky Wings Recipe , ingredients and complete Method.
Korean Sticky Wings are saucy, tangy and scrumptious. These are crispy on the outside and each bite is a burst of flavor!
Watch this Masala TV video to learn how to make Korean Sticky Wings and Tunnel of fudge cake Recipes. This show of Food Diaries with Chef Zarnak Sidhwa aired on 25 January 2021.
Ingredients :
Chicken wings ½ kg
Oil deep fry
Marination:
Ginger garlic paste 1 tsp
Black pepper 1/2 tsp
Soya sauce 1 tsp
Egg 1/2
Coating:
Flour 1/2 cup
Rice powder 1/2 cup
Salt and pepper as required
For sauce:
Tomato sauce 2 tbsp
Oyster sauce 2 tbsp
Dark soya sauce 1 tbsp
Vinegar 1 tbsp
Maple syrup 1tbsp
Red chili powder or paprika 1- ½ tbsp
Tempering and garnishing:
Garlic 8-10 cloves
Green chilies 6
Spring onions 2
White sesame seeds 1 tsp
Oil 1tsp
Method:
Marinate with chicken wings with ginger garlic paste, black pepper, soya sauce, egg and set aside for an hour at least. Mix flour with rice flour, salt and pepper. Dip the marinated chicken wings one by one in the flour, dust off the excess and keep aside. Heat oil and deep fry the wings till crispy. Drain on a paper towel to soak excess oil. In a pan heat oil and add the chopped garlic and fry till a nice aroma comes, add the green chilies and spring onions. Add the tomato, oyster and soya sauces and sauté. Add vinegar, maple syrup, paprika. When the sauce turns a little sticky, add the chicken wings. Make sure each wing is coated with the sauce. Serve hot garnished with sesame seeds and spring onions.
Ingredients:
For the pan :
Cocoa powder 1 tbsp
unsalted butter, melted 1 tbsp.
Cake :
Boiling water 1/2 cup
Chocolate, chopped 2 oz
Flour 2 cups
Cocoa powder 3/4 cup
Icing sugar 2 cups
Salt 1 tsp
Eggs 5
Vanilla essence 1 tbsp
Caster sugar 1 cup
Brown sugar 3/4 cup
Unsalted butter 1-1/2 cups
For glaze:
Cream 3/4 cup
Light corn syrup 1/4 cup
Chocolate, chopped 8 oz
Vanilla essence 1/2 tsp
Method:
Mix cocoa powder and melted butter. Using a pastry brush, evenly coat the inside of a bundt pan. In a bowl, pour the boiling water over the chopped chocolate. Let stand 1 minute; whisk until smooth. Mix the flour, cocoa powder, icing sugar and salt. Mix eggs and vanilla, combine the caster sugar, brown sugar, and butter. Beat until light and fluffy. Add all the ingredients until combined. Spread the batter into the prepared pan. Bake at 180 degrees c for about 45 minutes or until the edges of the cake begin to pull away from the pan. Allow the cake to cool in the pan on a wire rack for an hour. The cake will begin to sink, that is the tunnel of fudge. Invert onto a cake platter and allow to cool completely for 2 hours. To make the glaze, heat the cream, corn syrup and chocolate in a saucepan until smooth. Add the vanilla. Set aside for about 30 minutes, until slightly thickened. Drizzle the glaze over the cake and let set for at least 10 minutes before slicing. The glaze will set and become thick like ganache.

Korean Sticky Wings Recipe in Urdu and English
At Masala TV you can check complete Korean Sticky Wings Recipe in Urdu and English. This is one of the best recipes by chef Zarnak Sidhwa at Masala TV show Food Diaries. Check out the other best recipes of chefs Zarnak Sidhwa.
Top relevant recipes of Korean Sticky Wings Recipe in Urdu