Tandoori Chicken Recipe | Tarka | Desi Food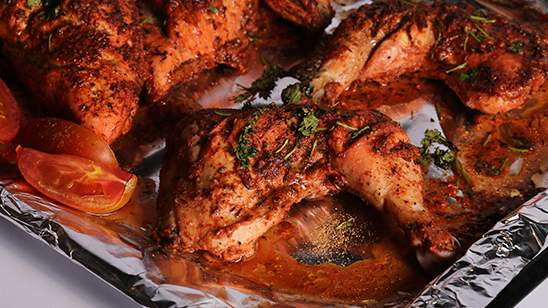 Aug 12, 2022 at 09:27 PM (GMT -04:00)

Check out the Tandoori Chicken Recipe in Urdu. Learn how to make best Tandoori Chicken Recipe , cooking at its finest by chef Rida Aftab at Masala TV show Tarka. Check all the Pakistan Cooking recipes in Urdu of Masala TV. Also Check Tandoori Chicken Recipe , ingredients and complete Method.
This Tandoori Chicken has such a wonderful aroma to it. It is crisp on the outside, while tender and juicy on the inside,
Watch this Masala TV video to learn how to make Tandoori Chicken and Lucknowi Biryani Recipes. This show of Tarka with Chef Rida Aftab aired on 25 March 2020.
Ingredients:
Chicken 1 kg
Roasted, Ground Cumin 1 tsp
Crushed Pomegranate seeds 2 tbsp
Chaat Masala 1 tbsp
Red Chili Powder 1 tsp
Salt 1 tsp
Black Pepper Powder 1 tsp
Lemon Juice 4 tbsp
Oil ½ cup
All Spice Powder 1 tsp
Carom seeds 1 tsp
Yogurt ½ cup
Green Chilies 2
Onion 2
Tomato 2
Ginger Garlic 1 tbsp
Beet root water 4 tbsp
METHOD:
In a clean bowl, add yogurt, roasted ground cumin, ground pomegranate seeds, chaat masala, red chili powder, salt, black pepper powder, oil, lime juice, all spice powder, celery powder, ginger garlic and beet root water. Mix everything well and set aside. Meanwhile, give cuts on the chicken and pour all the yogurt mixture evenly and marinate for 1 hour. Once it is well marinated, heat oil in a wok and and cook the chicken for at least 20 minutes, until the water dries.
After it is done, transfer the chicken on a baking tray, add tomatoes and onions on the side of the tray and grill it for 10 minutes. Serve hot.
Ingredients:
Rice ½ kg
Chicken 1 kg
Fried onions 2
Ginger garlic 1 tbsp
Yogurt 250 gram
Potatoes 2
Almonds (sliced) 50 grams
Green coriander ½ bunch
Green chilies 6
Oil ½ cup
Mint ½ bunch
Lemon juice 4 tbsp
Ginger 2 tbsp
Turmeric 1 tsp
Red chili powder 1-1/2 tbsp
Salt to taste
Crushed red chili 1 tsp
All spice powder 1 tsp
Coriander powder 1 tsp
Screw pine water few drops
Method:
In a pan add chicken, ginger garlic ,yogurt, green coriander ,mint ,green chili ,fried onion ,lemon juice ,turmeric ,red chili powder ,crushed red chili ,salt ,whole spices , coriander powder and chicken mix and leave to marinate for half an hour. now heat oil and fry potatoes and remove from wok .after this add the marinated chicken .when chicken tender then add the potatoes ,fine cut ginger and further cook for 10 minutes .now add the rice and screw pine essence and leave on dum .finally dish out and sprinkling on top almonds then serve it .

Tandoori Chicken Recipe in Urdu and English
At Masala TV you can check complete Tandoori Chicken Recipe in Urdu and English. This is one of the best recipes by chef Rida Aftab at Masala TV show Tarka. Check out the other best recipes of chefs Rida Aftab.
Top relevant recipes of Tandoori Chicken Recipe in Urdu