Tray Kabab Recipe | Food Diaries | Zarnak Sidhwa | Desi Food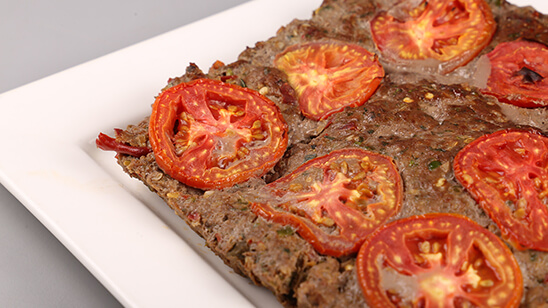 Jun 19, 2021 at 05:57 PM (GMT -04:00)

Check out the Tray Kabab Recipe in Urdu. Learn how to make best Tray Kabab Recipe , cooking at its finest by chef Zarnak Sidhwa at Masala TV show Food Diaries. Check all the Pakistan Cooking recipes in Urdu of Masala TV. Also Check Tray Kabab Recipe , ingredients and complete Method.
Tray Kabab is certainly one of the most delicious Desi recipes but it's always difficult to get the seasonings and flavors right. Achieve the perfect taste and texture this time with a recipe that's perfect!
Watch this Masala TV video to learn how to make Tray Kabab , Spinach Pasta and Faluda Recipes. This show of Food Diaries with Chef Zarnak Sidhwa aired on 26 April 2021.
Ingredients:
Kashmiri red chilies soaked 3-4
Onion 2
Garlic cloves 5-6
Green onion ½ Cup
Fresh coriander 1 bunch
Beef or Mutton mince (with fat) 1/2 kg
Salt 1 tsp
Red chili crushed 1 tsp
Black pepper powder 1 tbsp
Tomato paste 2 tbsp
Tomato sliced 1
Green chilies sliced 3-4
Method:
In chopper, add Kashmiri red chilies, onion, garlic, spring onion and coriander, chop & set aside. Mix in the beef or mutton mince. Add salt, red chili crushed, black pepper powder and tomato paste, mix in until well combined. Put the mixture in a greased baking tray and spread it evenly. Add tomato slices and sliced green chillies. Bake at 200 degrees C for 45-50 minutes and once done turn on grill for the last 10 minutes so that it browns and serve cut in squares.
Ingredients:
Pasta 2 cups
Spinach 1 cup
Tomato 1
Garlic cloves 4-5
Onion 1
Cheese ½ cup
Soy sauce 1 tsp
Pasta sauce 1 cup
Oregano 1 tsp
Chili flakes 1 tsp
Salt 1 pinch
Method:
Boil and strain the pasta
Blanch the spinach in hot water and then immediately dip in cold water
Blend in to a paste the blanched spinach, tomato, onion and garlic cloves with a pinch of salt
Heat oil, add the spinach paste and stir for a while
Add in pasta sauce and let it cook
Serve topped with grated cheese, oregano and chili flakes
Ingredients:
Milk 2 cups
Red syrup 2 tbsp
soaked basil seeds 1 tbsp
condensed milk 2 tbsp
scoops rose ice-cream 2
Method:
In a glass add red syrup then pour milk, the basil seeds, condensed milk, top with ice cream and serve immediately.

Tray Kabab Recipe in Urdu and English
At Masala TV you can check complete Tray Kabab Recipe in Urdu and English. This is one of the best recipes by chef Zarnak Sidhwa at Masala TV show Food Diaries. Check out the other best recipes of chefs Zarnak Sidhwa.
Top relevant recipes of Tray Kabab Recipe in Urdu