Turkish Chops With Vegetables Recipe | Lively Weekends | Kiran Khan | Masala TV | Turkish Food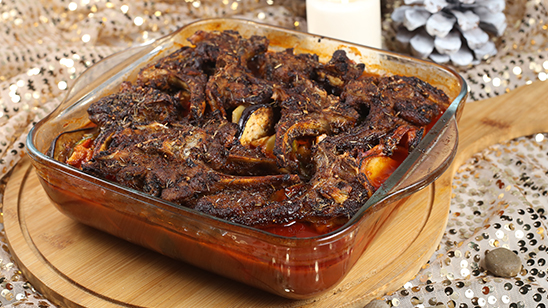 Sep 25, 2023 at 03:55 PM (GMT -04:00)

Check out the Turkish Chops With Vegetables Recipe in Urdu. Learn how to make best Turkish Chops With Vegetables Recipe , cooking at its finest by chef at Masala TV show Lively Weekend. Check all the Pakistan Cooking recipes in Urdu of Masala TV. Also Check Turkish Chops With Vegetables Recipe , ingredients and complete Method.
Turkish Chops With Vegetables will help you achieve the most flavorful and tender chop at the com fort of your home!
Watch this Masala TV video to learn how to make Turkish Chops With Vegetables , Raisin Pulao and Chapli Kabab Sandwiches Recipes. This show of Lively Weekend with Host Kiran Khan aired on 2 October 2021.
Ingredients:
Lamb chops 1/2 kg
Olive oil 4 tbsp
Salt to taste
Black pepper 1 tbsp
Paprika 4 tbsp
Butter 2 tbsp
Garlic 1 tbsp
Thyme 1 tsp
Ingredients for vegetables:
Onion chopped 2
Garlic 1
Eggplant 2
Zucchini 2
Potatoes 2
Tomatoes 2
Olive oil 2 tbsp
Tomato paste 1/2 cup
Salt to taste
Black pepper to taste
Paprika 2 tbsp
Water 2 cups
Jalapeno 1
Bell pepper (julienne) 2
Hot pepper (julienne) 1
Ingredients for the Dough:
All purpose flour 1 cup
Water half cup
Oil ½ tbsp
Yeast ½ tsp
Salt ¼ tsp
Sugar ¼ tsp
Nigella seeds as required
Sesame seeds as required
Egg wash for dough
Method:
Preheat the oven 220 c – 450 f
Take a large bowl adds chops olive oil, salt, black pepper, paprika, mix well. Cover and rest for half an hour.
Move to vegetables
Take oven proof dish add onion, garlic.
Make round slice of eggplant half inch thick and set aside.
Make zucchini, potato and tomato same round slices.
Place the vegetables in the oven proof dish one by one and fill the space.
Sprinkle olive oil on vegetables.
Take a small bowl adds tomato paste add black pepper salt, paprika and water mix well Fry the chops on grill pan with butter, garlic and thyme till golden brown.
Place the chops on vegetables pot.
Cover with parchment paper then cover with foil cover completely.
Place in the preheat oven for half an hour.
For dough making add flour in a large bowl add water, oil, yeast, salt and sugar mix well and knead dough, cover for half an hour and set aside.
Take out the chops dish.
Roll the dough and cover the pot with the dough.
Egg washes the dough and sprinkle nigella seeds and sesame seeds.
And put it back in the oven for 15 minutes until golden brown the crust.
Enjoy.
Ingredients:
Rice 1/2 kg
Raisins 1/2 cup
Onion 1 chopped
Whole spices 1 tbsp (black pepper, cinnamon, cloves, anise seed & bay leaves)
Salt to taste
Ginger garlic paste 1 tbsp
Tomatoes 2 chopped
Cumin 1 tsp
Oil ¼ cup
Cardamoms (green) 1 tsp
Bay leaves 2
Water as required
Method:
Soak rice for 15 minutes.
Take a large wok add oil, onions fry till golden brown add whole spices, cumin, bay leaves, cardamoms and fry for few seconds.
Add ginger garlic paste, tomatoes, salt, and raisins cook for 5 minutes.
Add soaked rice and water brings to boil cook on high heat for 10 minutes until water is evaporated completely.
Close the lid tightly and simmer another for 15 minutes.
Serve hot.
Ingredients:
Chapli kabab 1 packet
Bread slices 10
Mayonnaise as required
Cucumber 1 sliced
Lettuce leaf as required
Tomatoes 2-3
Chili sauce 1 tbsp
Oil for frying
Method:
Shallow fry the Chapli kabab in the deep pan. And set aside.
Take bread slices cut the edges. And cook on grill pan for marks.
Mix the mayonnaise and chili garlic sauce and spread the slices.
Now assemble the vegetables on the slices and place the chapli kabab
And serve hot with French fries.

Turkish Chops With Vegetables Recipe in Urdu and English
At Masala TV you can check complete Turkish Chops With Vegetables Recipe in Urdu and English. This is one of the best recipes by chef at Masala TV show Lively Weekend. Check out the other best recipes of chefs .
Top relevant recipes of Turkish Chops With Vegetables Recipe in Urdu