Zaatar Manakish Recipe | Dawat | Abida Baloch | Traditional Food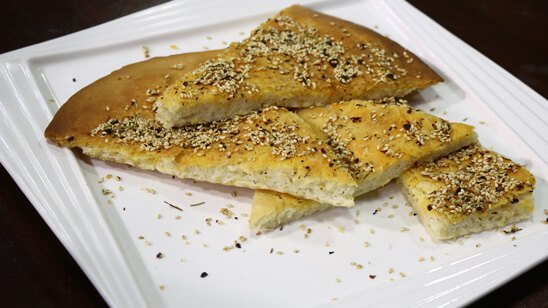 Sep 21, 2023 at 12:15 PM (GMT -04:00)

Check out the Zaatar Manakish Recipe in Urdu. Learn how to make best Zaatar Manakish Recipe , cooking at its finest by chef Abida Baloch at Masala TV show Dawat. Check all the Pakistan Cooking recipes in Urdu of Masala TV. Also Check Zaatar Manakish Recipe , ingredients and complete Method.
Zaatar Manakish is a traditional Lebanese spiced pita bread. Try this middle eastern delicacy to add some distinct touch to your regular food.
Watch this Masala TV video to learn how to make Zaatar Manakish and Crispy Chicken Balls Recipes. This show of Dawat with Chef Abida Baloch aired on 25 August 2020.
Ingredients For Manakish:
All purpose flour 2 cups
Yeast 1 tbsp
Sugar 1 tbsp
Lukewarm water 1 cup
Salt 1 tsp
Olive oil 1/2 cup
For (Topping) Za'atar:
Sumac 1 tbsp
Dried thyme leaves 1 tbsp
Dried oregano 1 tbsp
Sesame seeds 1 tbsp
Salt to taste
Method:
Mix all the ingredients of topping and set aside.
To begin making the Manakish, first add yeast and sugar in a small mixing bowl and pour Luke warm water over it. Allow it to rest for 5 minutes until the yeast starts bubbling.
In another mixing bowl, add flour, salt, olive oil and mix with your fingers. Make a well in the center and pour in the bubbly yeast mixture. Mix well, Knead until you get smooth, soft dough.
Set it aside for about 1.5 hours or until it has risen and has doubled in size.
Knock down the dough (punch it with your fist), this is done to release all the air that would have collected. Gently knead for another 2 minutes.
At this stage, preheat the oven at 180 degrees C.
Divide dough into equal sized balls, depending on the size of Manakish you want to make. Place it on a greased surface and cover and let it rise a second time for another 15 minutes.
Now, working with one portion of dough at a time, flatten it into a disc like a pizza base, about ¼ inch thick. Punch small holes on the dough like dimples. Sprinkle zaatar spice mix on top. Press gently so the spice mix sticks to the base.
Place the prepared manakish one at a time on a baking sheet and bake in pre heated over at 180 degrees C for about 8 to 10 minutes each, once you see the base turning slightly brown. Serve Manakish/
Ingredients:
Chicken breast cooked shredded 1 cup
Egg 1
Cheddar cheese 1 cup
Plain flour ¼ cup
Spring onions, chopped 2
Paprika ½ tsp
Dried rosemary 1 tsp
Garlic powder ½ tsp
Salt to taste
Black pepper 1 tsp
Bread crumbs 1/4 cup
For Coating:
Chopped filo pastry as required
Oil for frying
Method:
Transfer the chicken to a larger bowl and pour in the egg, flour, cheese, spring onions, paprika, rosemary, garlic powder, salt, and pepper, crumbs. Mix together and then roll the mixture into balls using your hands.
Coat the balls in filo pastry. Heat up oil in a frying pan and deep fry the balls for about 3 minutes. Enjoy!

Zaatar Manakish Recipe in Urdu and English
At Masala TV you can check complete Zaatar Manakish Recipe in Urdu and English. This is one of the best recipes by chef Abida Baloch at Masala TV show Dawat. Check out the other best recipes of chefs Abida Baloch.
Top relevant recipes of Zaatar Manakish Recipe in Urdu