Almond Roll Recipe | Food Diaries | Zarnak Sidhwa | Dessert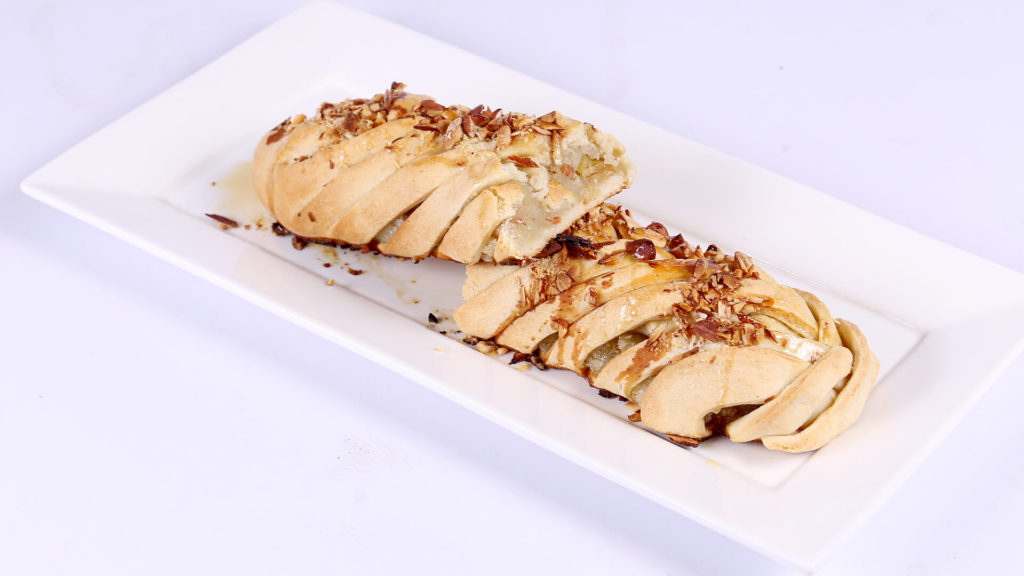 Aug 18, 2022 at 09:42 PM (GMT -04:00)

Check out the Almond Roll Recipe in Urdu. Learn how to make best Almond Roll Recipe, cooking at its finest by chef Zarnak Sidhwa at Masala TV show Food Diaries. Check all the Pakistan Cooking recipes in Urdu of Masala TV. Also Check Almond Roll Recipe, ingredients and complete Method.
Almond Rolls are divine! Crushed almonds with the right amount of cream and sugar, this cake is not just good to look at but to ahev as well.
Watch this Masala TV video to learn how to make Almond Roll, Aalu naryal farali and Green chutney Recipes. This show of Tarka with Chef Rida Aftab aired on 6 January 2020.
Ingredients:
Flour 1-1/2 cups
Yeast 1tsp
Butter 1 tbsp
Lukewarm water 1 tbsp
Salt ¼ tsp
Sugar 1 tbsp
Semolina 1 cup
Green cardamom powder as required
Clarified butter ¼ cup
Milk 2tbsp
Saffron strands 2
Sugar 1 cup
Water 2 cups
Almonds sliced 2tbsp
Raisins 2tbsp
Honey to drizzle
Method:
Mix flour, salt, yeast and knead with a little water. Add butter and knead again. Keep it aside for 1/2 an hour.
Next combine 2 tablespoons of milk and saffron threads and keep it aside. Heat ghee and add green cardamom powder and semolina. Saute till aroma comes and semolina is light brown in color. Remove into a bowl and set aside. Heat 2 cups of water and bring it to a boil. Add 1 cup of sugar and boil it till the sugar dissolves. Now to this add semolina, half of sliced almonds, raisins and saffron milk and cover it, and cook on low heat. When the semolina is cooked properly and dried, turn off the stove. Let it cool to room temperature. Now divide the dough into 4 portions. Roll a portion with rolling pin into a rectangle. Cut the edges to give it a perfect rectangular shape. Now give cuts on both sides of the sheet lengthwise. Keep a portion of semolina filling in the center of the sheet and spread it lengthwise. Starting at one end, fold alternating strips at an angle across filling to make a braided roll. Pinch ends to seal. Similarly make other 3 rolls. Now brush the rolls with melted butter and bake them at 250 degrees c or till done, about 20 minutes. Remove onto a serving plate, sprinkle the remaining sliced almonds and drizzle some honey on them.
Ingredients
Potatoes boiled and peeled 4
Corn flour 4tbsp
Fresh coconut, grated ½ cup
Coriander leaves, chopped 1/3 cup
Chili sauce 2tbsp
Ginger grated 1 inch
Cashew nuts, chopped ¼ cup
Roasted peanuts, crushed 2 tbsp
Raisins chopped 1 tbsp
Lemon juice 1-1/2tbsp
Sugar 1-1/2 tsp
Cumin seeds 1 tsp
Method :
Mash the boiled potatoes. Add corn flour, salt and cumin. To make the stuffing for the potato mixture, in a bowl combine the fresh coconut, coriander, Chili sauce, ginger, lemon juice, sugar, cashew nuts, peanuts, raisins and a pinch of salt. Shape the potato mixture into balls. Grease your palms and fingers with oil and take a potato ball and flatten it by pressing with your fingertips. Spoon about a tablespoon of coconut mixture in the center. Cover the coconut mixture by bringing the potato from the sides to the center. Smoother it to make a flat patty. Dust the patty lightly in the cornflour. Heat oil in each cavity of a cavity pan or use a regular frying pan. Place each of the stuffed faralis into the cavities and fry on medium flame until golden brown and crisp on all sides. Serve with green chutney
Ingredients :
Coriander leaves chopped 1 cup
Mint leaves chopped 1 cup
Curry leaves ¼ cup
Roasted peanuts ¼ cup
Ginger chopped 1 inch
Green chilies, chopped 2
sugar 1 tsp
lemon 1for juice
Salt to taste
water ¼ cup
Method :
Grind the coriander leaves, mint leaves, curry leaves, peanuts , ginger, green chillies, sugar, lemon juice, salt to a smooth paste in a blender. Add very little water to blend the chutney well.

Almond Roll Recipe in Urdu and English
At Masala TV you can check complete Almond Roll Recipe in Urdu and English. This is one of the best recipes by chef Zarnak Sidhwa at Masala TV show Food Diaries. Check out the other best recipes of chefs Zarnak Sidhwa.
Top relevant recipes of Almond Roll Recipe in Urdu