Baked Eggplant Recipe | Dawat | Abida Baloch | Continental Food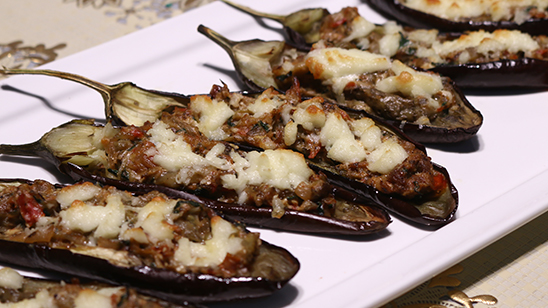 Nov 28, 2022 at 01:29 PM (GMT -05:00)

Check out the Baked Eggplant Recipe in Urdu. Learn how to make best Baked Eggplant Recipe , cooking at its finest by chef Abida Baloch at Masala TV show Dawat. Check all the Pakistan Cooking recipes in Urdu of Masala TV. Also Check Baked Eggplant Recipe , ingredients and complete Method.
Baked Eggplant is an exquisite tasting dish that will make your day.
Watch this Masala TV video to learn how to make Baked Eggplant and Blueberry Muffins Recipes. This show of Dawat with Chef Abida Baloch aired on 1 March 2021.
Ingredients:
Eggplant 1/2 kg
Extra virgin olive oil, ½ cup
Onions chopped 2
Garlic Cloves minced 4
Tomatoes, chopped 2
Cheese 1/2 cup
Fresh mint, chopped 1 cup
Egg 1
Salt and pepper to taste
Method:
Cut the eggplant lengthwise, Brush the eggplant halves, thoroughly with the olive oil. Place eggplant on a lined baking tray skin-side down. Bake eggplant for about 15 minutes, until the pulp starts to soft. In a pan over medium heat, warm 3 tablespoons of olive oil and cook the onions until just starting to brown, Stir in the garlic. Add the tomatoes and stir to combine and cook for about 5 minutes, until most of the liquid from the tomatoes cooks off. Set aside to cool. Remove few of pulp from the eggplant, chop the eggplant pulp and stir into the tomato mixture. Mix in half the cheeses and all of the herbs. Season to taste with salt and pepper. Stir in the beaten egg. Place the eggplant halves on baking dish Spoon equal amounts of the eggplant mixture into the eggplant halves. Sprinkle remaining cheese mixture over the top of each eggplant. Bake for 20 minutes and serve.
Ingredients:
For The Crumb Topping:
Butter, melted 3 tbsp
Flour 3/4 cup
Granulated sugar 1/4 cup
Salt 1/8 tsp
Lemon zest 1 tsp
For The Blueberry Muffins:
Flour 1-1/4 cups
Granulated sugar 1/2 cup
Baking powder 1 tsp
Salt 1/8 tsp
Unsalted butter, melted 1/4 cup
Yogurt 1/2 cup
Egg 1
Blueberries 2 cups
Method:
TO MAKE THE CRUMB TOPPING:
Toss the melted butter, flour, sugar, salt, and lemon zest together with a fork, until crumbly.
TO MAKE THE BLUEBERRY MUFFINS:
Preheat the oven to 180 degrees and lined a muffin pan. Place the flour, baking powder, and salt in a medium bowl and stir with a whisk to combine. Set aside. Whisk the melted butter, sugar, yogurt, egg, together until well incorporated. Pour the liquid ingredients into the dry, and stir together with a spatula, just until almost combined. Add the berries, and fold carefully. Divide the batter equally between each well of the muffin tin, and top with the topping. Bake for 25 minutes and serve.

Baked Eggplant Recipe in Urdu and English
At Masala TV you can check complete Baked Eggplant Recipe in Urdu and English. This is one of the best recipes by chef Abida Baloch at Masala TV show Dawat. Check out the other best recipes of chefs Abida Baloch.
Top relevant recipes of Baked Eggplant Recipe in Urdu