Beef Bihari Boti Recipe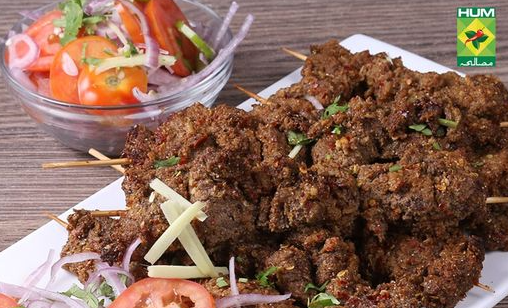 Oct 02, 2023 at 05:43 PM (GMT -04:00)

Check out the Beef Bihari Boti Recipe in Urdu. Learn how to make best Beef Bihari Boti Recipe, cooking at its finest by chef at Masala TV show . Check all the Pakistan Cooking recipes in Urdu of Masala TV. Also Check Beef Bihari Boti Recipe, ingredients and complete Method.
Try our unique version of Bihari Boti Recipe and share your feedback
Watch this Masala TV video to learn how to make Bihari Boti and Hyderabadi Pasanday Recipes.
Ingredients for Bihari Boti:
Undercut 1kg
Onion fried ½ cup
Lemon juice 2tbsp
Papaya paste 2tbsp
Oil 2tbsp
Red chili whole 50gm
Cumin 50gm
Coconut powder 50gm
Poppy seeds ground 50gm
Salt 1tsp
Meat tenderizer 1tbsp
Black pepper 1tbsp
Carom 1tbsp
All spice 1tbsp
Nutmeg/mace ½ tsp
Method:
Grind cumin , red chilies ,carom nutmeg and mace , now add in salt , kachri powder , red pepper, coconut ground, poppy seeds ground , and all spice powder mix it well.now add undercut , fried onions, lemon juice , lemon juice , papaya paste , oil and mix , lastly put them on skewers then bake ot barbeque and serve.
One of the most popular dishes in Pakistani's history that are widely enjoyed especially during barbecue nights, Eid dinners or a night out with the family is the infamous Bihari Boti.
The Bihari Boti is also commonly known as Bihari Kabab even though Turks are known to make the first form of kababs and the Bihari boti or kababs is made with meat chunks like in the ancient times, it is nothing like the kababs that the Turks must have eaten. Instead it has upgraded to a delicious, melt-in-the mouth texture, infused with spices, yougurt and tenderising papaya.
Its pretty evident through the name that the Bihari Boti derived from Bihar and even though Bihar is traditionally vegetarian and are known for cooking vegetable dishes to perfection.
Beef Bihari Boti Recipe
The Bihari Boti commonly consumed as Beef Bihari Boti  is a meat delight that has an infusion of mustard oil, largely used in India, and specifically Bengal and Bihar, and a liberal amount of masala.
The use of poppy seeds, nutmeg, mace and papaya as meat tenderisers makes it remarkably tender. The secret ingredient is a generous addition of bihari kabab garam masala.
Complementary raita or chutney is a must have with the traditional boti. Red chutney is usually served for people who like their food spicy. This is due to the fact that the boti are mild in their flavor. However for those who prefer extremely spicy food, red chutney is the best option to change the kebabs to their taste. Certain people find Bihari Boti a touch too spicy. It is to meet their needs that a complementary raita is must have with them.
To learn how to make Bihari Boti recipe with the utmost accuracy and tasting just like how your Bihari friends make it, check out the recipes available on Masala TV's website. You can also find the Beef Bihari Boti Recipe in Urdu on the website. To watch a step by step video on how to make Bihari Boti by renowned and certified chefs visit Masala TV's YouTube channel.

Beef Bihari Boti Recipe in Urdu and English
At Masala TV you can check complete Beef Bihari Boti Recipe in Urdu and English. This is one of the best recipes by chef at Masala TV show . Check out the other best recipes of chefs .
Top relevant recipes of Beef Bihari Boti Recipe in Urdu