Beef Burgers Recipe | Food Diaries | Zarnak Sidhwa | Fast Food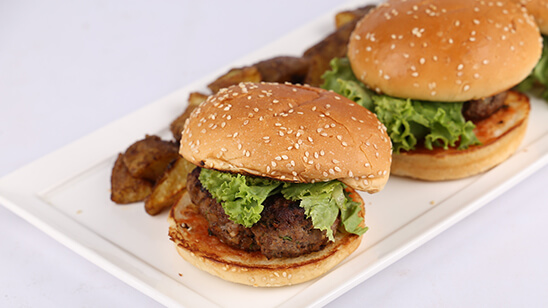 Jan 18, 2021 at 04:05 PM (GMT -05:00)

Check out the Beef Burgers Recipe in Urdu. Learn how to make best Beef Burgers Recipe , cooking at its finest by chef Zarnak Sidhwa at Masala TV show Food Diaries. Check all the Pakistan Cooking recipes in Urdu of Masala TV. Also Check Beef Burgers Recipe , ingredients and complete Method.
Beef Burgers are just the kind of food that will make you love your weekend even more. Enjoy these with your friends and family and let us know how much you liked these.
Watch this Masala TV video to learn how to make Beef burgers and Eggless brownies Recipes. This show of Food Diaries with Chef Zarnak Sidhwa aired on 6 November 2020.
Ingredients:
Oil 1 tbsp
Onion, chopped 1
Ginger, chopped 2cm
Garlic cloves, chopped 2
Green chilies, chopped 2
beef mince 800gm
salt a pinch
Ground cumin 2 tsp
Ground coriander 3 tsp
Turmeric ½ tsp
Chili powder 1-2 tsp
Chopped coriander 2 tbsp
Spicy potato wedges:
Potatoes, unpeeled, cut into wedges ½ kg
Oil 1 tbsp
Ground cumin 2 tsp
Red chili powder 2 tsp
Ground white pepper 1 tsp
Salt 2 tsp
Mango powder 1 tsp
To serve:
Burger buns 4-6
Ketchup as required
Method:
Heat the oil and cook the onions until slightly colored. Add the ginger, garlic and green chili and continue to fry until all the liquid has evaporated. Transfer the mixture to a plate, spread out and allow to cool. Bring a large pan of salted water to the boil and add the potato wedges. Boil for 5-6 minutes, then drain. Place the parboiled potatoes on a baking tray, drizzle with the oil, then toss to coat. Put the tray in the oven and roast at 200 degrees c for 20-25 minutes, or until golden and crisp. Mix the ingredients for the spice blend together in a small bowl and set aside until you serve .Into the minced beef, add the onion mixture and all of the remaining ingredients, and mix well. Shape into four patties. Heat oil and cook the patties until done on both sides. Sprinkle the cooked potato wedges with the spice blend. Serve the burgers in buns, with the wedges alongside and some ketchup for dipping.
Ingredients:
Dark chocolate chopped 250 gm
Unsalted butter 180 gm
Brown sugar 120 gm
Vanilla essence 1- 1/2 tsp
Flour 100gm
Cocoa powder 50 gm
Baking powder 1/4 tsp
Salt 1/4 tsp
Walnuts, chopped 50 gm
Flax seeds powdered 3 tbsp
Chilled water 9 tbsp
Method:
Mix flax seeds powder with water. Stir well and let the mixture rest for about 15 minutes. This process of resting helps the flax mixture develop a gelatinous consistency similar to eggs. To make the batter, melt chocolate and butter in a saucepan until smooth. Allow to cool slightly. Beat the sugar and add in flax seed mixture then fold in flour, cocoa and baking powder and fold in the chocolate mixture and whisk until combined. Pour the brownie mixture into a greased and lined baking dish. Bake at 180 degrees c for 25-30 minutes or until a toothpick inserted inside comes out almost clean.

Beef Burgers Recipe in Urdu and English
At Masala TV you can check complete Beef Burgers Recipe in Urdu and English. This is one of the best recipes by chef Zarnak Sidhwa at Masala TV show Food Diaries. Check out the other best recipes of chefs Zarnak Sidhwa.
Top relevant recipes of Beef Burgers Recipe in Urdu