Beef Qorma Recipe | Tarka | Rida Aftab | Desi Food | Masala TV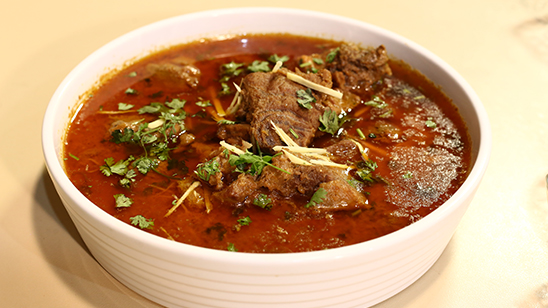 Dec 01, 2022 at 07:26 PM (GMT -05:00)

Check out the Beef Qorma Recipe in Urdu. Learn how to make best Beef Qorma Recipe , cooking at its finest by chef Rida Aftab at Masala TV show Tarka. Check all the Pakistan Cooking recipes in Urdu of Masala TV. Also Check Beef Qorma Recipe , ingredients and complete Method.
Beef Qorma tastes so incredibly delicious that you will not regret making this. Prepare this for eid and treat your loved ones !
Watch this Masala TV video to learn how to make Beef Qorma , Egg Fried Rice and Paneer Masala Recipes. This show of Tarka with Chef Rida Aftab aired on 16 July 2021.
Ingredients:
Boiled Beef ½ kg
Onion ½
Yogurt 1cup
Ginger garlic paste 1tsp
Ginger finely chopped 2tbsp
Oil 1cup
Qorma masala 1packet
Method:
Heat oil in a pan & fry onion till light brown, now keep them on a paper, now in the same oil fry ginger garlic paste for just 1 min , then add boiled mutton , yogurt , qorma masala , and fry onions and stir on a low flame, when oil comes on top then add onion and water and cook 5 to 7 min on low flame and serve .
INGREDIENTS:
butter 2 tbsp
eggs, whisked 3
onion, 1 small
garlic, minced 3 cloves
fresh boiled peas, 1 cup
Boiled rice, 4 cup
soy sauce 3 tablespoons
oyster sauce 2 tsp
sesame oil 1tsp
sliced green onions for garnish
Method:
Heat 1 tablespoon of butter into a large skillet.
Add the eggs and scramble until fully cooked. Remove them from the pan and set aside.
Add the remaining tablespoon of butter into the pan.
Add onion to the pan and cook until tender, 3-4 minutes.
Stir in garlic and cook for an additional minute.
Add in the cold rice and peas and sauté for 3-4 minutes. The rice should brown up a bit.
Add the eggs back to the pan and stir in soy sauce, oyster sauce and sesame oil. Cook for 1-2 minutes to heat through.
garnish, Serve immediately with green onions
Ingredients:
Cottage cheese 300 gm
Yogurt 1 cup
Cream ½ cup
Cashew nuts 2 tbsp
Almonds 2 tbsp
Poppy seeds 1 tbsp
Green cardamom (ground) ½ tsp
Green chilies 6-8
Onion (ground) 1 cup
Red chili powder 1 tsp
Turmeric powder 1 tsp
Fenugreek 2 tsp
Salt 1 tsp
All spice powder 1 tsp
Butter 1 tbsp
Potato paste 4 tbsp
Oil 4-5
Method:
Heat oil and fry the cottage cheese. Remove and set aside. Then heat oil and butter, fry the ground onion. Now in a blender add cashew nuts, almonds and poppy seeds. Grind it well and add this mixture to the onion mixture. Mix well. Then add cream, yogurt, ground green cardamom, red chili powder, turmeric powder, fenugreek, salt, all spice powder and tomato paste. Cook well. Then add fried cottage cheese. Mix well. Lastly add green chilies and serve hot.

Beef Qorma Recipe in Urdu and English
At Masala TV you can check complete Beef Qorma Recipe in Urdu and English. This is one of the best recipes by chef Rida Aftab at Masala TV show Tarka. Check out the other best recipes of chefs Rida Aftab.
Top relevant recipes of Beef Qorma Recipe in Urdu