Beef Stroganoff Recipe | Food Diaries | Chef Zarnak Sidhwa | Fusion Food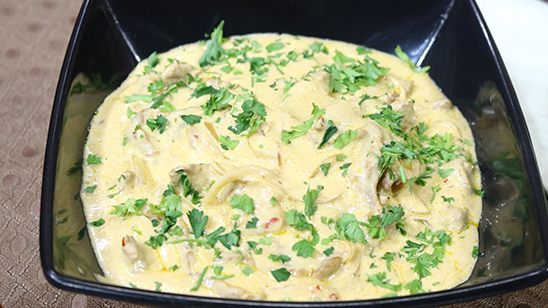 Nov 28, 2023 at 09:30 AM (GMT -05:00)

Check out the Beef Stroganoff Recipe in Urdu. Learn how to make best Beef Stroganoff Recipe , cooking at its finest by chef Zarnak Sidhwa at Masala TV show Food Diaries. Check all the Pakistan Cooking recipes in Urdu of Masala TV. Also Check Beef Stroganoff Recipe , ingredients and complete Method.
Beef Stroganoff is a Russian dish made with beef chunks and sautéed vegetables. It a scrumptious tasting dish that you must try
Watch this Masala TV video to learn how to make Beef Stroganoff , Khopra Mithai and Lemon Chicken Pasta Recipes. This show of Food Diaries with Chef Zarnak Sidhwa aired on 22 July 2021.
Ingredients:
Beef steak (sliced) 500 gm
Olive oil 1 tbsp
Onion (sliced) 1
Garlic (crushed) 1 clove
Butter 1 tbsp
Mushrooms (sliced) 250gm
salt, pepper to taste
Flour 1 tbsp
Cream 150 gm
Mustard paste 1 tsp
Beef stock 100 ml
Parsley (chopped) 2 tbsp
Method:
Heat olive oil, then add sliced onion and cook until softened. Add crushed garlic, then add butter. Once the butter is foaming a little, add mushrooms and cook until softened. Add salt and pepper and then remove onto a plate. Toss the steak strips with flour, salt and pepper. Add to the pan, splashing in a little oil if the pan looks dry and fry for 3-4 minutes until well coloured. Tip the onions and mushrooms back into the pan. Whisk cream, mustard and beef stock together, then stir into the pan. Cook over a medium heat for around 5 minutes. Garnish with chopped parsley and serve with pappardelle or rice.
Ingredients:
Clarified butter 2 tbsp heaped
Gram flour 3 tbsp
Coconut milk 200 gm
Condensed milk 200 gm
Desiccated coconut 3 tbsp
Green cardamom powder 1/4 tsp
Pistachios for garnish
Method:
Heat clarified butter and add gram flour. Sauté till aroma comes of the gram flour, add condensed milk, coconut milk, desiccated coconut, cardamom powder. Cook stirring continuously on medium heat until the mithai leaves the sides of the pan. Grease a thaal or flat dish and add this mithai in it. Garnish with pistachios. Let it cool, and then cut in squares. Serve.
Ingredients:
Lemon 1
Flour ¼ cup
Salt 1 tsp
Chicken breasts (Thinly sliced) ½ kg
Garlic butter ¼ cup
Penne pasta 8 oz
Chicken stock cube 1
Cream ½ cup
Method:
Place flour and salt in a plate and add the chicken. Make sure to get all the flour mix absorbed by chicken. Put the garlic butter in a pan and then add the chicken. Cook several minutes to brown and until no longer pink. Add chicken cube, water, cream and lemon juice. Reduce heat to low. Boil pasta till it's cooked. Drain pasta and stir into chicken mixture.

Beef Stroganoff Recipe in Urdu and English
At Masala TV you can check complete Beef Stroganoff Recipe in Urdu and English. This is one of the best recipes by chef Zarnak Sidhwa at Masala TV show Food Diaries. Check out the other best recipes of chefs Zarnak Sidhwa.
Top relevant recipes of Beef Stroganoff Recipe in Urdu