Beef Tetrazzini Recipe | Food Diaries | Chef Zarnak Sidhwa | Fusion Food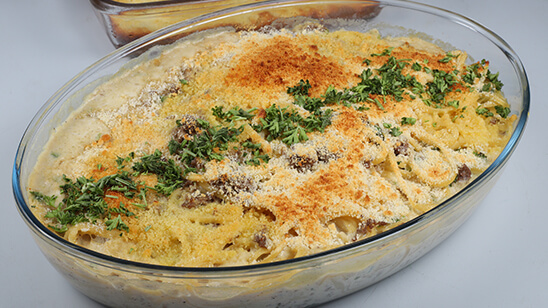 Aug 04, 2021 at 11:01 AM (GMT -04:00)

Check out the Beef Tetrazzini Recipe in Urdu. Learn how to make best Beef Tetrazzini Recipe , cooking at its finest by chef Zarnak Sidhwa at Masala TV show Food Diaries. Check all the Pakistan Cooking recipes in Urdu of Masala TV. Also Check Beef Tetrazzini Recipe , ingredients and complete Method.
Change the flavors this Weekend and try out this amazing dish ; Beef Tetrazzini that will tantalize your taste buds!
Watch this Masala TV video to learn how to make Beef Tetrazzini and Coconut Yogurt Cake Recipes. This show of Food Diaries with Chef Zarnak Sidhwa aired on 18 June 2021.
Ingredients For Beef:
Beef mince 1/2 kg
Salt 1/2 tsp
Black pepper 1/4 tsp
Olive oil 1 tbsp
For Tetrazzini:
Linguine pasta 2 cups
Olive oil 2 tbsp
Onion(diced) 1
Mushrooms (sliced ) 8 oz
Butter 1/4 cup
Flour 1/2 cup
Garlic(minced) 3 cloves
Chicken stock 2 cups
Milk 3 cups
Peas 1 cup
Cream cheese 8 oz
Salt and pepper to taste
For The Topping:
Panko bread crumbs 1 cup
Parmesan cheese (grated) 1/2 cup
Olive oil 3 tsp
Method:
Season beef mince with salt and pepper. Add 1 tbsp olive oil to a pan and cook the beef, 5 to 7 minutes per side, until cooked through. Remove beef from pan, dice, and set aside. Cook linguine in boil water with oil and salt for 5-8 minutes only. Drain and set aside. Add 2 tbsp olive oil and butter to the pan and cook the onion until just starting to soften. Add in garlic, mushrooms and flour until combined. Pour in milk and chicken stock and bring to a simmer, add in peas and diced beef, then immediately reduce the heat to low and stir in cream cheese until melted. Season with salt and pepper. Stir cooked pasta in with the sauce until combined then transfer it all to a greased pyrex dish. Toss together panko bread crumbs, parmesan cheese and olive oil until combined. Sprinkle evenly on top of the pasta in the pan. Bake in the preheated oven at 180 degrees C for 25-30 minutes until the crumbs on top are golden brown. Serve hot.
Ingredients:
Unsalted butter 200 gm
Lemon zest 2 tsp
Caster sugar 3/4 cup
Eggs 3
Semolina 60gm
Ground almonds 1/2 cup
Flour 1 1/2 cups
Baking powder 1 tsp
Coconut 3/4 cup
Yoghurt 180gm
Lemon juice 120ml
For The Syrup:
Caster sugar 370gm
Lemon zest 2 lemons
Lemon juice 1 cup
Method:
Beat the butter with the lemon zest and sugar until pale and fluffy. Add eggs one at a time. Combine the semolina, ground almonds, flour and coconut together in a bowl and gently stir into the egg mixture. Add yoghurt and lemon juice. Spoon batter into a greased and lined pan and bake at 180 degrees C for 1 hour or until lightly golden on top and a skewer inserted in the centre comes out clean. Remove from the oven, cover with foil and stand for 10 minutes. Meanwhile, for the syrup, combine sugar and juice in a saucepan stirring to dissolve sugar. Simmer uncovered for 5 minutes or until slightly reduced, stir in the zest. Using a skewer, prick holes into the cake then pour half of the hot syrup over the top. Leave to stand for 1 hour before removing from pan and transferring to a wire rack to cool completely. Serve topped with lemon zest and remaining syrup alongside.

Beef Tetrazzini Recipe in Urdu and English
At Masala TV you can check complete Beef Tetrazzini Recipe in Urdu and English. This is one of the best recipes by chef Zarnak Sidhwa at Masala TV show Food Diaries. Check out the other best recipes of chefs Zarnak Sidhwa.
Top relevant recipes of Beef Tetrazzini Recipe in Urdu