Bohri Biryani Recipe | Lazzat | Samina Jalil | Desi Food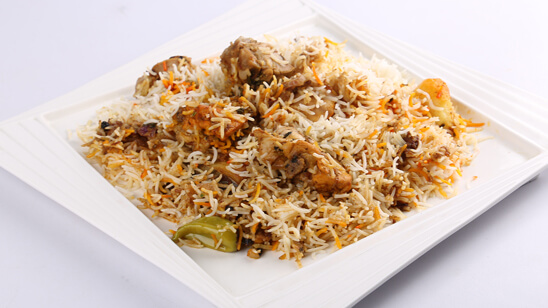 Sep 23, 2023 at 01:42 AM (GMT -04:00)

Check out the Bohri Biryani Recipe in Urdu. Learn how to make best Bohri Biryani Recipe , cooking at its finest by chef Samina Jalil at Masala TV show Lazzat. Check all the Pakistan Cooking recipes in Urdu of Masala TV. Also Check Bohri Biryani Recipe , ingredients and complete Method.
Bohri Biryani has an exquisite taste that makes this Biryani even more delectable.
Watch this Masala TV video to learn how to make Bohri Biryani and Spicy Tawa Chaanpain Recipes. This show of Lazzat with Chef Samina Jalil aired on 3 November 2020.
Ingredients:
Chicken ½ kg
Ginger garlic paste 1 tbsp
Yogurt ½ cup
Fried onion ½ cup
Coriander powder 1 tsp
Salt, chili, turmeric as required
Green chili 2 tbsp
All spice powder 1 tsp
Mint, green chilies as required
Mix all spices 1 tbsp
Onion 1 large
Fried potatoes 3-4
Ginger slices 2 tbsp
Dried plumps 6-7
Cream 2 tbsp
Oil ¾ cup
Yellow food color 1 pinch
Boiled rice ½ kg
Method:
In chicken add ginger garlic paste and all spices mix and leave for 2to3 hours and place then heat oil and fry onion .then add marinated chicken ,cream and roast well .now add ½ cup pf water and cook chicken tender .now add dried plump ,ginger slices ,mint ,fried onion and green chilies mix .then on top add rice and dissolve yellow color and leave on dum then remove and serve .
Ingredients:
Mutton chops 600 grams
Ginger garlic paste 2 tbsp
Green chili paste 2 tbsp
Papaya paste 2 tbsp
Yogurt 1 cup
Mint ½ bunch
Clarified butter ¾ cup
Dried fenugreek 1 tsp
Crushed coriander 2 tbsp
Chaat masala 1 tbsp
Lemon juice 2 tbsp
Red chili powder 1 tsp
Salt as required
Green chili for garnishing
Crushed cumin 1 tsp
Method:
In mutton chops add salt and papaya paste and then leave for 2 hours .then add ginger garlic paste ,green chilies paste ,yogurt ,red chili powder ,dried fenugreek ,crushed cumin and crushed red chili mix and further leave for half an hour, now heat clarified butter on hotplate then cook chops thill than tender and water dry .after this add crushed cumin ,lemon juice and roast well .finally add mint ,green chilies and chaat masala and serve .

Bohri Biryani Recipe in Urdu and English
At Masala TV you can check complete Bohri Biryani Recipe in Urdu and English. This is one of the best recipes by chef Samina Jalil at Masala TV show Lazzat. Check out the other best recipes of chefs Samina Jalil.
Top relevant recipes of Bohri Biryani Recipe in Urdu