Bohri Biryani Recipe | Food Diaries | Zarnak Sidhwa | Desi Food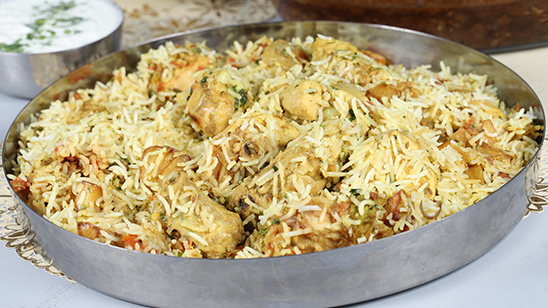 Sep 22, 2023 at 11:20 PM (GMT -04:00)

Check out the Bohri Biryani Recipe in Urdu. Learn how to make best Bohri Biryani Recipe , cooking at its finest by chef Zarnak Sidhwa at Masala TV show Food Diaries. Check all the Pakistan Cooking recipes in Urdu of Masala TV. Also Check Bohri Biryani Recipe , ingredients and complete Method.
Bohri Biryani is made with green chilies and has a mild yet scrumptious taste. Give it a try!
Watch this Masala TV video to learn how to make Bohri Biryani and Chocolate Walnut Bread Pudding Recipes. This show of Food Diaries with Chef Zarnak Sidhwa aired on 15 March 2021.
Ingredients:
Chicken pieces 1 kg
Onion Sliced ¾ kg
Potatoes cubed 3
For Green Masala:
Small green chilies 8-12
Ginger 2-inch pieces
Garlic cloves 6
For Spices:
Cloves 4
Black pepper corns 10
Cumin 1 tbsp
Green cardamoms 2-3
Black cardamom 1
Bay leaf 1
Cinnamon 2 pieces
Coriander powder 2 tbsp
Turmeric 1 tsp
Other ingredients:
Chopped tomatoes 3
Dried plums 3-4
Yogurt ½ cup
Chopped coriander 2 tbsp
Green chilies 3-4
Saffron ` 2 pinch
Oil 1½ cup
Salt to taste
Ingredients for rice:
Rice ¾ kg
Cumin 1 tsp
Black peppercorns 6-8
Salt to taste
Raita to serve
Method:
Heat oil, fry onions till golden brown, crush them in a food processor and set aside. Fry potatoes till golden and set aside. Make a paste of chili, garlic and ginger. For chicken gravy, in 2 tbsp oil add green cardamom, black cardamom, cumin, bay leaf, cinnamon, pepper and clove, sauté lightly to release flavors. Now add coriander and turmeric, stir and add green masala and salt. Add chicken and fry till the color of chicken changes, add chopped tomatoes, cover and cook for 5 minutes. Add fried crushed onions, cover and cook for 15 minutes till chicken is tender. Add yogurt and plums, let simmer to reduce water. The gravy will be thick but not fully dried. Add fried potatoes, chilies and coriander. Put the earlier soaked rice in water, add whole spices and salt and cook till ¾ done. Strain the water. To assemble, put 2 tbsp oil on the base of a large pan, add 3/4 of rice. Add chicken gravy, top with remaining rice. On top add dissolved saffron and little oil of fried onions. Cover tightly and put it on simmer for 15 minutes. Serve with a raita.
Ingredients:
Thick-sliced bread 550g
Unsalted butter as required
Eggs 6
Caster sugar 60g
Cocoa 2 tsp
Dark chocolate 140g
Cream 300ml
Vanilla essence 1 tsp
Orange zest 1
Milk 300ml
Chopped walnuts 1/4 cup
Sultanas 30g
Vanilla ice cream, to serve
Method:
Spread both sides of the bread with butter and cut each slice in half. Whisk the eggs and sugar until combined, then stir in cocoa and half of the chocolate. Place the cream, vanilla and orange zest in a small saucepan over medium-high heat and bring just to a simmer. While stirring gently with a whisk, pour the hot cream mixture over the egg mixture and stir continuously until the chocolate has melted. Stir in the milk to cool the mixture, strain through a fine sieve and set aside. Arrange bread in prepared pan, sprinkling walnuts, sultanas and remaining chocolate between each piece. Pour chocolate cream mixture over, making sure all bread is coated. Set aside for 15-20 minutes for bread to soak up mixture. Bake at 180 degrees C for 35-40 minutes until edges are set but center has a wobble. Remove from oven and set aside to cool slightly. Dust with cocoa and serve with ice cream.

Bohri Biryani Recipe in Urdu and English
At Masala TV you can check complete Bohri Biryani Recipe in Urdu and English. This is one of the best recipes by chef Zarnak Sidhwa at Masala TV show Food Diaries. Check out the other best recipes of chefs Zarnak Sidhwa.
Top relevant recipes of Bohri Biryani Recipe in Urdu