Chana Daal Halwa Recipe | Food Diaries | Chef Zarnak Sidhwa | Dessert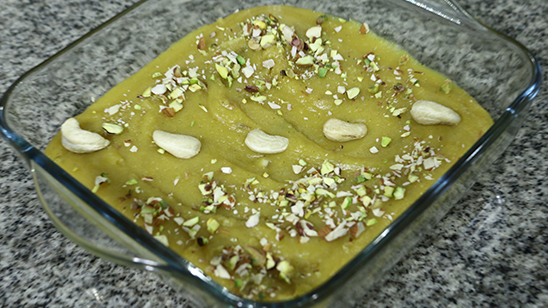 Oct 02, 2023 at 05:50 PM (GMT -04:00)

Check out the Chana Daal Halwa Recipe in Urdu. Learn how to make best Chana Daal Halwa Recipe , cooking at its finest by chef Zarnak Sidhwa at Masala TV show Food Diaries. Check all the Pakistan Cooking recipes in Urdu of Masala TV. Also Check Chana Daal Halwa Recipe , ingredients and complete Method.
Chana Daal Halwa is the desi dessert for this season. It is very well balanced; you'll love it!
Watch this Masala TV video to learn how to make Chana Daal Halwa , Chicken Haleem and Rabri Kheer Recipes. This show of Food Diaries with Chef Zarnak Sidhwa aired on 19 August 2021.
Ingredients:
Split Bengal gram (soaked and boiled) 1 cup
Clarified butter 3 tbsp
Saffron a few strands
Whole dried milk 1/4 cup
Green cardamom powder 1/2 tsp
Sugar 3/4 cup
Cashew nuts (halved) 10-12
Almonds (slivered) 10
Method:
Crush the split Bengal gram in a grinder and put it into a deep non stick pan. Add ghee and cook on medium heat, stirring continuously, till fragrant and lightly browned. Add saffron and mix. Add whole dried milk and mix. Add green cardamom powder and sugar and cook till sugar dissolves. Add cashew nuts and almonds and mix. Cook for 1-2 minutes. Serve hot or at room temperature.
Ingredients:
Chicken boneless 1 kg
Ginger garlic paste 2 tbsp
Brown onion 1/2 cup
Turmeric 1 tbsp
Red chili powder 3 tbsp
Salt 2 tbsp
Coriander powder 1 tbsp
All spice 1 tbsp
Yogurt 1 cup
Oil 1/4 cup
Wheat 1/2 kg
Split Bengal gram 1 cup
Split Green gram 1/4 cup
Red lentils 1/4 cup
Split Red gram 1/4 cup
White lentil 1/4 cup
Rice 1 cup
For Garnish:
Ginger (sliced) as required
All spice powder 1 tsp
Coriander leaves as required
Green chilies (chopped) as required
Lemon wedges as required
Method:
Soak wheat overnight. Rinse thoroughly in the morning. Cook this wheat with 12 cups of water so much so that it is tender and thick. Cook Split Bengal gram, Split Green gram, red lentils, Split Red gram, White lentil and rice together until all of them are tender. Blend well. Keep aside. Heat oil in a pan and sauté ginger garlic paste. Add red chili powder, turmeric powder and coriander powder. Add brown onion, yogurt and salt. Sauté. Add little water and boneless chicken and cook till tender. When done mash chicken very well. Mix chicken mixture and blended wheat and daal mixture, cook and keep mixing haleem at the same time. Heat up oil for temper and fry sliced onion till golden brown. Pour this temper over haleem and garnish with sliced ginger, all spice powder and fresh coriander leaves and serve with lemon wedge
Ingredients:
Milk 2 kg
Whole dried milk ¼ kg
Condensed milk 1 tin
Rice 1cup
Sugar ½ cup
Screw pine 1 tbsp
Green cardamom powder ½ tsp
Almonds 2 tbsp
Pistachio 2 tbsp
Silver paper 1
Method:
Soak 1 cup rice for 4 hours and then blend them to make powder form.
Boil 2 kg milk in pan and then add rice powder and allow to cook until it milk thickens. Now add ½ cup of sugar, 1 tin condensed milk band ½ tsp of cardamom powder. When water dries then add 1 tsp of screw pine, ¼ kg whole dried milk, 2 tbsp of almonds and 2 tbsp of pistachio and then remove from flame. Lastly place silver paper on rabri kheer.

Chana Daal Halwa Recipe in Urdu and English
At Masala TV you can check complete Chana Daal Halwa Recipe in Urdu and English. This is one of the best recipes by chef Zarnak Sidhwa at Masala TV show Food Diaries. Check out the other best recipes of chefs Zarnak Sidhwa.
Top relevant recipes of Chana Daal Halwa Recipe in Urdu