Cheesy Buns Recipe | Food Diaries | Zarnak Sidhwa | Bakery Item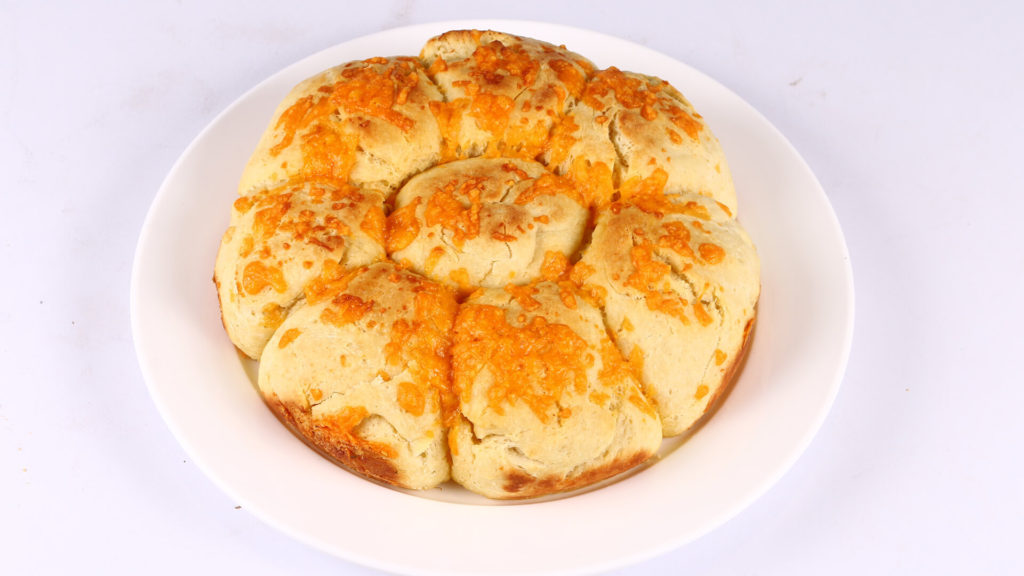 Aug 18, 2022 at 09:50 PM (GMT -04:00)

Check out the Cheesy Buns Recipe in Urdu. Learn how to make best Cheesy Buns Recipe, cooking at its finest by chef Zarnak Sidhwa at Masala TV show Food Diaries. Check all the Pakistan Cooking recipes in Urdu of Masala TV. Also Check Cheesy Buns Recipe, ingredients and complete Method.
Cheese makes everything tasty! These Cheesy Buns are just what you're looking for with your evening tea.
Watch this Masala TV video to learn how to make Cheesy Buns, Sooji Chocolate Halwa and Peanut dip cake Recipes. This show of Flame On Hai with Chef Irfan Wasti aired on 15 January 2020
Ingredients:
Flour (268 grams) 2 cups + 1 tablespoon
Salt ¼
Sugar 1tsp
Olive oil 1tbsp
Grated parmesan cheese ½ cup
Dry yeast 1 -1/2 tsp
Warm water ½ cup + 2tbsp
Egg 1
Grated cheddar cheese ½ cup
Ingredients for Topping:
Parmesan and cheddar cheese ¼ cup
Method
•  In the bowl of a stand up mixer, add flour, salt, sugar, olive oil, 3 tablespoons parmesan cheese and yeast.
•  Then add a 1/4 cup of water and mix with a fork.
•  Add the beaten egg, remaining parmesan cheese and cheddar cheese and remaining water. Combine it all with a fork just until       the dough starts to come together.
•  Then add the dough hook attachment and knead for approximately 5 minutes or until smooth and elastic.
•  Remove dough to a lightly floured flat surface. Form the dough into a ball, place in a lightly oiled medium-sized bowl. Cover well and let rise in a draft free area for 1-2 hours.
•  Remove the dough from bowl and on a lightly floured flat surface knead dough a couple of minutes. Shape into 6 bun like shapes, score with a knife and place on a lightly oiled parchment paper lined cookie sheet.
•  Cover and let it rise for 1 hour.
•  Brush buns with milk and sprinkle with additional parmesan cheese or grated cheddar. Bake at 200 degrees for approximately 30 minutes.
•  Let cool or eat warm.
Ingredients:
Semolina ½ cup
Clarified butter 3-4 tbsp
Cardamom powder ¼ tsp
Sugar ½ cup
Cocoa powder 1 tbsp
Water 1- ¼ cups
Saffron strands 3-4
Sliced almonds for garnishing
Chocolate chips for garnishing
Method :
•  In a pan, put water to boil. Once it comes to a boil switch off the flame.
•  In a pan heat ghee and let it melt. Add cardamom powder and saffron strands into it.
•  Add semolina and roast till it starts giving a nice aroma and the color changes to light golden brown.
•  Add the cocoa powder once the semolina is roasted.
•  Now add in the water slowly. Keep stirring the halwa and add sugar to it. Once the sugar mixes completely, cover the pan and let the halwa simmer for 2 minutes.
•  Garnish with sliced almonds, chocolate chips and serve hot.
•  Nuts like cashews, raisins can be added into the halwa.
Ingredients:
Creamy peanut butter ¾ cup
Rice vinegar ¼ cup
soya sauce 2 tbsp
Honey 3tbsp
Grated ginger 1 ½tsp
Garlic, minced 2 cloves
red chili flakes ¼ tsp
coconut milk 2-4 tbsp
Sweet Thai Chili 2tbsp
Sprinkling of chopped roasted peanuts
Red chilli flakes
Method :
Whisk together the ingredients until well blended. If needed add some water. Transfer it to a serving bowl and sprinkle with chopped peanuts and red chilli flakes.

Cheesy Buns Recipe in Urdu and English
At Masala TV you can check complete Cheesy Buns Recipe in Urdu and English. This is one of the best recipes by chef Zarnak Sidhwa at Masala TV show Food Diaries. Check out the other best recipes of chefs Zarnak Sidhwa.
Top relevant recipes of Cheesy Buns Recipe in Urdu