Chicken Burger Recipe | Lazzat | Samina Jalil | Fast Food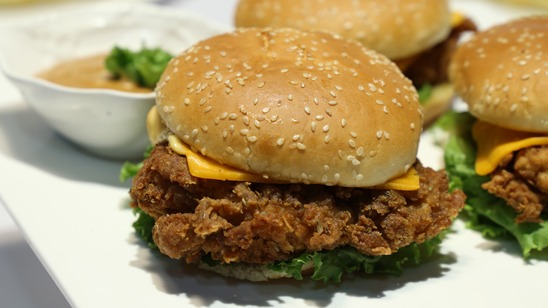 Sep 22, 2023 at 05:22 PM (GMT -04:00)

Check out the Chicken Burger Recipe in Urdu. Learn how to make best Chicken Burger Recipe , cooking at its finest by chef Samina Jalil at Masala TV show Lazzat. Check all the Pakistan Cooking recipes in Urdu of Masala TV. Also Check Chicken Burger Recipe , ingredients and complete Method.
Chicken Burger make a perfect weekend lunch or dinner. Celebrate your weekend with these amazing Chicken Burgers!
Watch this Masala TV video to learn how to make Chicken Burger and Chicken Pot Pie Bread Recipes. This show of Lazzat with Chef Samina Jalil aired on 16 July 2020.
Ingredients For Chicken Marination:
Chicken breast fillet 2
Salt as required
Black pepper (crushed) ½ tsp
Butter milk ½ cup
Worcester sauce 2 tbsp
Hot sauce 2 tbsp
For Coating:
Flour 1 cup
Paprika 1 tsp
Salt as taste
Baking powder ½ tsp
Soda 2 pinches
Garlic powder 1 tsp
Mixed Italian herbs ½ tsp
For Burgers:
Burger bun 2
Cheese slice 2
Lettuce as required
Mayonnaise 4 tbsp
Butter 2 tbsp
Barbecue sauce 2 tsp
Method:
First flatten the chicken breast. Now add the marinated ingredients and marinate the chicken breast for about 3-4 hours. Then mix all the coating ingredients. Now coat the chicken breast and cook well in the air fry for 20-15 minutes. Then toast the burger bun with butter. Now spread mayonnaise and bar bq sauce. Then place cooked chicken and lettuce. Again place the cooked chicken and cheese slice. In the end cover with another half of burger bun and serve with fries.
Ingredients For Dough:
Flour 2 ½ cup
Salt 1 ½ tsp
Yeast 1 tbsp
Butter 4 tbsp
Mixed Italian herbs 1 tsp
Oil 2 tbsp
Milk 1 cup
Sugar 1 tbsp
For Filling:
Foiled chicken 1 cup
Peas (boiled) ¾ cup
Carrot (boiled) ½ cup
Cream 2 tbsp
Salt as required
Cream cheese 4 tbsp
Cheddar cheese 4 tbsp
Butter 2 tbsp
Flour 1 tbsp
Onion (chopped) 1
Black pepper 1 ½ tsp
Egg (for brushing) 1
Butter (for brushing) 2 tbsp
Method:
In the flour mix all the ingredients and knead soft dough, leave it until it becomes double. For filling, heat butter and fry butter. Once it is slightly golden brown add flour. Then add cream, cream cheese, 4 tbsp water, chicken, boiled peas, boiled carrot, salt and crushed black pepper. Mix well. In the end add cheddar cheese. Then divide dough into two parts, and spread evenly. Now fill the filling. Then cut from side and fold. Then brush with egg and bake in an oven until golden brown. In the end remove and brush with butter. Serve hot.

Chicken Burger Recipe in Urdu and English
At Masala TV you can check complete Chicken Burger Recipe in Urdu and English. This is one of the best recipes by chef Samina Jalil at Masala TV show Lazzat. Check out the other best recipes of chefs Samina Jalil.
Top relevant recipes of Chicken Burger Recipe in Urdu