Chicken Sandwiches Recipes | Food Diaries | Zarnak Sidhwa | 21 Sep 2022 | Fast Food | Masala Tv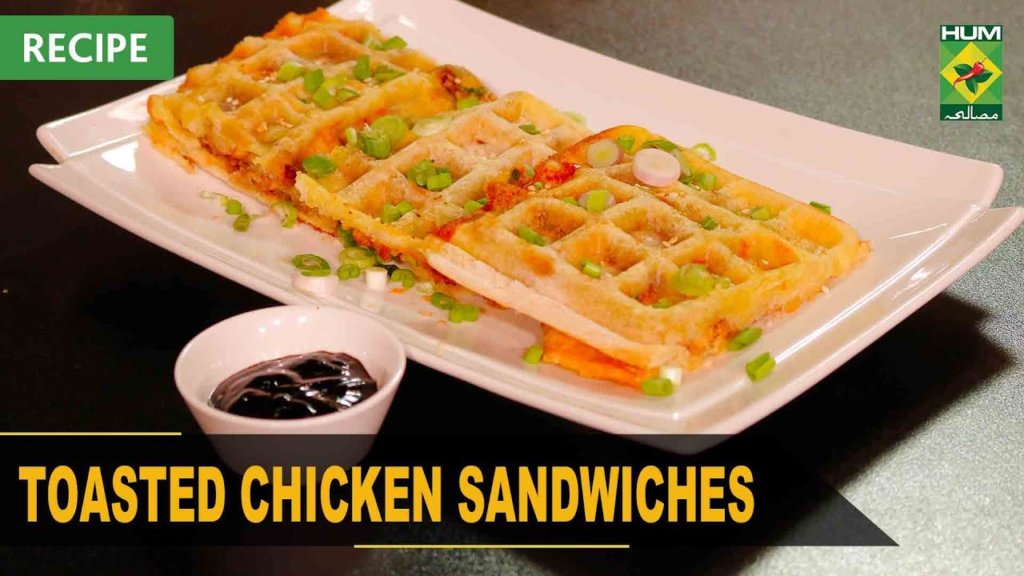 Sep 25, 2023 at 04:51 PM (GMT -04:00)

Check out the Chicken Sandwiches Recipes in Urdu. Learn how to make best Chicken Sandwiches Recipes , cooking at its finest by chef Zarnak Sidhwa at Masala TV show Food Diaries. Check all the Pakistan Cooking recipes in Urdu of Masala TV. Also Check Chicken Sandwiches Recipes , ingredients and complete Method.
Subscribe To Masala TV Recipes YouTube Channel! https://bit.ly/MasalaTV
Who doesn't love Toasted Chicken Sandwiches Recipe. Make this recipe at home and you'll love it.
#ChickenSandwiches #SaltedCaramelAppleBars #food #pakistanifood #masalatv
This show of Food Diaries with Zarnak Sidhwa aired on 21 September 2022.
If you enjoy cooking Pakistani food and are looking for recipes, videos of LIVE shows, totkas, and other food stories in both Urdu and English, subscribe to this YouTube channel or go to our Website: https://www.masala.tv/
Ingredients:
Butter 2 tbsp
White bread 4 slices
Crunchy peanut butter 2 tbsp
Hoisin sauce 1 tbsp
Cooked shredded chicken 1 cup
Green onions, sliced 2
Grated cheese 2 tbsp
Sesame seeds to sprinkle
Hoisin sauce to serve
Method:
Spread butter over 1 side of each slice of bread. Turn bread over. Spread with peanut butter, then hoisin sauce.Place 1 slice of bread, buttered-side down, in a preheated waffle maker. Top with chicken, onion and cheese. Sandwich with remaining bread slices, buttered-side up. Sprinkle with sesame seeds. Close lid. Cook for 4 minutes or until golden and cheese is melted. Serve with hoisin sauce.
Ingredients For Shortbread Crust:
Unsalted butter, melted 1/2 cup
Caster sugar 1/4 cup
Vanilla essence 1 tsp
Salt 1/4 tsp
Flour 1 cup
For The Apple Filling:
Apples, peeled and thinly sliced 2
Flour 2 tbsp
Caster sugar 2 tbsp
Ground cinnamon 1 tsp
Ground nutmeg 1/8 tsp
For The Streusel:
Oats 1/2 cup
Light brown sugar 1/3 cup
Ground cinnamon 1/4 tsp
Flour 1/4 cup
Unsalted butter, cold and cubed 1/4 cup
Salted caramel sauce as required
Method :
To make the crust, mix the melted butter, sugar, vanilla and salt together. Add the flour and stir until everything is combined. Press the mixture evenly into a baking pan. Bake at 170 degrees C for 15 minutes and then remove from the oven. To make the apple filling, combine the sliced apples, flour, sugar, cinnamon and nutmeg together. To make the streusel, whisk the oats, brown sugar, cinnamon and flour together. Cut in the chilled butter with a pastry blender or two forks until the mixture resembles coarse crumbs. Evenly layer the apples on top of the warm crust. Press them down to fit. Sprinkle with streusel and bake at 175 degrees C for 30–35 minutes or until the streusel is golden brown. Remove from the oven and allow to cool at room temperature, then chill in the refrigerator for at least 2 hours or overnight. Cut them into bars, drizzle some salted caramel sauce on top of each.

Chicken Sandwiches Recipes in Urdu and English
At Masala TV you can check complete Chicken Sandwiches Recipes in Urdu and English. This is one of the best recipes by chef Zarnak Sidhwa at Masala TV show Food Diaries. Check out the other best recipes of chefs Zarnak Sidhwa.
Top relevant recipes of Chicken Sandwiches Recipes in Urdu