Chocolate Cake Recipe | Evening With Shireen | Shireen Anwar | Dessert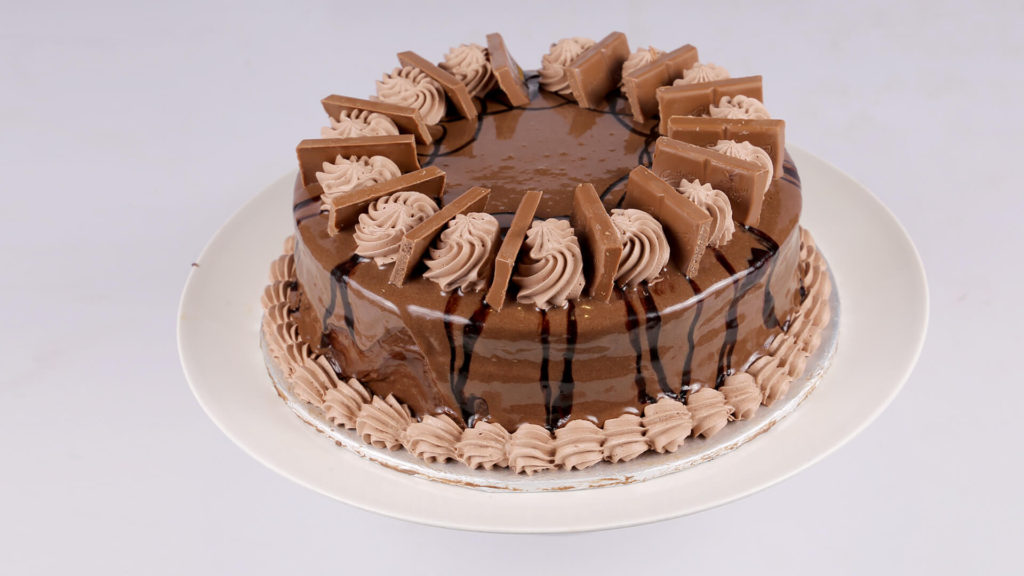 Sep 25, 2023 at 03:56 PM (GMT -04:00)

Check out the Chocolate Cake Recipe in Urdu. Learn how to make best Chocolate Cake Recipe , cooking at its finest by chef Shireen Anwar at Masala TV show Evening with Shireen. Check all the Pakistan Cooking recipes in Urdu of Masala TV. Also Check Chocolate Cake Recipe , ingredients and complete Method.
This Chocolate Cake is gooey on the inside with a crisp outer crust that will give you a great combination of soft and crunch. Bake this for your special occasions and enjoy every single bite of it!
Watch this Masala TV video to learn how to make Chocolate Cake ,Chicken Stuffed Buns and Mille Feuille Lemon Pastry Recipe. This show of Evening With Shireen with Chef Shireen Anwar aired on 21 January 2020.
Ingredients:
Flour 100 gm
Rice flour 70 gm
Butter 230 gm
Sugar 230 gm
Coco powder 70 gm
Baking powder 1 -1/2 tsp
Eggs 5
For Topping:
Butter 100 gm
Icing sugar 160 gm
Coco powder 40 gm
Melted chocolate 150 gm
Method :
For Sponge:
• Beat butter and sugar together. Add in the egg to this mixture and beat this long as well.
• One by one add in the dry ingredients.
• Bake the cake at 180c for 35 minutes
For Icing:
• Beat butter and sugar in a bowl until the texture feels creamy.
• Now add cocoa powder to the mixture.
• Finally add melted butter to it and mix it.
• Add this frosting to the cake and present it.
Everyone's all-time favorite dessert is Chocolate Cake.  Birthdays, parties, Religious festivals, Dinners etc. it is perfect for almost every occasion. Not just occasions, but cakes are also used as a gift or token of appreciation by a lot of people out there. And the reason why chocolate cakes are so popular is because of how they are so easy to make, how many variations they have and delicious they taste!
Within the category of chocolate cake there can be many variations, you have so many recipes you can choose from, either you can follow a simple chocolate cake recipe, a Chocolate Cake Recipe without Oven or with oven, you can make a Chocolate Mousse Cake, a chocolate lava cake etc. And for all these different types of chocolate cake, you can easily find many chocolate cake recipes in Urdu or English.
The trend of people buying cakes from bakeries have been largely shifted to people actually baking their own cake. Before people believed that it will be a tiring process but with time it is actually seen as a more fun filled family activity. When you bake a cake regardless of which type it is, be it a Chocolate Birthday Cake, Chocolate Mousse Cake or Chocolate Lava Cake, whichever it is, baking yourself means along with some great ingredients, you will also be adding lots of love and hard work to it, which obviously makes it taste extra amazing.
There are so many chocolate cake recipes out there for you to choose from but almost all of them have some similar basic ingredients like flour, eggs, cocoa powder, baking powder, granulated sugar, milk, some vanilla essence, and then some chocolate, cream and butter to make chocolate ganache. Fun part about these ingredients is you can always find them at home since they are actually ingredients which are used by people on daily basis. When we talk about utensils used for a homemade chocolate cake recipe, some people use any basic oven friendly dish but a lot of people who are super interested in baking properly buy proper baking utensils to make the whole experience more fun.
But the taste of cake always comes down to the Chocolate Cake Recipe in Urdu people followed, the type of recipe followed makes a lot of difference. An example of great recipe is basically making your batter with all the ingredients mentioned above and then letting it bake in the oven. Making sure the consistency of batter is good, and then depending on your oven settings let it bake. Once it's ready let it cool down a little and then add your chocolate ganache to it, and viola your chocolate cake will be ready! You can add different decorations to it, be it buntings, sprinkles some fruits etc. Chocolate Cake Recipe without Oven is almost same except you need to make sure that the batter is a little thick since you will either bake it in a microwave or cook it on a stove. Depending on which method you use you can make the changes accordingly.
The experience of baking a cake, the whole journey of involving your kids in baking it, both parents helping out the kids and teaching them how to bake a cake, it is an experience which is super fun but also kids get to learn one or two cooking skills. This is exactly what chocolate cake does, it is not only something you eat, it creates this amazing experience for you to enjoy and learn from!
Ingredients for Dough:
Flour 500 gm
Eggs 1
Sugar 20 gm
Salt 8 gm
Milk powder 25 gm
Yeast 12 gm
Oil 30 ml
Bread improve 2 gm
Water 200 ml
For Filling:
Chicken boneless 250 gm
Oil 2 tbsp
Green masala 1 tbsp
Soya sauce 1 tsp
Black paper 1/4 tsp
Salt to taste
Mayonnaise 2 -3 tbsp
Puff pastry crust as required
Black olives 1 tbsp
Method
• Mix all the ingredients for dough and leave it on the side to let it rise.
• For the filling, in a pan cook the chicken in oil. Add in green masala and soya sauce to the chicken.
• Once this cooked chicken cools down, add mayonnaise, puff pastry's crust and olives to it.
• Make bun like shapes out of the dough and fill it with the chicken filling that you've prepared.
• Bake these on 180°C fort 15 minutes.
Mille Feuille Lemon Pastry:
Flour 500 gm
Sugar 25 gm
Oil 50 ml
Salt 7 gm
Water 200 ml
Puff 400 gm
For Filling:
Butter 200 gm
Sugar 200 gm
Eggs yolk 200 gm
Lemon juice 10 ml
Method:
• Knead all the ingredients for puff pastry and let it rise for 30 minutes.
• Roll out the dough and cut it out in circles or squares.
• Then bake it for 30 minutes at 180°C.
• For filling mix in the butter, sugar, lemon juice and egg yolks. Cook it on low flame until it thickens.
• Add the filling to the puff pastry and decorate it.

Chocolate Cake Recipe in Urdu and English
At Masala TV you can check complete Chocolate Cake Recipe in Urdu and English. This is one of the best recipes by chef Shireen Anwar at Masala TV show Evening with Shireen. Check out the other best recipes of chefs Shireen Anwar.
Top relevant recipes of Chocolate Cake Recipe in Urdu