Chocolate Mahalabia Recipe | Mehboob's Kitchen | Chef Mehboob Khan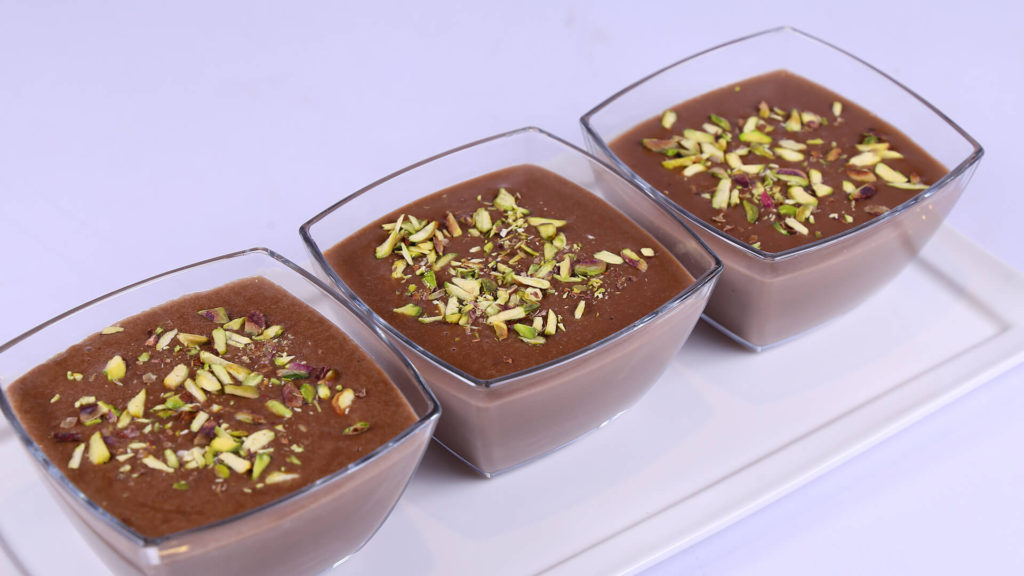 Dec 04, 2022 at 07:53 PM (GMT -05:00)

Check out the Chocolate Mahalabia Recipe in Urdu. Learn how to make best Chocolate Mahalabia Recipe, cooking at its finest by chef Mehboob Khan at Masala TV show Mehboob's Kitchen. Check all the Pakistan Cooking recipes in Urdu of Masala TV. Also Check Chocolate Mahalabia Recipe, ingredients and complete Method.
This recipe of Chocolate Mahalabia will have you making it like a pro in no time! It's so easy to make and extremely yummy to have so try it out and let us know.
Watch this Masala TV video to learn how to make Chocolate Mahalabia ,Chicken Hara Pulao and Panchratni Daal Recipes. This show of Mehboob's Kitchen with Chef Mehboob Khan aired on 17 December 2019.
Ingredients:
Condensed Milk 1 Tin
Cocoa Powder 4 tbsp
Rose Water 2 tbsp
Corn Flour 4 tbsp
Chocolate 250 gms
Pistachios 4 tbsp
Milk 1 liter
Evaporated Milk 1 Tin
Sugar ½ cup
Method:
Boil Milk, add sugar, condensed Milk and evaporated Milk. Mix well.
Dissolve cocoa powder in some milk and add this mixture in the sugar mixture.
Now add corn flour in ½ cup water and add it to the sugar mixture to thicken it on low flame.
Now add rose water and chocolate to the mixture. Remove this mixture in a bowl and leave it in the refrigerator for a while.
Lastly garnish it with grated chocolate and chopped pistachios. Serve cold
Chicken Hara Pulao:
Ingredients:
Chicken ½ kg
Rice 2 cups
Onion 1
BoiledEggs 5
Green Chilies (medium) 5
Green Chilies (small) 8
Green Chilies (large) 2
Curry Leaves 12
Garlic 3 cloves
Whole Garam Masala 50 grams
Cumin 1 tsp
Ginger (chopped) 2 tbsp
Mint Leaves 3 tbsp
Colander Leaves 5 tbsp
Oil 5 tbsp
Method:
Dry Roast whole garam masala and cumin in a pan.
Heat oil in another pan and fry garlic, onion and chicken, now add roasted garam masala, salt and water and leave it to cook. Chop curry leaves, green chilies, coriander and ginger in a chopper. Add soaked rice in chicken gravy, cover and cook for 10 minutes, add boiled eggs and cook for another 5-7 minutes, lastly add chopped green masala and mix well. Dish out and serve
Panchratni Daal:
Ingredients:
Split Green gram 1/2cup
Split Red Lentil 1/2cup
Black lentil 1/2cup
Split Bengal gram 1/2cup
Oil 3tbsp
Black cumin 1tsp
Onions chopped 1/2
Red chili powder 1/2tsp
Turmeric 1/2tsp
Salt as per taste
Tempering ingredients:
Butter 4tbsp
Tomato 1
Yogurt 1/2cup
All spices powder 1/2tsp
Black cardamom seeds 2
Red chili powder 1/2tsp
Coriander (chopped) 1/4cup
Method:
In a pan heat oil and fry black cumin and onions to fry. Wash all the lentils and soak them in water for 2hours. Then drain their water and fried onions and fry for 4-5mins and add 5cups of water to cook till it gets a boil. Set the flame at medium and remove the bubbles from the surface. Then add coriander powder, red chili powder, turmeric and salt to cook it covered for 30mins till the lentils are tender. For roasting in a karahi heat butter and tomato, yogurt and all spices powder and cook it at medium flame till the oil comes on the surface. Now in it add black cardamom seeds to fry for a few seconds. Then in it add red chili powder and fry for a few seconds and add the cooked lentils to cook for 4-5mins. After that dish it out and garnish it with garlic, ginger and coriander to serve.

Chocolate Mahalabia Recipe in Urdu and English
At Masala TV you can check complete Chocolate Mahalabia Recipe in Urdu and English. This is one of the best recipes by chef Mehboob Khan at Masala TV show Mehboob's Kitchen. Check out the other best recipes of chefs Mehboob Khan.
Top relevant recipes of Chocolate Mahalabia Recipe in Urdu