Chocolate Tart Shell Recipe | Masala Mornings | Masala TV | Shireen Anwar | Dessert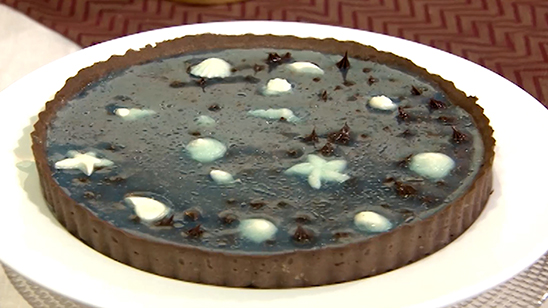 Oct 02, 2023 at 05:16 PM (GMT -04:00)

Check out the Chocolate Tart Shell Recipe in Urdu. Learn how to make best Chocolate Tart Shell Recipe , cooking at its finest by chef Shireen Anwar at Masala TV show Masala Mornings. Check all the Pakistan Cooking recipes in Urdu of Masala TV. Also Check Chocolate Tart Shell Recipe , ingredients and complete Method.
Chocolate Tart Shell is the perfect solution for your sweet cravings. You and your loved ones will have an absolute blast having this one!
Watch this Masala TV video to learn how to make Chocolate Tart Shell , Mango Parfait and Ocean Tart Recipes. This show of Masala Mornings with Chef Shireen Anwar aired on 21 September 2021.
Ingredients:
Plain flour 160 grams
Egg yolk 3
Icing sugar 65 grams
Butter (cold) 110 grams
Salt ¼ tsp
Corn starch 15 grams
Cocoa powder 10 grams
Method:
For the chocolate pastry, beat the butter & icing sugar until smooth. Now add in egg yolk & combine well. In a separate bowl, sift together flour, cocoa powder, corn starch & salt. Mix all dry ingredients with the butter mixture and make smooth dough. Keep it in the chiller for an hour. Remove from the chiller and roll it carefully with the help of dry flour dusting. Spread carefully in tart pan and adjust all the corners with the help of forefinger & thumb. Prick the center with the fork and cover it with baking sheet & pie-weight. Bake the tart shell for 15 minutes at 180 c. Then take it out from the oven and remove pie-weight. Put it back in the oven for further 15 minutes to give the perfect color. Use it accordingly.
Ingredients:
Mango puree 200 gram
Flavor cream 100 gram
White chocolate 200 gram
Butter 50 gram
Gelatin 7 gram
Ingredients to garnish:
Spiced cookie crumbs as required
Coconut shavings (toasted) as required
Mango chunks as required
Walnuts as required
Other ingredients:
whippy whip cream 200 grams
Caramelized milk 70 grams
Cream cheese 100 grams
Method:
in a deep clean pan melt chocolate then add in butter, coconut cream, gelatin & mango puree. Set aside. In another bowl beat whippy whip until stiff peaks then add in cream cheese. Set aside. Now pour both mixtures in piping bags separately. In parfait glasses start making layers consecutively with the help of garnishes as per your desire. Or you may freeze it in log shape before serving.
Note: – parfait is two types of frozen dessert. In France it's made with boiling cream, egg, sugar to create custard.
In American version it includes more ingredients like yogurt, nuts, granola, fruits & whipped cream that are layered and served in long glasses.
Ingredients:
Ready chocolate tart shell 1
dark chocolate 300 grams
Flavor cream 100 grams
Caster sugar 20 grams
Agar-agar powder 1 tsp
Mint extracts 5 drops
Blue gel color 2 drops
water 300 ml
Blue jelly 1 packet
Method:
In a deep clean pan melt chocolate with cream to make smooth ganache. Keep aside. In a sauce pan simmer water then add in jelly & agar-agar powder. Boil for a minute and keep aside. Now assemble the tart shell with ganache and then pour slightly cooled jelly on top of ganache. Let it chill and set for few
hours before serving.

Chocolate Tart Shell Recipe in Urdu and English
At Masala TV you can check complete Chocolate Tart Shell Recipe in Urdu and English. This is one of the best recipes by chef Shireen Anwar at Masala TV show Masala Mornings. Check out the other best recipes of chefs Shireen Anwar.
Top relevant recipes of Chocolate Tart Shell Recipe in Urdu