Coconut Crispies Recipe | Food Diaries | Zarnak Sidhwa | Dessert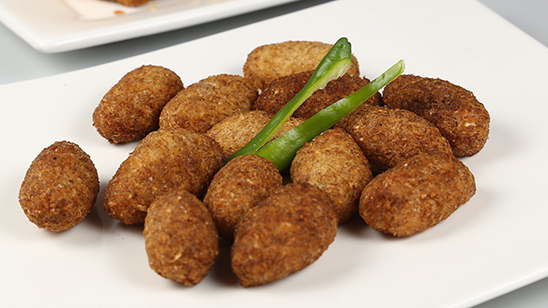 Sep 23, 2023 at 06:39 AM (GMT -04:00)

Check out the Coconut Crispies Recipe in Urdu. Learn how to make best Coconut Crispies Recipe , cooking at its finest by chef Zarnak Sidhwa at Masala TV show Food Diaries. Check all the Pakistan Cooking recipes in Urdu of Masala TV. Also Check Coconut Crispies Recipe , ingredients and complete Method.
Coconut Crispies will give you one the best appetizing experience of your life, give it a try !
Watch this Masala TV video to learn how to make Coconut Crispies ,Tutti Frutti and Eggless Tutti Frutti Cake Recipes. This show of Food Diaries with Chef Zarnak Sidhwa aired on 31 May 2021.
Ingredients:
Desiccated coconut 1/2 cup
Isabgol (psyllium husk) 2 tbsp
Salt 1/8 tsp
Baking powder 1/4 tsp
Olive oil 1 tsp
Hot water as required
Method:
In a blender add desiccated coconut, Isabgol and salt. Blend dry to powder. Remove in a bowl. Add baking powder and olive oil. Knead this dough with hot water. Add little at a time to form soft dough. Cover with a clean damp cloth and keep aside for 30 min. Knead once again. Use a little water if required to soften the dough. Make 3 equal size balls. Roll them thin on a floured surface. Cut them into any shape you like. Deep fry or bake in an oven till golden and crisp. Store in an air tight container.
Ingredients:
The white rind of watermelon as required
Sugar syrup as required
Food colors as required
Water as required
Method:
Remove the white part of the watermelon after carefully paring the green skin. Slice it thinly and then dice. In a pot of boiling water, add and cook for about 8-10 minutes till translucent. Drain.
Make a simple sugar syrup with water. Add the drained rind to the syrup and cook again for around 10 minutes. Take 4-5 bowls and divide the mixture along with the syrup into them. Put a few drops of different food colours into each and let them steep for a couple of hours. Can add essence if you want. (Orange, pineapple, vanilla). Drain and discard the liquid. Spread on plates and dry, either in the hot sun or under the fan. Make sure it is dried completely overnight.
Ingredients:
Flour 1 cup
Whole wheat flour 2tbsp
Semolina 1tsp
Milk powder 2tbsp
Corn flour 1tsp
Sugar 1/3 cup
Butter 80 gm
Milk as required
Yogurt ½ cup
Condensed milk ½ cup
Baking powder 1tsp
Baking soda ½ tsp
Tutti fruitti ½ cup
Raisins 2tbsp
Food color Pinch
Vanilla essence 1tsp
Cardamom crushed 1tsp
White vinegar 1tbsp
Salt a pinch
Flour (for dusting) 1tbsp
Method:
Mix together the flour, wheat flour, semolina, corn flour, baking powder, baking soda and a pinch of salt. Beat butter, add in condensed milk, sugar, yogurt, vanilla essence. Toss the tutti frutti with some flour. Add the dry ingredients to the wet mixture. Add some milk if needed. Add tutti frutti, raisins and lastly add vinegar and mix well. Pour the batter into a greased and lined loaf tin and tap well. Bake in a preheated oven at 180 degrees c for 30 to 35 minutes. A toothpick should come out clean, when the cake is done.

Coconut Crispies Recipe in Urdu and English
At Masala TV you can check complete Coconut Crispies Recipe in Urdu and English. This is one of the best recipes by chef Zarnak Sidhwa at Masala TV show Food Diaries. Check out the other best recipes of chefs Zarnak Sidhwa.
Top relevant recipes of Coconut Crispies Recipe in Urdu