Cold Coffee Recipe | Dawat | Abida Baloch | Beverages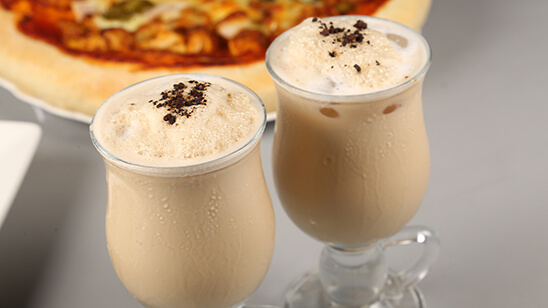 Sep 24, 2023 at 04:01 PM (GMT -04:00)

Check out the Cold Coffee Recipe in Urdu. Learn how to make best Cold Coffee Recipe , cooking at its finest by chef Abida Baloch at Masala TV show Dawat. Check all the Pakistan Cooking recipes in Urdu of Masala TV. Also Check Cold Coffee Recipe , ingredients and complete Method.
Coffee lovers know how important coffee becomes when winters strike. But have you ever tried cold coffee in winters? It feels way better. Don't believe us? Try it yourself by following this recipe!
Watch this Masala TV video to learn how to make Cold Coffee , Aalu Tikki Choley and Tikka and Jalapeno Pizza Recipes. This show of Dawat with Chef Abida Baloch aired on 21 April 2021.
Ingredients:
Instant coffee powder 1 tbsp
Warm water 2 tbsp
Milk 1½ cup
Sugar 1 tbsp
Ice 6 cubes
Whipped cream for decoration
Method:
Take the coffee into warm water let it cool then add in blender Along with 1½ cup milk, 1 tbsp sugar and 6 cubes ice. Blend well until the milkshake turns frothy. Pour the cold coffee into a long glass and garnish with whipped cream and coffee powder.
Ingredients:
For Aalu tikki:
Medium size potatoes (boiled & mashed) 2-3
Cumin powder 1 tsp
Coriander powder 1 tsp
Fennel powder 1 tsp
Red chili powder ½ tsp
Dry mango powder 1 tsp
Chaat masala powder ½ tsp
Corn flour 2 tbsp
Oil for frying
Salt as required
Other Ingredients:
Chickpeas 1 bowl
Chopped onions ½ cup
Chopped tomatoes 1/2 cup
Chopped coriander leaves ¼ cup
Mint coriander chutney ½ cup
Tamarind dates chutney ½ cup
Chaat masala as required
Lemon juice as required
Sev or papri as required.
Method:
Mix all the ingredients of patties. Make medium sized patties from the potato mixture. Shallow fry or pan fry till the patties are crisp and browned. Serve with chole topped with both the mint-coriander chutney and tamarind-dates chutney. Also add some chopped onions, chaat masala
Ingredients:
Pizza dough 300 gm
Pizza sauce 1/2 cup
For marinate:
Chicken Boneless 300g
Tandoori powder 1 tsp
Chili powder ½ tsp
Cumin powder ¼ tsp
Coriander powder ¼ tsp
Salt ¼ tsp
Red food color 1 tsp
For the topping:
Sliced red onion 1 small
Grated cheddar cheese 1 cup
Jalapenos 1/4 cup
Method:
Mix all the ingredients of marination and set aside for 20 minutes. Heat some oil in a frying pan and once hot, fry the chicken tikka slices for 2 – 3 minutes either side. Roll the dough on the pizza trays. Spread the pizza sauce, chicken, onions to the top of the pizza followed by grated cheddar, and lastly top off with jalapenos. Bake the pizza in a preheated oven, for 25 – 30 minutes till the pizza is golden brown and the cheese has melted.

Cold Coffee Recipe in Urdu and English
At Masala TV you can check complete Cold Coffee Recipe in Urdu and English. This is one of the best recipes by chef Abida Baloch at Masala TV show Dawat. Check out the other best recipes of chefs Abida Baloch.
Top relevant recipes of Cold Coffee Recipe in Urdu