Degi Beef Nihari Recipe | Tarka | Rida Aftab | Desi Food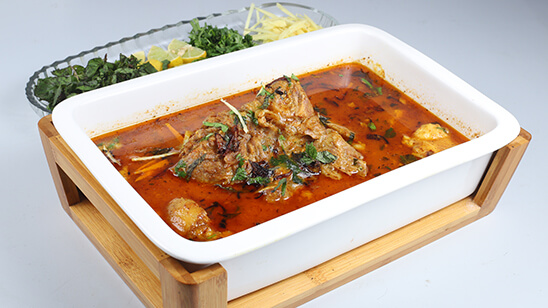 Nov 29, 2023 at 02:44 AM (GMT -05:00)

Check out the Degi Beef Nihari Recipe in Urdu. Learn how to make best Degi Beef Nihari Recipe , cooking at its finest by chef Rida Aftab at Masala TV show Tarka. Check all the Pakistan Cooking recipes in Urdu of Masala TV. Also Check Degi Beef Nihari Recipe , ingredients and complete Method.
Degi Beef Nihari is the most royal and rich form of Nihari you've tried. Give this very easy recipe a try!
Watch this Masala TV video to learn how to make Degi Beef Nihari , Lobia Anda Gravy and Makhni Garlic Naan Recipes. This show of Tarka with Chef Rida Aftab aired on 18 June 2021.
Ingredients:
Beef Shank ½ kg
Roasted flour ½ cup
Clarified butter 1-1/2 gm
Red chili powder 2 tsp
Turmeric 1 tsp
Coriander powder 1 tsp
Fennel seeds 1 tbsp
Star anise 6
Dry ginger powder ½ tsp
Cumin 1 tsp
Salt 1-1/2 tsp
Mace ½ tsp
Nutmeg ½ tsp
Ginger garlic 1 tbsp
Chopped onion 1
All spice powder 1 tsp
Method:
firstly in hot plate whole spices roast and grind it .now add red chili powder ,turmeric ,coriander powder ,salt and all spices powder mix then divided in to 2 parts .now add ginger garlic and half spices powder mix .after this beef add and roast well then add stock and cook bring to boil .after this roasted flour dissolve in water and add .after half an hour in the second frying fan add half clarified butter add and fry the onion and stove off .now add remaining spices add and do the tarka on nihari .
Ingredients:
Boiled red beans 250 gm
Boiled white beans 250 gm
Whole all spice 1 tsp
Tomatoes 4
Clarified butter 1 cup
Salt 1 tsp
Turmeric 1 tsp
Ginger garlic paste 2 tsp
Cumin 2 tsp
Butter 50 gram
Whole red chilies 10
Finely cut ginger as required
Green coriander as required
Green chilies as required
Boiled eggs 4
2
Method:
Heat oil adds garam masala when aroma comes out add whole red chili, cumin, tomatoes, salt, ginger garlic paste and turmeric and cook well. Now add red beans and white beans and let it cook for half an hour. Then mix and add green chilies and green coriander. Take out in dish and give tempering of butter and ginger and serve with boiled eggs at the top.
Ingredients:
White flour ½ kg
Yeast 2 tsp
Salt ½ tsp
Oil 4 tbsp
Hot water as required
Garlic chopped 2 tbsp
Green coriander 2 tbsp
Butter 50 gm
Method:
In a bowl mix yeast, salt, flour and oil with hot water, knead well. Leave for 1 hour. When dough rise, knead it again. Make naan from the batter. In separate bowl add garlic, coriander and butter mix well. Apply on naan and bake at 180 C for 30 minute.

Degi Beef Nihari Recipe in Urdu and English
At Masala TV you can check complete Degi Beef Nihari Recipe in Urdu and English. This is one of the best recipes by chef Rida Aftab at Masala TV show Tarka. Check out the other best recipes of chefs Rida Aftab.
Top relevant recipes of Degi Beef Nihari Recipe in Urdu