Egg Tawa Masala Recipe | Dawat | Abida Baloch | Desi Food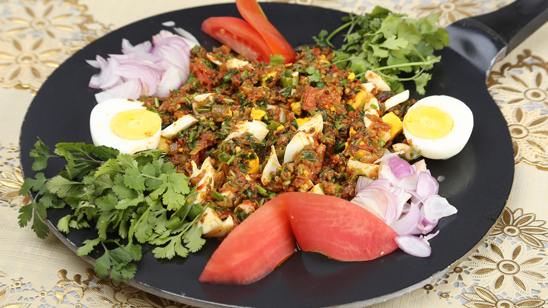 Nov 29, 2023 at 03:48 AM (GMT -05:00)

Check out the Egg Tawa Masala Recipe in Urdu. Learn how to make best Egg Tawa Masala Recipe , cooking at its finest by chef Abida Baloch at Masala TV show Dawat. Check all the Pakistan Cooking recipes in Urdu of Masala TV. Also Check Egg Tawa Masala Recipe , ingredients and complete Method.
Egg Tawa Masala will give you a burst of flavor in every bite. You'll absolutely love this one!
Watch this Masala TV video to learn how to make Egg Tawa Masala and Tomato Cheesy Bread Recipes. This show of Dawat with Chef Abida Baloch aired on 24 February 2021.
Ingredients:
Boiled Eggs 3
Fennel Seeds 1 tsp
Carom Seeds 1 tsp
Cumin Seeds 1/2 tsp
Ginger ,garlic, greenchilies, crushed 1-1/2 tbsp
Mustard Seeds 1/2 tsp
Onion, finely chopped 1 Medium
Tomato, finely chopped 1 Medium
Green Chilies, finely chopped 2 Small
Salt as per taste
Oil 1/2. Cup
Turmeric Powder 1/2 tsp
Sprigs Cilantro finely chopped 4
Dried red chilies 6
Poppy seeds 1 tbsp
Coriander whole 1 tbsp
Whole all spices 1tbsp
Method:
Ground coriander, Garam masala, red chili, poppy seed, fennel seeds, carom, and cumin set aside. On a tawa, add oil, add mustard seeds. When they splutter, add onion and tomato. Let it cook for a minute. Add ginger-garlic green chilies mixture. Mix well. Add turmeric, salt mix well. Cook further. Add green chilies, ground masala mix well. Add cilantro and mix well adds sliced eggs. Coat the eggs with the mixture and serve.
Ingredients:
Jalapeno ½ cup
Olives ½ cup
For Tomato Sauce:
Olive oil ¼ cup
Garlic, minced 3 cloves
Dried rosemary 1 tsp
Basil 2 tbsp
Red pepper flakes Pinch of
Salt ½ tsp
Tomato paste 5tbsp
Sugar ½ tsp
Black pepper 1tsp
For bread:
Warm water 1 cup
Yeast 2 tsp
Sugar 1/2 tsp
Olive oil as required
Salt 1 tsp
All-purpose flour 2-1/2 cup
Grated cheese 1 cup
Method:
Preheat the oven to 350ºffor tomato sauce: In a small pan all ingredients mix and cook on medium heat cook for 3-5 minutes. Let the sauce cool. In a large bowl, stir together all the ingredients of bread and make dough let it rest for double. Cut the dough into 1-inch chunks add the cooled tomato sauce, Jalapeno, olives and grated cheese. Toss the dough pieces in the sauce and cheese until everything is evenly coated. Grease the pan and Place the sauce coated bread pieces in the prepared dish. Bake the bread for 23-25 minutes, and serve

Egg Tawa Masala Recipe in Urdu and English
At Masala TV you can check complete Egg Tawa Masala Recipe in Urdu and English. This is one of the best recipes by chef Abida Baloch at Masala TV show Dawat. Check out the other best recipes of chefs Abida Baloch.
Top relevant recipes of Egg Tawa Masala Recipe in Urdu