Falafel Flatbreads Recipe | Food Diaries | Zarnak Sidhwa | Bakery Items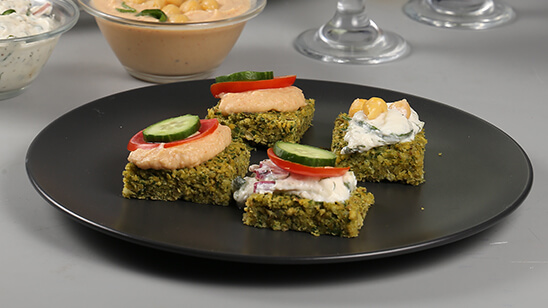 Jun 08, 2023 at 01:24 AM (GMT -04:00)

Check out the Falafel Flatbreads Recipe in Urdu. Learn how to make best Falafel Flatbreads Recipe , cooking at its finest by chef Zarnak Sidhwa at Masala TV show Food Diaries. Check all the Pakistan Cooking recipes in Urdu of Masala TV. Also Check Falafel Flatbreads Recipe , ingredients and complete Method.
Falafel Flatbreads are fun to prepare and delicious to have. You'll love every bite of this!
Watch this Masala TV video to learn how to make Falafel flatbreads and Elaichi sherbet Recipes. This show of Food Diaries with Chef Zarnak Sidhwa aired on 14 April 2021.
Ingredients:
Chickpeas, soaked overnight 1 cup
Onion, chopped 1
Parsley, chopped 1 cup
Coriander chopped 1 cup
Green chilli 1
Garlic cloves 3
Cumin seeds 1 tsp
Salt 1 tsp
Cardamom powder 1/2 tsp
Black pepper 1/4 tsp
Baking soda 1/2 tsp
Gram flour 1/2 cup
Water 3 tbsp
Olive oil 1 tbsp
Hummus to serve
Cucumber sliced 1
Tomato sliced 1
Cucumbers salad ingredients:
Cucumbers thinly sliced 2
Salt to taste
Onion thinly sliced, 1
spring onion thinly sliced 1
fresh dill, chopped, 2-3 tbsp
white vinegar 1-1/2 tbsp
honey 2 tsp
black pepper to taste
Method:
Drain and rinse the overnight soaked chickpeas and add them to your food processor. Add the onion, parsley, coriander, green chili, garlic, cumin, salt, cardamom, black pepper, and baking soda to the food processor and pulse several times until it the texture becomes a fine grain. Then transfer the falafel mixture to a bowl and refrigerate for an hour. take the mixture out of the fridge and add the chickpea flour, water and olive oil. Mix everything together with your hands until well combined. Flatten the falafel mixture onto a lined baking sheet. Gently press down with your hands to flatten. bake at 180 degrees c for 25 minutes. let it cool for about 10 minutes. Then slice it into individual pieces. To assemble, spread hummus on the flatbread and top with sliced tomato and sliced cucumber and serve immediately. Or you can serve with labneh (thick hung curd) and cucumber salad by mixing
Ingredients:
Water 2 cups
Green cardamom 1 cup
Water 1 litre
Sugar 1 kg
Rose water 1/4 cup
Green food color ½ tsp
To serve:
Method:
In a bowl add water, green cardamoms and let it soak for 4 hours or overnight. In chopper, add soaked green cardamoms and chop coarsely & set aside. Boil water with chopped green cardamoms on low flame for 12-15 minutes. Strain through a muslin cloth the cardamom mixture. In a pan add the strained cardamom water, sugar and rosewater, mix well and cook on low flame for 12-15 minutes. Add green food color and cook on low flame for 25-30 minutes or until syrup is thick & keep mixing in between. Let it cool down. Store in a clean sterilized bottle in the refrigerator, to enjoy the sherbet in 1 cup of milk or water add 2-3 tbsp of the elaichi sharbat,mix well & serve.

Falafel Flatbreads Recipe in Urdu and English
At Masala TV you can check complete Falafel Flatbreads Recipe in Urdu and English. This is one of the best recipes by chef Zarnak Sidhwa at Masala TV show Food Diaries. Check out the other best recipes of chefs Zarnak Sidhwa.
Top relevant recipes of Falafel Flatbreads Recipe in Urdu