Frosted Chocolate Cake Recipe | Food Diaries | Zarnak Sidhwa | Dessert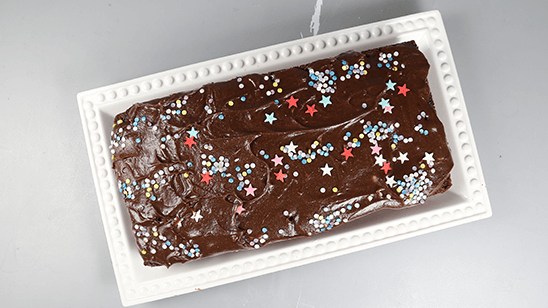 Aug 04, 2021 at 12:48 PM (GMT -04:00)

Check out the Frosted Chocolate Cake Recipe in Urdu. Learn how to make best Frosted Chocolate Cake Recipe , cooking at its finest by chef Zarnak Sidhwa at Masala TV show Food Diaries. Check all the Pakistan Cooking recipes in Urdu of Masala TV. Also Check Frosted Chocolate Cake Recipe , ingredients and complete Method.
Frosted Chocolate Cake is just for you if you are a baking fan. It's a basic chocolate cake that pairs wonderfully with evening tea or coffee. Try baking it at home and let us know how it turned out.
Watch this Masala TV video to learn how to make Frosted Chocolate Cake and Creamy Mushroom Chicken Recipes. This show of Food Diaries with Chef Zarnak Sidhwa aired on 26 May 2021.
Ingredients for the Cake:
Flour 7 oz
Sugar 1 ½ cups
Cocoa powder 1 tbsp
Baking powder 1 tsp
Baking soda 1 tsp
Salt ½ tsp
Unsalted butter (melted) 4 oz
Cream cheese 4 oz
Apple cider vinegar ½ tbsp
Eggs 2
Vanilla essence 1 tsp
Hot coffee ¾ cup
For Chocolate Butter Cream Frosting:
Unsalted butter 8 oz
Salt ½ tsp
Cream ¼ cup
Cocoa powder 4 tbsp
Icing sugar sifted 10 oz
Vanilla essence 1 tbsp
Cream ¼ cup
To Decorate:
Chocolate sprinkles as required
Chocolate shavings as required
Method:
For the butter cream, beat the butter until creamy. Add the cream, salt, sifted cocoa powder, icing sugar, vanilla and set aside.
Melt the butter and mix in the cream cheese to form a smooth paste. Add the apple cider vinegar, vanilla and eggs and whisk well. Add in the coffee. Add the dry ingredients, fold gently. Pour the batter into a greased and lined pan, bake at 180 degrees C for 25 – 30 minutes or until done. Remove the cake from the oven, and let it cool down. Apply the buttercream frosting on the surface of the cake, using a knife or offset spatula. Top the cake with chocolate sprinkles and chocolate shavings.
Ingredients for Marination:
Boneless chicken 1/2 kg
Salt 1/2 tsp
Crushed black pepper 1/2 tsp
Red chili flakes 1/4 tsp
Mixed herbs 1/2 tsp
Lemon juice 2 tbsp
Minced garlic 1 tsp
Ingredients for Mushroom Sauce:
Onions (thinly sliced) 2
Button mushrooms (sliced) 1 cup
Garlic (chopped) 1 tbsp
Red chili (chopped) 1
Black pepper (crushed) 1/4 tsp
Red chili flakes 1/4 tsp
Mixed herbs 1/4tsp
Basil 1/2 tsp
Salt 1 tsp
Butter 4 tbsp
Cream 1/4 cup
Chicken stock 1 cup
Fresh parsley leaves to garnish
Method:
Marinate the chicken with all the ingredients and cover and refrigerate for 30 minutes. Heat 2tbsp of butter. Add your chicken and cook it, once done, set aside. For the mushroom sauce, using the same pan in which chicken was roasted previously add 2 more tbsp butter and saute garlic and onions for few minutes. Add chopped chillies, mushrooms and saute. Add other ingredients and saute for 1 more minute. Add stock and let cook. Lastly add cream and mix well. Add chicken to this sauce, cover and cook few more minutes. Garnish with fresh parsley and serve with garlic bread.

Frosted Chocolate Cake Recipe in Urdu and English
At Masala TV you can check complete Frosted Chocolate Cake Recipe in Urdu and English. This is one of the best recipes by chef Zarnak Sidhwa at Masala TV show Food Diaries. Check out the other best recipes of chefs Zarnak Sidhwa.
Top relevant recipes of Frosted Chocolate Cake Recipe in Urdu