Fruity Tart Chaat Recipe | Dawat | Abida Baloch | Ramzan Recipes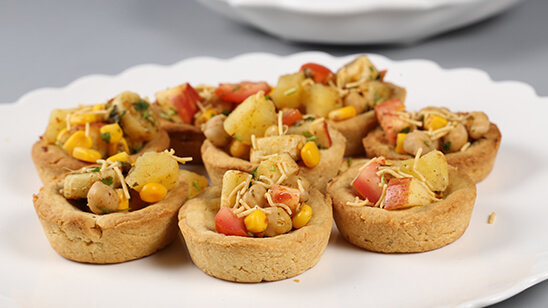 Feb 04, 2023 at 07:55 AM (GMT -05:00)

Check out the Fruity Tart Chaat Recipe in Urdu. Learn how to make best Fruity Tart Chaat Recipe , cooking at its finest by chef Abida Baloch at Masala TV show Dawat. Check all the Pakistan Cooking recipes in Urdu of Masala TV. Also Check Fruity Tart Chaat Recipe , ingredients and complete Method.
Fruity Tart Chaat is the most incredible tasting peas chaat you have ever had. Try it to believe it!
Watch this Masala TV video to learn how to make Fruity Tart Chaat , Berry Oatmeal and Shawarma rolls Recipes. This show of Dawat with Chef Abida Baloch aired on 19 April 2021.
For tart shell:
All-purpose flour 200 gm
Butter 110 gm
Carom seeds ½ tsp
Cumin seeds ½ tsp
Cold water few tbsp
For Chaat:
Apple cubed ½
Banana ½ cup
Corn (boiled) 5 tbsp
Chickpeas boiled 5 tbsp
Tomatoes (chopped) ¼ cup
Potato cubed 1/2 cup
Lemon Juice 2 tbsp
Coriander leaves (chopped) 2 tbsp
Green Chili 1
Red Chili Fakes ½ tsp
Black Salt ¼ tsp
Chaat Masala 1 tsp
Green Chutney to Serve
Sweet Tamarind Chutney to serve
Sev to serve
METHOD:
For Tart shells:
Mix the butter, carom seeds, cumin seeds and all-purpose flour with the fingers until mixture resembles bread crumbs. Add 2-3 tbsp of cold water and knead very gently to bring them together to form a ball, don't knead it too much .Wrap the tart dough in plastic wrap and refrigerate it for 30 mins. Divide the dough into equal small balls. Pre heat the oven. Grease the mini tart pan. Place the tart dough in the center of the mini tart pan, press the dough with your thumb to form a shape and size of the mini tart pan. Pierce the bottom of the crust with a fork. This will help the prevent the puffing up while baking. Fill the tarts with pie weight or kidney beans. Bake it for 15-20mins or till golden brown. Cool it for few mins
For Chaat:
In a bowl, mix all the ingredients except nylon sev.
Assembly:
Fill the tart shells with the prepared Chaat.Top with some more green chutney and sweet chutney if preferred.
Garnish with nylon sev and some more green coriander leaves.
Ingredients:
Oatmeal
Rolled oats 1 cup
Whole milk 1 cup
Berries 1 cup
Cinnamon 1/4 tsp
Vanilla extracts 1/4 tsp
Sugar 1 tbsp
Salt a pinch
For toppings:
Banana sliced as required
Nuts as required
Method:
In a small pot, stir oats, milk, cinnamon, vanilla extract, sugar and salt over medium high heat. Cook for 3-5 more minutes or until oats are tender
Pour oatmeal in a bowl along with berries, and top with, nuts and banana
Ingredients,
For the marinade:
Boneless chicken 300gm
Vinegar 1/2 cup
Plain yogurt 1/4 cup
Oil 1 tbsp
Salt and pepper to taste
All spice powder 1 tsp
For the sauce:
Tahini 1/4 cup
Plain yogurt 1/4 cup
Garlic (minced) 1/2 tsp
Lemon juice 2 tbsp
Olive oil 1 tbsp
Salt and pepper to taste
For plating:
Medium tomatoes, sliced 1
Onion, sliced 1/2 cup
Lettuce, shredded as required
Pita bread rounds 2
Method:
In a dish, mix together the vinegar, 1/4 cup yogurt, oil, mixed spice, salt and pepper. Place the chicken into the mixture and turn to coat. Cover and marinate in the refrigerator for at least 4 hours or overnight. In a small bowl, mix together the tahini, 1/4 cup yogurt, garlic, lemon juice, olive oil Season with salt and pepper, taste, Cover and refrigerate. Grill the chicken until chicken is browned and cooked through. Remove from the dish, and cut into slices. Place sliced chicken, tomato, onion, and lettuce onto pita breads. Roll up, grill it, and top with tahini sauce.

Fruity Tart Chaat Recipe in Urdu and English
At Masala TV you can check complete Fruity Tart Chaat Recipe in Urdu and English. This is one of the best recipes by chef Abida Baloch at Masala TV show Dawat. Check out the other best recipes of chefs Abida Baloch.
Top relevant recipes of Fruity Tart Chaat Recipe in Urdu