Gola Kabab Qeema Fry Recipe | Lazzat | Samina Jalil | Desi Food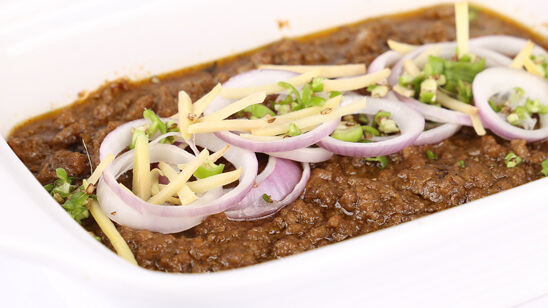 Dec 11, 2023 at 04:41 AM (GMT -05:00)

Check out the Gola Kabab Qeema Fry Recipe in Urdu. Learn how to make best Gola Kabab Qeema Fry Recipe , cooking at its finest by chef Samina Jalil at Masala TV show Lazzat. Check all the Pakistan Cooking recipes in Urdu of Masala TV. Also Check Gola Kabab Qeema Fry Recipe , ingredients and complete Method.
Gola Kabab Qeema Fry is that one recipe you won't be able to resist. It's spicy, succulent and tastes wonderful. Give this amazing recipe, which is jam packed with flavors, a try tonight!
Watch this Masala TV video to learn how to make Gola Kabab Qeema Fry , Gajar ka Jhatpat Achaar and Chicken Yakhni Pulao Recipes. This show of Lazzat with Samina Jalil aired on 18 December 2020.
Ingredients:
Mince (beef) 500 gm
Papaya 2 tbsp
Red Chili Powder 1-1/2 tsp
All Spice Powder ½ tsp
Green Chili Paste 1 tbsp
Fried Onion Paste ½ cup
Yogurt ½ cup
Clarified Butter ½ cup
Ginger Garlic Paste 1 tbsp
Nutmeg, Mace Powder ½ tsp
Kabab Chini Powder ½ tsp
Green Cardamom Powder ½ tsp
Butter 2 tbsp
Coal 1 piece
Onion, Ginger for garnish
Method:
In a mince add all the given ingredients and leave it 3 to 4 hours.
Now cook until done
After this , give coal steam.
Then heat ghee cooked mince and fry.
In the end, take it out in a dish.
Garnish with ginger , onion and serve.
Ingredients:
Carrot (length wise) 2 cups
Vinegar 1 cup
Boiled fenugreek 1 tbsp
Chopped fennel 1 tsp
Turmeric ½ tsp
Salt 1-1/2 tsp
Crushed red chilies 1 tsp
Nigella seeds ¾ tsp
Corn flour 1 tsp
Method:
Heat vinegar add carrot cook till tender slightly.
Add boiled fenugreek, nigella, salt, crushed red chili, turmeric and chopped fennel mix well left for simmer 10 min.
Mix corn flour in water add on it serve achar cold.
Ingredients:
Chicken 750 gram
Onion 2
Garlic 1 piece
Ginger 1 piece
Green cardamom 8-10
Curry leaves 2
Whole coriander, cumin 3 tbsp
Fennel seeds 1-1/2 tbsp
Whole red chilies 8-10
Salt to taste
For rice:
Basmati rice ½ kg
Finely chopped onion 2
Ginger garlic paste 1 tbsp
Mix all spice 1 tbsp
Finely chopped ginger 2 tbsp
Nutmeg, mace powder ¾ tsp
Salt to taste
Yogurt 1 cup
Screwpine essence 3-4 drops
Clarified butter ½ cup
Method:
For stock mix chicken, onion, whole garlic, ginger, green cardamom, curry leaves, whole coriander, whole cumin, fennel seeds, whole red chilies and salt then add as much water in which chicken get tender and 4 cup stock left. Then take out chicken pieces and sieve stock. Heat oil in a pan, add onion and fry till it gets golden brown. Now add whole all spice, salt, ginger garlic paste and yogurt. Also add chicken and chicken stock. Then add nutmeg, mace powder, finely chopped ginger and screw pine essence and cook till it gets boil. Now add soaked basmati rice and cook till water gets dry. Then put it on dum.

Gola Kabab Qeema Fry Recipe in Urdu and English
At Masala TV you can check complete Gola Kabab Qeema Fry Recipe in Urdu and English. This is one of the best recipes by chef Samina Jalil at Masala TV show Lazzat. Check out the other best recipes of chefs Samina Jalil.
Top relevant recipes of Gola Kabab Qeema Fry Recipe in Urdu