Gulab Jamun Dessert Recipe | Food Diaries | Zarnak Sidhwa | Dessert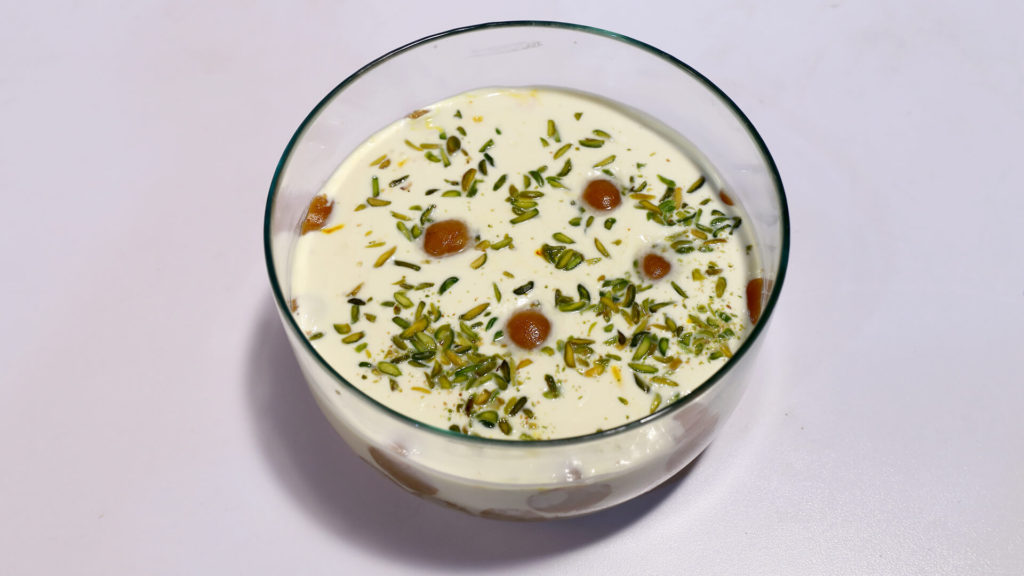 Dec 03, 2023 at 06:53 PM (GMT -05:00)

Check out the Gulab Jamun Dessert Recipe in Urdu. Learn how to make best Gulab Jamun Dessert Recipe , cooking at its finest by chef Zarnak Sidhwa at Masala TV show Food Diaries. Check all the Pakistan Cooking recipes in Urdu of Masala TV. Also Check Gulab Jamun Dessert Recipe , ingredients and complete Method.
Gulab Jamun's are almost a national favorite. This dessert consists of lots of gulab jumans and lots of deliciousness. Give it a try because this taste is unforgettable.
Watch this Masala TV video to learn how to make Gulab Jamun Dessert, Barbecue Sandwiches and Nepalese Vegetable Pulao Recipes. This show of Food Diaries with Chef Zarnak Sidhwa aired on 27 January 2020
Ingredients:
12 small Gulab jamuns
2 cups Yogurt
1/2 cup Cream whipped
1 tsp Saffron
3 tbsp Milk
3 tbsp Water
1 tsp Honey
1/4 cup Pistachios chopped
Method:
Slice 6 gulab jamuns. Keep aside. Quarter the other 6 gulab jamuns. Mix yogurt and cream together. Heat milk in a pan, add water, saffron and bring to a boil. Stir the milk mixture and turn off the heat. Once the mixture is slightly cool, add honey, mix well and keep aside. Now, take a glass bowl and add 2 tbsp yogurt mix. Place, 3-4 thinly sliced gulab jamuns (in a circle, covering all sides) and spread 1 tbsp yogurt mix over it. Spread 1/2 tsp saffron mix and add 2 tbsp yogurt mix. Decorate top with 1-2 quarter gulab jamuns, saffron mix and pistachio. Serve chilled.
Ingredients:
1 chopped onion
1 diced celery stalk
1 garlic clove, minced
1 tablespoon butter
1/2 cup salsa
1/2 cup ketchup
2 tablespoons brown sugar
2 tablespoons vinegar
1 tablespoon Worcestershire sauce
1/2 teaspoon chili powder
1/4 teaspoon salt
1/8 teaspoon pepper
2 cups shredded cooked chicken
4 burger buns, split and toasted
Method :
In butter saute the onion, celery and garlic until tender. Stir in the salsa, ketchup, brown sugar, vinegar, Worcestershire sauce, chili powder, salt and pepper. Stir in chicken. Bring to a boil. Cover and simmer. Serve about 1/3 cup chicken mixture on each bun.
Ingredients:
2 cups Rice
1/2 teaspoon Cumin seeds
1/2 teaspoon Turmeric powder
1 Bay leaf
4 Cloves
2 Black cardamoms
1/2 inch Cinnamon stick
1/2 tablespoon Ginger garlic paste
4 Green chilies
1 Onion chopped
1 Tomato chopped
1/2 cup Green peas
Salt to taste
as needed Oil
1 tablespoon Lemon juice
Method :
Heat oil. Add cumin seeds and let them splutter. Next, add bay leaf, cloves, cinnamon, black cardamom next the turmeric powder, ginger garlic paste & minced green chilies and cook for another minute. Then add chopped tomatoes, onion and peas. Drain water from soaked rice and add the rice into the pan. Mix everything properly. Add water and salt, cover and cook. When the rice is almost cooked, add lemon juice and mix.

Gulab Jamun Dessert Recipe in Urdu and English
At Masala TV you can check complete Gulab Jamun Dessert Recipe in Urdu and English. This is one of the best recipes by chef Zarnak Sidhwa at Masala TV show Food Diaries. Check out the other best recipes of chefs Zarnak Sidhwa.
Top relevant recipes of Gulab Jamun Dessert Recipe in Urdu