Gulab Jamun Recipe | Tarka | Rida Aftab | 17 October 2022 | Masala Tv Recipes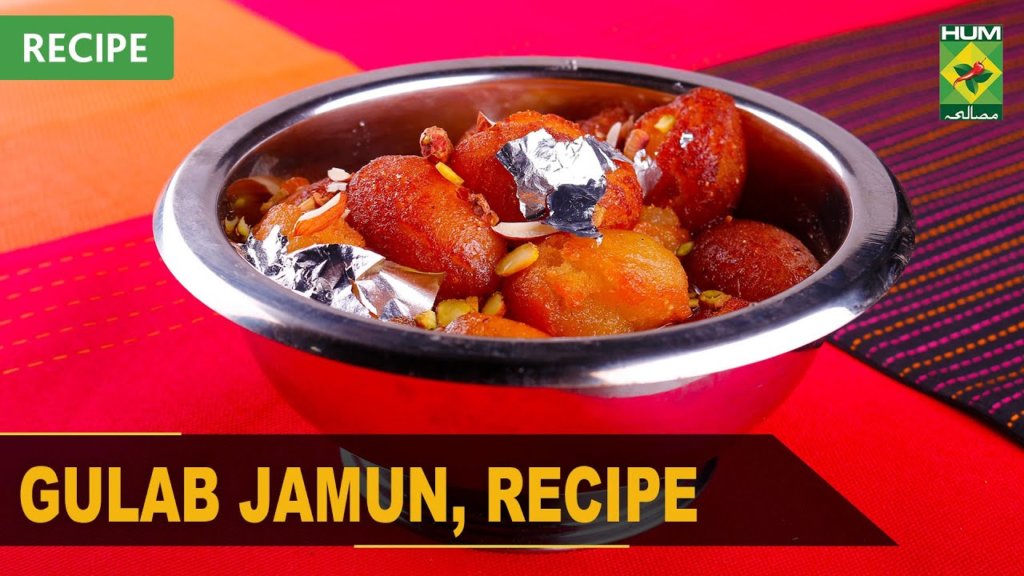 Sep 27, 2023 at 12:19 PM (GMT -04:00)

Check out the Gulab Jamun Recipe in Urdu. Learn how to make best Gulab Jamun Recipe , cooking at its finest by chef Rida Aftab at Masala TV show Tarka. Check all the Pakistan Cooking recipes in Urdu of Masala TV. Also Check Gulab Jamun Recipe , ingredients and complete Method.
Subscribe To Masala TV Recipes YouTube Channel! MasalaTv
The show is hosted by Chef Rida Aftab who not only cooks South Asian dishes but also offers solutions regarding storage of food and longevity of ingredients. It is the chef's relatable personality that is the unique selling point of the show.
This Gulab Jamun is filled with classic traditional flavours that you can never go wrong with this amazing recipes.
#GulabJamun #PavBhajiMasala #masalatv #Tarka #foodie
Click Here :https://www.masala.tv/karahi-chicken-…
to watch this Masala TV video to learn how to make Gulab Jamun, Pav Bhaji Masala And Cabbage Salad Recipes.
This show of Tarka with Chef Rida Aftab aired on 17 October 2022.
If you enjoy cooking Pakistani food and are looking for recipes, videos of LIVE shows, totkas, and other food stories in both Urdu and English, subscribe to this Youtube channel or go to our website: https://www.masala.tv/
#MasalaTV #Food #MasalaRecipes #Recipe #EveningWithShireen #ShireenAnwar#Dawat #AbidaBaloch #Lazzat #SaminaJalil #FlameOnHai #IrfanWasti #Tarka #RidaAftab #MehboobsKitchen #MehboobKhan #FoodDiaries #ZarnakSidhwa #Breakfast #Dinner#Lunch
Ingredients:
whole dried milk ½ kg
All Purpose Flour 250 grams
Semolina 100 grams
Eggs 1
cardamom powder ¼ tsp
Baking powder ½ tsp
Baking soda ¼ tsp
Sugar 2 Tbsp
Clarified Butter for frying
Almonds, pistachio as needed
Silver work as needed
For Syrup:
Sugar ½ kg
Water 2 cups
Saffron 1 pinch
Cardamom 2
Method:
In a pot, add whole dried milk, sugar, semolina, flour, egg, baking soda, baking powder and crushed cardamom and mix together. Make small balls and fry in ghee.
To make the syrup:
Combine and cook all ingredients together. After the syrup thickens, switch stove off. After cooling it down dip the fried gulab jamuns in it. Garnish with almonds, pistachio, and silver work. Serve.
Ingredients:
Red chili (whole) 7
Coriander seeds (whole) 4 Tbsp
Cumin seeds 2 Tbsp
Black pepper ¼ Tbsp
Cinnamon ½ inch
Cloves 3
Black cardamom 4-5
Dry mango powder 2 Tbsp
Fennel 1 Tbsp
Powdered sugar ½ Tbsp
Salt 1 tsp
Potato 2
Carrot 2
Peas 1 cup
Cauliflower 1 cup
Oil ½ cup
Butter 50 gram
Tomato 1 cup
Green chili, coriander as needed
Method:
In a pan, add Red chilli, Coriander seeds, Cumin seeds, black pepper, cinnamon, cloves, black cardamom, and fennel seeds and cook on low heat. Then add dry mango powder and keep stirring for 1 minute and cool. Add powdered sugar and let the mixture cool. Grind in a grinder and store in an airtight container. Heat oil and add. Then add all vegetables and combine with the spice mixture and cook. Lastly, add butter, coriander, and green chili and serve.
Ingredients:
Cabbage ½ kg
Soya sauce 1Tbsp
Chili sauce 2Tbsp
Black Pepper 1 Tbsp
Salt 1 Tbsp
Tomato Ketchup ½ cup
Yoghurt ½ cup
Method:
Combine all ingredients together in a bowl and mix well. Serve.

Gulab Jamun Recipe in Urdu and English
At Masala TV you can check complete Gulab Jamun Recipe in Urdu and English. This is one of the best recipes by chef Rida Aftab at Masala TV show Tarka. Check out the other best recipes of chefs Rida Aftab.
Top relevant recipes of Gulab Jamun Recipe in Urdu