Irish Roast Recipe | Masala Mornings| Shireen Anwar | Irish Food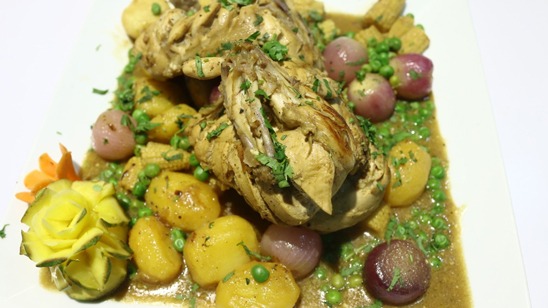 Dec 01, 2022 at 02:48 AM (GMT -05:00)

Check out the Irish Roast Recipe in Urdu. Learn how to make best Irish Roast Recipe , cooking at its finest by chef Shireen Anwar at Masala TV show Masala Mornings. Check all the Pakistan Cooking recipes in Urdu of Masala TV. Also Check Irish Roast Recipe , ingredients and complete Method.
Irish Roast is a unique way to serve a chicken roast full of taste and flavour! You'll love this one!
Watch this Masala TV video to learn how to make Irish Roast , Simply Mangoes and Puff Pin Wheels Recipes. This show of Masala Mornings with Chef Shireen Anwar aired on 10 July 2020.
Ingredients:
Whole chicken 1
Salt pepper 1 tsp each
Vinegar 2 tbsp
Soy sauce 2 tbsp
Mustard paste 1 tsp
Oil 2 tbsp
Butter 2 tbsp
Onion chopped 4 tbsp
Baby potatoes 6
Baby onions 8
Peas ½ cup
Baby corn ½ tin
Cream ¼ cup
Flour 1 tbsp
METHOD:
Prick chicken well, marinate with salt and pepper, mustard, vinegar, soya sauce for 2 hours, heat oil and butter, fry chopped onions for 5 mins, add in marinated chicken, roast well on both the sides for 10 mins, add in potatoes, ground them, add in flour, mix with 1 ½ cup water, cover and cook for 20 mins, open, add baby onions, peas, baby corn, cream, again cover and simmer on low flame till chicken done, serve hot with chopped parsley.
Ingredients:
Mangoes 1 ½ cup chopped
Yogurt 2 cups
Mango ice cream 4 scoops
Crushed ice 1 cup
Condensed milk 2 tbsp
METHOD:
Blend all together, serve garnished with mango, and serve immediately.
Ingredients:
Puff pastry ½ kg
Pasta sauce ½ cup
Chicken tikka chunks finely chopped 1 ½ cup
Grated cheddar cheese 1 cup heaped
Egg 1 beaten
Mixed herbs 1 tsp heaped
METHOD:
Pre heat oven to 190 D, roll puff pastry on a lightly floured surface to a thin rectangular, spread with pasta sauce, sprinkle with tikka chunks then scatter grated cheese over, starting with one of the short ends, roll the pastry as tightly as possible, chill for 10 mins, cut into slices with a sharp knife, put it on a non stick baking tray, brush each pin wheel with beaten egg, sprinkle with mixed herbs, bake for 15-18 mins until golden, leave for 10 mins before serving.

Irish Roast Recipe in Urdu and English
At Masala TV you can check complete Irish Roast Recipe in Urdu and English. This is one of the best recipes by chef Shireen Anwar at Masala TV show Masala Mornings. Check out the other best recipes of chefs Shireen Anwar.
Top relevant recipes of Irish Roast Recipe in Urdu