Japanese Chicken Skewers Recipe | Food Diaries | Zarnak Sidhwa | Continental Food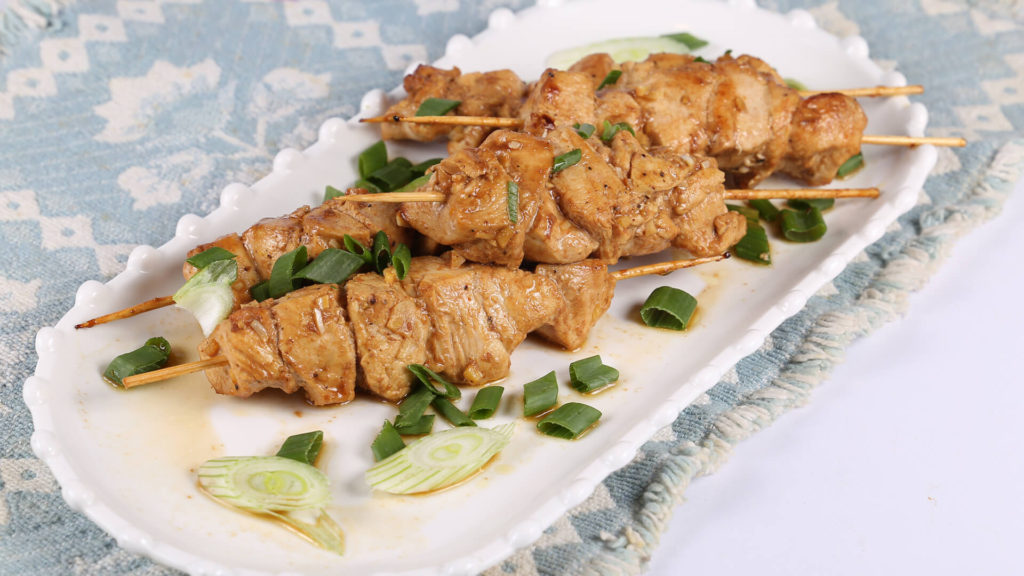 Dec 11, 2023 at 04:32 AM (GMT -05:00)

Check out the Japanese Chicken Skewers Recipe in Urdu. Learn how to make best Japanese Chicken Skewers Recipe , cooking at its finest by chef Zarnak Sidhwa at Masala TV show Food Diaries. Check all the Pakistan Cooking recipes in Urdu of Masala TV. Also Check Japanese Chicken Skewers Recipe , ingredients and complete Method.
These Japanese Chicken Skewers are the yummiest, yet the easiest dish to prepare. It has the right amount of spices and the perfect juicy texture to it. Try it today!
Watch this Masala TV video to learn how to make Japanese Chicken Skewers,Teriyaki chicken and Chocolate Orange Lava Cake Recipes. This show of Food Diaries with Chef Zarnak Sidhwa aired on 21 January 2020
Ingredients :
Chicken breasts cubed 400 grams
Garlic minced 4 cloves
Ginger minced 1/2 inch
Soya sauce 2 tablespoons dippit
Black pepper powder 1 teaspoon
Brown sugar 2 tablespoons
Vinegar 1 tablespoon
Ingredients for Sauce:
Oil 1 teaspoon
Garlic, chopped 1 teaspoon
Corn flour 2 teaspoons
Water 1/4 cup
Red chili sauce 1 tablespoon dippit
Method:
Marinate the chicken with the garlic, ginger, soya sauce, black pepper powder, brown sugar and vinegar. Thread the chicken onto earlier soaked skewers. Do not discard the marinade. Preheat a grill pan. Brush with some oil, once the pan is nice and hot, place the chicken yakitori on it, and cook by turning their sides, ensuring the chicken is well cooked. Mix the corn flour with water in a bowl to make slurry. Heat oil; add the garlic and sauté till it turns light brown. Add the remaining marinade and the chili sauce and bring to a boil. Add the corn flour slurry and wait for the sauce to thicken. Once the sauce is thick, turn off the flame. Check the seasonings. Transfer the sauce to a small bowl. To serve, transfer the chicken yakitori to a serving platter, pour the sauce over it or in a bowl and serve hot.
Ingredients :
3 Chicken breasts, boneless
1 tablespoon Corn flour dissolved
1 Capsicum chopped
Rice to serve
1 tablespoon oil
Ingredients for Teriyaki Sauce:
2 tablespoons Brown sugar
1/2 cup Honey
1/4 cup Soya sauce dippit
1 tablespoon Red chilli sauce dippit
3 cloves Garlic, minced
1 teaspoon Ginger, grated
1 teaspoon Black pepper powder
1/2 cup Chilled water
Method :
In a saucepan combine brown sugar, honey, soya sauce, hot sauce, garlic, ginger, black pepper powder and water. Once it boils, lower the heat and add cornflour paste. The sauce will get thick instantly. Turn off the heat and keep the pan aside. Pour half of the sauce over chicken breasts. Cook until chicken is done. Fry the capsicum in a tablespoon of oil in a pan. Sprinkle some pepper powder. Once chicken is done, cut the breasts into thick strips. Now take a ladleful of rice and place it in a bowl. Add the capsicum and teriyaki chicken pieces on top. Drizzle some of the remaining sauce.
Ingredients:
Dark chocolate 300gm
Orange grated 1 orange
Unsalted butter 75gm
Brown sugar 50gm
Eggs 5
Flour 50gm
Orange marmalade4tbsp
Method :
Melt the chocolate in a bowl over a pan of simmering water and add in orange rind, stir until smooth. Allow to cool slightly. Beat the butter, sugar, eggs, flour and orange marmalade until smooth batter. Add the melted chocolate and mix again. Divide the mixture between greased and floured ramekins. Place on a baking tray and bake at 200 degrees C for only 9 minutes. The outside will be cooked with a molten centre. Serve immediately with a scoop of vanilla ice cream. These puddings can be made several hours in advance, cover and chill until ready to cook. Increase the cooking time to 11-12 minutes.

Japanese Chicken Skewers Recipe in Urdu and English
At Masala TV you can check complete Japanese Chicken Skewers Recipe in Urdu and English. This is one of the best recipes by chef Zarnak Sidhwa at Masala TV show Food Diaries. Check out the other best recipes of chefs Zarnak Sidhwa.
Top relevant recipes of Japanese Chicken Skewers Recipe in Urdu