Japanese Milk Rolls Recipe | Recipe Food Diaries | Zarnak Sidhwa | Japanese Food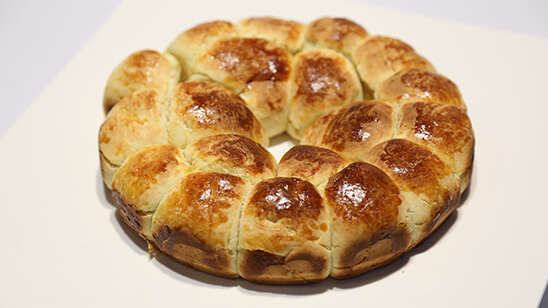 Dec 11, 2023 at 04:13 AM (GMT -05:00)

Check out the Japanese Milk Rolls Recipe in Urdu. Learn how to make best Japanese Milk Rolls Recipe , cooking at its finest by chef Zarnak Sidhwa at Masala TV show Food Diaries. Check all the Pakistan Cooking recipes in Urdu of Masala TV. Also Check Japanese Milk Rolls Recipe , ingredients and complete Method.
These Japanese Milk Rolls are incredibly soft and air! Every bite of this feels like true bliss.
Watch this Masala TV video to learn how to make Japanese Milk Rolls and Chili Cheese Toast Recipes. This show of Food Diaries with Chef Zarnak Sidhwa aired on 1 September 2020.
Ingredients:
Starter:
Water 3 tbsp
Milk 3 tbsp
Flour 2 tbsp
Dough:
Flour 2 1/2 cups
Dry milk powder 2 tbsp
Sugar 1/4 cup
Salt 1 tsp
Yeast 1 tbsp
Milk 1/2 cup
Egg 1
Melted unsalted butter 4 tbsp
Egg Wash:
Method:
To make the starter, combine all of the ingredients in a small saucepan, and whisk until no lumps remain. Place the saucepan over low heat, and cook the mixture, whisking constantly, until thick and the whisk leaves lines on the bottom of the pan, about 3 to 5 minutes. Transfer the starter to a small mixing bowl or measuring cup and let it cool to room temperature. To make the dough, combine the starter with the remaining dough ingredients, then mix and knead using a mixer until a smooth, elastic dough forms. Shape the dough into a ball, and let it rest in a lightly greased covered bowl for 60 to 90 minutes, until puffy but not necessarily doubled in bulk. Gently deflate the dough, divide it into 8 equal pieces, and shape each piece into a ball. Place the rolls into a lightly greased round cake tin. Cover the pan, and let the rolls rest for 40 to 50 minutes, until puffy. Brush the rolls with milk or egg wash and bake at 180 degrees C for 25 to 30 minutes, until golden brown on top. Remove the rolls from the oven. Allow them to cool in the pan for 10 minutes, then transfer them to a rack to cool completely.
Ingredients:
Salted butter 50gm
Flour 50gm
Milk 250ml
Cheddar cheese, grated 200gm
Mozzarella cheese 25gm
Parmesan cheese 1 tbsp
Egg yolks 3
Salt a pinch
Green chilies, chopped 2–3
Garlic, crushed 2 cloves
Black peppercorns (crushed) 1 tsp
Chopped coriander 1 tbsp
English mustard 2–3 tbsp
Thick slices bread 8
Chutney to serve
Method:
Melt the butter in a pan and mix in the flour with a wooden spatula, stirring continuously. Cook for two minutes, stirring all the while, to make a roux. Remove from the heat. Gradually whisk in the milk, and cook, until the sauce starts to thicken, then simmer gently for 3–4 minutes.
Remove the pan from the heat. Add all the cheese, egg yolks, salt, chopped chili, garlic, pepper and chopped coriander, return to a low heat and cook gently until all the cheese has melted and the mixture starts to bubble and be very thick. Toast the bread, either under the grill on both sides or in a toaster. Spread English mustard on the bread. Dollop the cheese mixture generously over the toast, place under the grill until bubbling and golden-brown. Serve hot with chutney.

Japanese Milk Rolls Recipe in Urdu and English
At Masala TV you can check complete Japanese Milk Rolls Recipe in Urdu and English. This is one of the best recipes by chef Zarnak Sidhwa at Masala TV show Food Diaries. Check out the other best recipes of chefs Zarnak Sidhwa.
Top relevant recipes of Japanese Milk Rolls Recipe in Urdu