Japanese Gyoza Recipe | Fusion Food | Chef Mahnoor Malik | 18 October 2022 | Masala Tv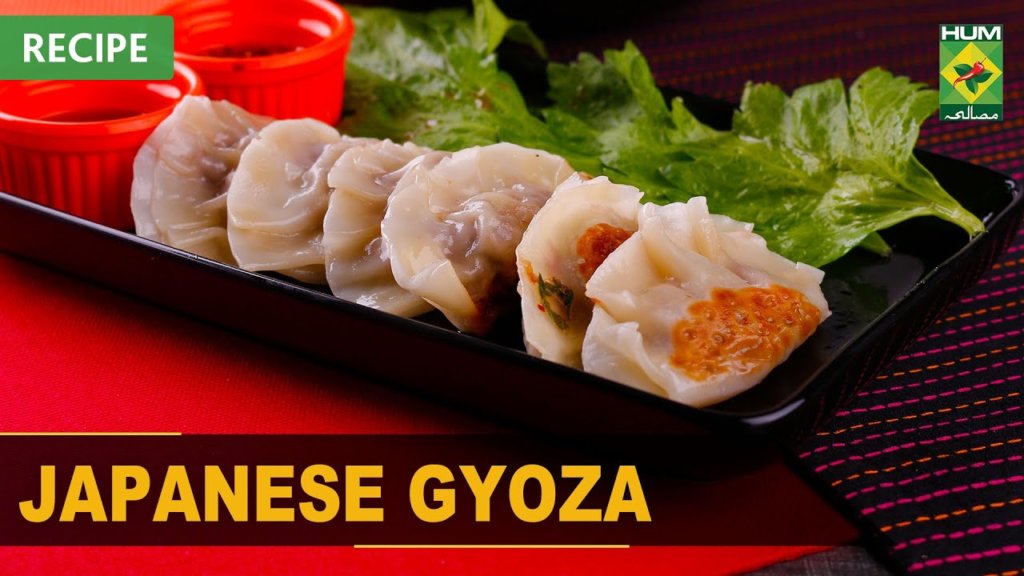 Dec 11, 2023 at 04:51 AM (GMT -05:00)

Check out the Japanese Gyoza Recipe in Urdu. Learn how to make best Japanese Gyoza Recipe , cooking at its finest by chef Mahnoor Malik at Masala TV show Fusion Food. Check all the Pakistan Cooking recipes in Urdu of Masala TV. Also Check Japanese Gyoza Recipe , ingredients and complete Method.
Subscribe To Masala TV Recipes YouTube Channel! MasalaTv
This show is hosted by Chef Mahnoor Malik who gives a personalized fusion twist to international cuisines. The chef also makes sure to provide a calorie count for each dish in the episode as well as to mention healthy substitutes for the ingredients to ensure a touch of healthiness in her dishes.
We bet you have never had as good as this one! This Japanese Gyoza is one of the best in
#JapaneseGyoza #stirfriednoodles #masalatv
Watch this Masala TV video to learn how to make Japanese Gyoza And Stir Fried Noodles recipe
Serving Size 3
Total Calories 480
Protein 5.7 gm
Fat 19.8 gm
Carbs 72 gm
Ingredients
Green cabbage, very finely chopped 1 1/2 cups
Salt, separated 1 tsp
Ground beef (mince) (fattier the better) 500 gm
Garlic, finely chopped ¼ cup
Garlic, crushed 1 clove
Ginger, grated 1 tsp
Sesame oil 1 tsp
Cornstarch or corn flour 1 tbsp
Soy sauce 2 tsp
For The Dipping Sauce
Soy sauce as required
Rice vinegar as required
Chili oil (Rayu is Japanese chili oil) as required
Method
1. Combine cabbage and 1/2 tsp salt in a small bowl, then set aside for 20 minutes to allow the cabbage to wilt slightly.
2. Place remaining Filling ingredients (including remaining 1/2 tsp salt) in a large bowl. Squeeze out any excess water from the cabbage and add to the bowl.
3. Use your hands to mix the Filling. Place 1 gyoza wrapper on your palm (left hand for right-handed people). Dip your finger in water and run it around the edge of half the gyoza wrapper (to seal).
Place 1 slightly heaped tbsp of Filling on the wrapper. Fold wrapper over and use your right hand assisted by your left-hand thumb to create 4 pleats. Press to seal and place on the tray.
TO COOK
Heat 1 tbsp oil in a large skillet (that has a lid) over medium high heat. Place about 12 gyoza in rows, slightly overlapping each other. Cook until the underside is light golden, then pour 1/3 cup of water around the gyoza and place the lid on. Cook until the water has completely evaporated (so the golden underside is not wet and soggy) and the wrapper is slightly translucent on top – about 3 to 4 minutes. (See video) Use an egg flip to transfer onto a plate upside down i.e. golden side up. Serve with Dipping Sauce.

FOR THE DIPPING SAUCE
Serve each ingredient separately so people can mix according to their taste. I use about equal portions of soy sauce and vinegar with a generous splash of chili oil.
Serving Size 3
Total Calories 780
Protein 18gm
Fat 33gm
Carbs 108gm
Ingredients For Yakisoba Sauce
Worcestershire sauce 3 tablespoons
Oyster sauce 2 tablespoons
Ketchup 2 tablespoons
Soy sauce 2 tablespoons
Brown sugar packed 1 tablespoon
Yakisoba (Fried Noodles)
Noodles rinsed and drained 1 packet
Peanut oil/ vegetable oil 1 tablespoon
Onion sliced 1 small
Mushrooms sliced 4
Green onions cut into 1-inch strips 2
Method
1. Make the sauce: In a bowl combine all the Yakisoba sauce ingredients together. Set aside.
2. Prep the noodles: Remove the noodles from their package, and place in a colander. Rinse well and drain. While rinsing you will have to separate the noodles with your hands.
3. Stir fry the veggies: In a large wok or skillet, heat the peanut oil over medium-high heat. Add the sliced onion cook for another 2 minutes until the onion softens. Add the mushrooms and green onions. Toss everything together and cook for another minute.
4. Finish the dish: Add the Yakisoba noodles to the wok then pour the sauce over everything. Toss everything together using tongs. Cook for another 2 minutes until the noodles heat through. Sprinkle a little corn flour give it a nice stir toss.
5. Serve: Serve immediately.

Japanese Gyoza Recipe in Urdu and English
At Masala TV you can check complete Japanese Gyoza Recipe in Urdu and English. This is one of the best recipes by chef Mahnoor Malik at Masala TV show Fusion Food. Check out the other best recipes of chefs Mahnoor Malik.
Top relevant recipes of Japanese Gyoza Recipe in Urdu