Kaleji Recipe | Food Diaries | Chef Zarnak Sidhwa | Desi Food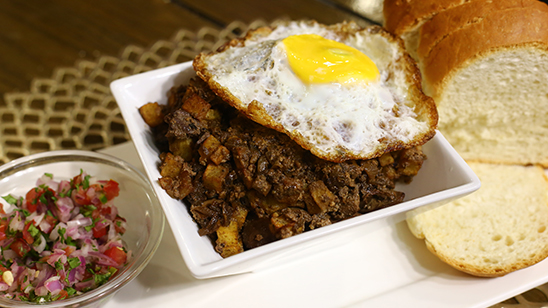 Jun 04, 2023 at 05:48 PM (GMT -04:00)

Check out the Kaleji Recipe in Urdu. Learn how to make best Kaleji Recipe , cooking at its finest by chef Zarnak Sidhwa at Masala TV show Food Diaries. Check all the Pakistan Cooking recipes in Urdu of Masala TV. Also Check Kaleji Recipe , ingredients and complete Method.
Here is the step by step recipe to cook perfect Kaleji with right spices and techniques to make it juicy and delicious!
Watch this Masala TV video to learn how to make Kaleji and Dudhi Buryani Recipes. This show of Food Diaries with Chef Zarnak Sidhwa aired on 12 August 2021.
Ingredients:
Chicken liver (chopped) ½ kg
Oil 3 tbsp
Onion (chopped) 1
Salt 1 tsp
Black pepper (crushed) 1 tsp
Coriander powder 1 tsp
Cumin powder 1 tsp
Ginger garlic paste 1 tsp
To serve:
Egg (fried) 1
Potato (peeled, cubed and fried) 1
Paav as required
Kachumbar as required
Method:
Heat oil and add the finely chopped onions. Once the onions brown, add the ginger-garlic paste and coriander-cumin powder. Add the chicken liver and cook on high heat for about 5 minutes. Do not overcook the liver. Add salt.
To serve, deep fry the potatoes in hot oil, until crispy. When the liver is cooked, add in the potatoes and stir. Or fry an egg sunny-side up and serve it on top of the Kaleji just before serving. Or serve with sliced paav. Or add some kachumbar.
Ingredients:
Bottle gourd (peeled and diced) 1 kg
Chicken ½ kg
Onions (chopped) 3
Tomatoes (chopped) 2
Whole red chilies 2
Black peppercorns 4
Cinnamon sticks 2
Green cardamoms 2
Cloves 3
Ginger-garlic paste 2 tsp
Red chili, garlic and cumin paste 1 tsp
Turmeric 1 tsp
Red chili powder 2 tsp
Coriander powder 2 tsp
Cumin powder 2 tsp
All spice powder 1/2 tsp
Dhansaak powder 1 tsp
Oil & clarified butter 2-3 tbsp
Salt 1 tsp
Method:
Heat clarified butter and oil. Add whole red chilies and the whole spices. Add the onions and sauté till translucent. Add the ginger-garlic paste and red chili, garlic and cumin paste. Add the tomatoes and cook till they get mushy. Add salt and the dry spices as well as the chicken. Now add the diced bottle gourd. Do not add any water. Cover and cook till bottle gourd and chicken are done. Remove the chicken pieces from the pan and keep aside. Mash the bottle gourd with a masher or blend to get a smooth gravy. If there is lots of water, put it on the stove and let the water evaporate. Now add the chicken pieces back in. Sprinkle coriander leaves and serve with brown rice.

Kaleji Recipe in Urdu and English
At Masala TV you can check complete Kaleji Recipe in Urdu and English. This is one of the best recipes by chef Zarnak Sidhwa at Masala TV show Food Diaries. Check out the other best recipes of chefs Zarnak Sidhwa.
Top relevant recipes of Kaleji Recipe in Urdu