Ketchup Spaghetti Recipe | Food Diaries | Zarnak Sidhwa | Italian Food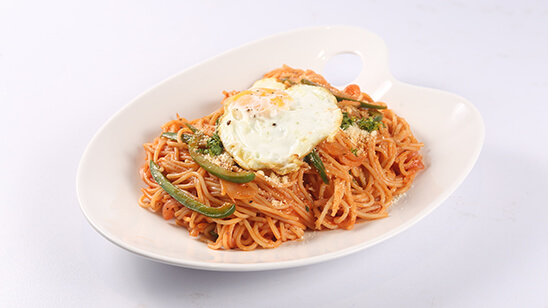 Aug 08, 2022 at 07:04 PM (GMT -04:00)

Check out the Ketchup Spaghetti Recipe in Urdu. Learn how to make best Ketchup Spaghetti Recipe , cooking at its finest by chef Zarnak Sidhwa at Masala TV show Food Diaries. Check all the Pakistan Cooking recipes in Urdu of Masala TV. Also Check Ketchup Spaghetti Recipe , ingredients and complete Method.
This is the simplest recipe to make a Ketchup Spaghetti. Make it as a midnight meal because it'll hardly take any time to prepare this yummy snack.
Watch this Masala TV video to learn how to make Ketchup Spaghetti and Honey Cake Recipes. This show of Food Diaries with Chef Zarnak Sidhwa aired on 9 March 2020.
Ingredients:
Spaghetti 4 oz
Salt to taste
Egg 1
Oil as required
Ground pepper to taste
Unsalted butter 2 tbsp
Onion (sliced) 1
Capsicum (sliced) 1
Ketchup 2 tbsp
Sugar a pinch
Milk 1 tbsp
Parmesan cheese ¼ cup
Fresh chopped parsley ¼ cup
Method:
Bring a pan of water to a boil, season with salt, and cook the spaghetti until aldente.
Fry egg in oil, sunny-side up. Season with salt and pepper and set aside.
When pasta is done, reserve 1/2 cup of the cooking water, drain, and set spaghetti aside for later. To prepare the sauce, melt 1 tablespoon butter and sauté onion and capsicum for 2 to 3 minutes, until just starting to caramelize. Add the remaining tablespoon butter, then stir in the ketchup and sugar. Sauté for 2 to 3 minutes. Splash in milk, along with the cooked and drained spaghetti. Toss with the sauce and fry pasta for a minute or so, adding some of the reserved cooking water to thin out as needed. Season with salt and pepper and stir in the Parmesan and parsley. Plate spaghetti, then top with the fried egg.
Ingredients:
Eggs, separated 3
Flour 3-1/2 cups
Sugar 1 cup
Baking powder 2-1/2 tsp
Baking soda 1 tsp
Ground cinnamon 1 tsp
Salt ½ tsp
Ground cloves ½ tsp
Ground ginger 1/4 tsp
Coffee 1-1/3 cups
Honey 1-1/3 cups
Cup oil ¼ cup
Cream of tartar ¼ tsp
Caramel glaze:
Butter 3 tbsp
Brown sugar 1/3 cup
Milk 2 tbsp
Icing sugar ¾ cup
Vanilla essence 1 tsp
Method:
Sift flour, sugar, baking powder, baking soda, cinnamon, salt, cloves and ginger together. In a small bowl, whisk egg yolks, coffee, honey and oil until smooth. Add to flour mixture; beat until well blended. Add cream of tartar to egg whites and beat until stiff but not dry. Fold a little of the whites into batter, then fold in remaining whites slowly. Gently transfer to an ungreased 10 inch tube pan. Bake on lowest oven rack 50-60 minutes or until top springs back when lightly touched. Immediately invert pan; cool completely, about 1-1/2 hours. In a small saucepan, melt butter. Stir in brown sugar and milk. Bring to a boil; cook over medium heat until sugar is dissolved. Stir in icing sugar and vanilla; cook until thickened, about 5 minutes. Run a knife around sides and center tube of pan. Remove cake to a serving plate and add glaze.

Ketchup Spaghetti Recipe in Urdu and English
At Masala TV you can check complete Ketchup Spaghetti Recipe in Urdu and English. This is one of the best recipes by chef Zarnak Sidhwa at Masala TV show Food Diaries. Check out the other best recipes of chefs Zarnak Sidhwa.
Top relevant recipes of Ketchup Spaghetti Recipe in Urdu