Kunna Paya Recipe | Lazzat | Chef Samina Jalil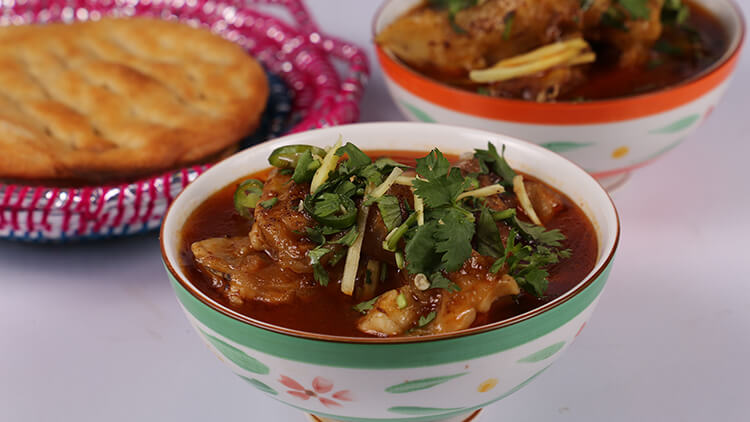 Jul 04, 2022 at 02:29 AM (GMT -04:00)

Check out the Kunna Paya Recipe in Urdu. Learn how to make best Kunna Paya Recipe, cooking at its finest by chef Samina Jalil at Masala TV show Lazzat. Check all the Pakistan Cooking recipes in Urdu of Masala TV. Also Check Kunna Paya Recipe, ingredients and complete Method.
Trotters have always been people's favorite. And when chef Samina prepares a recipe named Kunna paya, its pretty obvious that something great is being made.
Watch this Masala TV video to learn how to make Kunna Paya and Coconut Cottage Cheese Kheer . This show of Lazzat with Chef Samina Jalil aired on 31 October 2019.
Ingredients:
Mutton Trotters(boiled) 3
Mutton 400 grams
Chopped onion 1
Garlic water 1cup
Clarified butter ¾ cup
Coriander powder 1 tsp
Water (for Flour batter) 1 cup
Salt, red chili, turmeric to taste
All spice powder ¾ tsp
Yogurt ¾ cup
Green coriander, green chili chopped as required
Nutmeg mace powder ½ tsp
Black cumin as required
Method:
In a pan heat clarified butter ,add garlic water ,chopped onion ,salt ,red chili ,turmeric and coriander powder and add mutton and cook .when meat tender then roast and add yogurt mix then roast .after this add Mutton boiled Trotters ,all spices powder ,nutmeg mace powder ,flour batter water and Trotters stock and cook for few minutes .when both ingredients tender then add black cumin and keep on dum .finally dish out and remove and garnish with green coriander and green chili and serve .
Ingredients:
Milk 1-1/2 liter
Cottage cheese ¾ cup
Desiccated coconut 2 tbsp
Boiled rice ¾ cup
Corn flour 1 tbsp
Sugar 1 cup
Small cardamom powder ½ tsp
Finely cut almond, pistachios as required
Vanilla essence 2 drops
Method:
In milk boiled rice and small cardamom add and cook .when mix well then add sugar and cook till then sugar dissolve then add cottage desiccated coconut ,corn flour dissolve in water and vanilla essence add and mix well .when thick then pour in bowls and garnish with almonds and pistachios.

Kunna Paya Recipe in Urdu and English
At Masala TV you can check complete Kunna Paya Recipe in Urdu and English. This is one of the best recipes by chef Samina Jalil at Masala TV show Lazzat. Check out the other best recipes of chefs Samina Jalil.
Top relevant recipes of Kunna Paya Recipe in Urdu