Kunna Recipe | Food Diaries | Chef Zarnak Sidhwa | Desi Food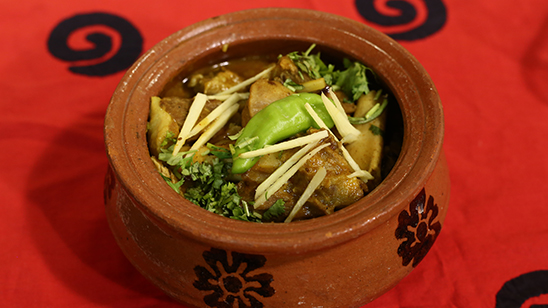 Sep 25, 2023 at 04:13 PM (GMT -04:00)

Check out the Kunna Recipe in Urdu. Learn how to make best Kunna Recipe , cooking at its finest by chef Zarnak Sidhwa at Masala TV show Food Diaries. Check all the Pakistan Cooking recipes in Urdu of Masala TV. Also Check Kunna Recipe , ingredients and complete Method.
Kunna is famous Lahori dish . What better than Kunna to have on a weekday to enjoy? Have it with Lahori Kulcha and you'll enjoy it even more!
Watch this Masala TV video to learn how to make Kunna and Peanut Butter Chocolate Blondies Recipes. This show of Food Diaries with Chef Zarnak Sidhwa aired on 16 July 2021.
Ingredients:
Mutton 1/2 kg
Onions (sliced) 2
Ginger & garlic paste 1 1/2 tbsp
Green chilies (chopped) 1 tbsp
Oil 1/2 cup
Yogurt 1/2 cup
Cumin seeds 1 tsp
Red chili powder 1 tsp
Cayenne pepper powder 1/2 tsp
Coriander powder 1/2 tsp
Turmeric powder 1/2 tsp
All spice powder 2 tsp
Green cardamom powder 1/4 tsp
Nutmeg powder 1/4 tsp
Carom seeds ground 1/2 tsp
Salt 1 tsp
Flour or whole wheat flour 1 ½ tbsp
For Garnish:
Ginger (julienned) as required
Green chilies as required
Method:
Heat oil and fry the onions until light golden. Add the ginger & garlic paste, chopped green chilies and the meat; fry it well for about 5 minutes. When the meat turns brown add all the spices. Add the water and cover and let the meat cook till tender. Add the yogurt and mix well, add some more all spice powder and a pinch of nutmeg powder. Mix whole wheat flour or flour with the water and stir well to form smooth mixture. Add this mixture to the gravy and stir well. Now cover the handi and let it simmer on low. Lastly garnish with ginger and sliced green chilies.
Ingredients:
Butter 1/2 tbsp
Flour 2 cups
Baking powder 1 tsp
Salt 1 tsp
Butter melted 3/4 cup
Brown sugar 1 1/2 cup
Caster sugar 1/2 cup
Creamy peanut butter 1/2 cup
Vanilla essence 1 tsp
Eggs 2
Chocolate chips 2 cups
Method:
Combine flour, baking powder and salt in a bowl. Beat the melted butter, brown sugar, caster sugar and peanut butter. Add in vanilla essence and eggs. Add the flour mixture to the butter mixture a little at a time. Fold in half the chocolate chips. Spread the dough into a greased and lined pan evenly. Sprinkle the top with the remaining chocolate chips and press lightly into the dough. Bake at 180 degrees C for 18-22 minutes until golden brown on the edges, or until a toothpick inserted in the center comes out clean. Let cool completely in the pan before cutting.

Kunna Recipe in Urdu and English
At Masala TV you can check complete Kunna Recipe in Urdu and English. This is one of the best recipes by chef Zarnak Sidhwa at Masala TV show Food Diaries. Check out the other best recipes of chefs Zarnak Sidhwa.
Top relevant recipes of Kunna Recipe in Urdu