Kushri Recipe | Food Diaries | Chef Faizan Rehmat | Fusion Food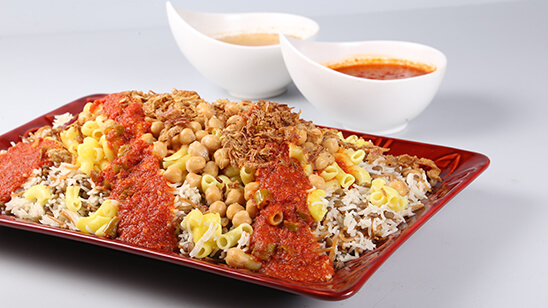 Aug 04, 2021 at 11:00 AM (GMT -04:00)

Check out the Kushri Recipe in Urdu. Learn how to make best Kushri Recipe , cooking at its finest by chef Zarnak Sidhwa at Masala TV show Food Diaries. Check all the Pakistan Cooking recipes in Urdu of Masala TV. Also Check Kushri Recipe , ingredients and complete Method.
Kushri which is yummy and filling dish that is made up of Rice, Black lentil boiled and Pasta boiled with unique and extra taste. So do this recipe a try!
Watch this Masala TV video to learn how to make Kushri and Cucumber lime punch Recipes. This show of Food Diaries with Chef Faizan Rehmat aired on 9 June 2021.
Ingredients:
Rice 3 cups
Oil ¾ cup
Pasta boiled 2 cups
Black lentil boiled 3 cups
Vermicelli's ½ cup
Chick peas boiled 2 cups
Brown onion ½ cup
Salt to taste
Cumin seeds powder ½ tsp
Ingredients for Garlic Vinegar sauce:
Garlic paste 1 tbsp
White vinegar 1/3 cup
Water 1/3 cup
Lemon juice 1/3 cup
Cumin powder 1 tsp
Coriander powder ½tsp
Red chili powder ½ tsp
Ingredients for Spicy Tomato sauce:
Oil 1/3 cup
Garlic paste 1 tbsp
Green chili 3 – 4
white vinegar 1/4 cup
Tomato pure 4 cups
Tomato paste 2 tbsp
Cumin seeds powder 1 tbsp
Salt to taste
Method of Garlic Vinegar sauce,
Mix all ingredients in a bowl. Sauce is ready.
Method of spicy sauce:
In a pan, heat the oil then add garlic and sauté till it becomes blond. Add green chilies and then add vinegar when chilies are fragrant. Add tomato paste, cook for a few minutes, add tomato purée in it then add cumin seeds powder and mix salt in it. Now bring to a boil, and cook until it becomes a big think. Adjust spices and keep a side.
Method of cooking rice:
In a pan, heat the Oil, add vermacilies and cook till golden. Add rice and fry for 2 minutes. Add 4.5 cups of water along with cumin seeds powder & salt. Bring a boil then reduce heat and keep cooking. It'll take a few minutes. When it is ready, mix boiled lentils in it.
Assembling Kushri:
Layered a ready cooked rice, then a layer of boiled pasta. Now add tomato sauce & dakkah on it. Now layered boiled chickpeas. Then brown onion and serve with extra sauce.
Ingredients:
Cucumber 2 cups
Honey 4 tbsp
Mint leaves ¼ cup
Lemon juice 3 tbsp
Ginger juice 1 tsp
Water 1 cup
Ice 1 cup
Carbonated water 2 glass
Method:
Blend all ingredients except soda drinks. Fill half Glass with mixter and pour half of the soda on it. Service with mint leaves and lemon garnish.

Kushri Recipe in Urdu and English
At Masala TV you can check complete Kushri Recipe in Urdu and English. This is one of the best recipes by chef Zarnak Sidhwa at Masala TV show Food Diaries. Check out the other best recipes of chefs Zarnak Sidhwa.
Top relevant recipes of Kushri Recipe in Urdu