Lemon Bundt Cake Recipe | Bake With An Expert | Chef Saad Ahmed | 26 Oct 2022 | Masala Tv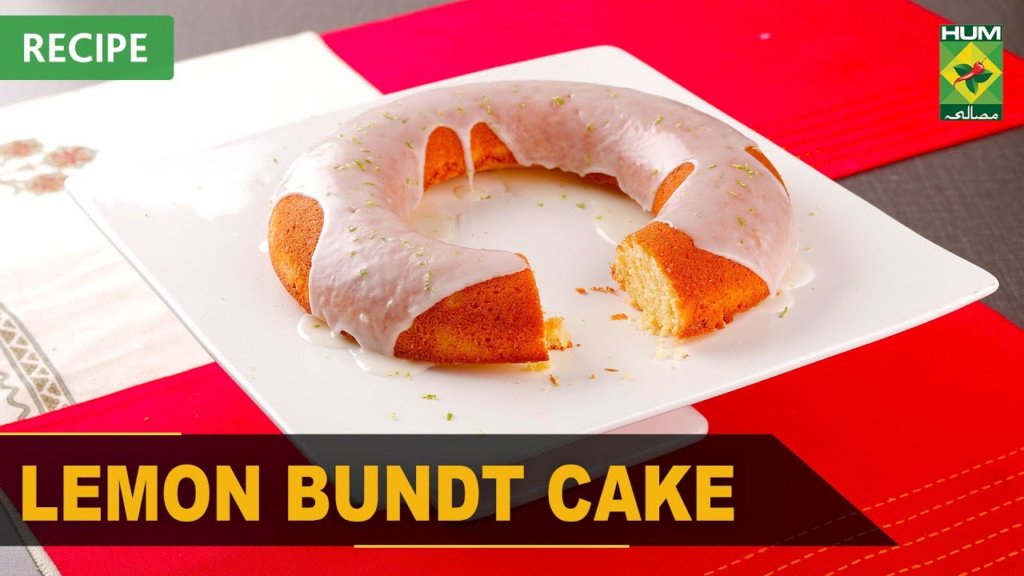 Jun 10, 2023 at 03:02 AM (GMT -04:00)

Check out the Lemon Bundt Cake Recipe in Urdu. Learn how to make best Lemon Bundt Cake Recipe , cooking at its finest by chef Saad Ahmed at Masala TV show Bake With An Expert. Check all the Pakistan Cooking recipes in Urdu of Masala TV. Also Check Lemon Bundt Cake Recipe , ingredients and complete Method.
Subscribe To Masala TV Recipes YouTube Channel! https://bit.ly/MasalaTV
This show features two new fresh faces from the culinary world; Chef Saba Aftab and Chef Saad Ahmed. Chef Saba provides theme-based patisserie solutions while Chef Saad provides an insight to savory and dessert based baking solutions.
#LemonBundtCake #masalatv #ChefSaadAhmed #VegetableGratin
Watch this Masala TV video to learn how to make Lemon Bundt Cake and Vegetable Gratin recipe.
This show of "Bake With an Expert" with Chef Saad Ahmed aired on 26 October 2022.
Ingredients:
Butter 3/4 Cup
Caster Sugar 3/4 Cup
Eggs 3
Milk 3 tbsp.
Baking Powder 1 tsp
Vanilla Essence 1 tsp
Flour 1 – ¼ cup
Salt a pinch
Lemon zest as required
Method:
In a bowl beat Softened Butter and sugar, then add eggs, milk, essence and beat well,
Add flour, Baking powder, salt and fold it in to incorporate air to the batter with a help of
a spatula, Pour the batter in a baking tin with lined parchment paper, Tap to remove the
air bubbles. Bake at 180c for 15/20mins.
For Glaze:
Add 1 Cup Powdered Sugar with 3 tbsp Milk and 1 tsp vanilla.
Drizzle Lemon zest on top after the Glaze
Brush it with oil – add in flour – dust it off
Should be thick
Should see the drips
Ingredients
carrot diced 1 thinly slices
Potatoes 4\5 thinly slices
Peas 1 cup
Corn 1 /2 cup
Bread Crumbs 1 Cup
Butter 2 tbsp
Salt to taste
Cheddar and Mozzarella cheese as required
Garlic and onion. 1 tbsp
cream 1\2 cup
milk 1\2 cup
Chicken powder a pinch
Crushed red chilies a Pinch
Oregano a Pinch
parsley as required
Thyme as required
METHOD
1. Preheat oven to 400°F 200C with oven rack in middle of oven. Cook butter, oil,
and thyme in a small skillet pan over medium until butter is melted and bubbling,
about 1 minute. Remove from heat; set aside.
2. Peel potatoes; thinly slice each, keeping slices in order and forming 6 to 8 stacks
of slices that taper toward the top. Arrange stacks of potato slices in a 10-inch skillet,
or baking casserole dish.
3. Add butter, chopped garlic and onion, suate them, then add cream and milk, add
oregano, chicken powder a pinch and crushed red chillies. Add in blanched diced
carots. And peas.
4. Pour the sauce over potatoes in a deep dish. Roast at 200c until lightly browned,
40 to 45 minutes. Brush with remaining butter mixture; roast until crispy edges form
on potatoes, about 15 minutes. Turn broiler to high. Sprinkle potatoes with cheese
and bread crumbs until cheese is melted, 2 to 3 minutes. Sprinkle with salt and
parsley.

Lemon Bundt Cake Recipe in Urdu and English
At Masala TV you can check complete Lemon Bundt Cake Recipe in Urdu and English. This is one of the best recipes by chef Saad Ahmed at Masala TV show Bake With An Expert. Check out the other best recipes of chefs Saad Ahmed.
Top relevant recipes of Lemon Bundt Cake Recipe in Urdu