Lemon Pie in a Jar Recipe | Masala Mornings | Masala TV | Shireen Anwar | Dessert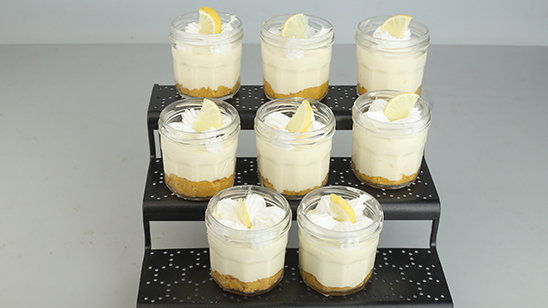 Sep 24, 2023 at 03:30 PM (GMT -04:00)

Check out the Lemon Pie in a Jar Recipe in Urdu. Learn how to make best Lemon Pie in a Jar Recipe , cooking at its finest by chef Shireen Anwar at Masala TV show Masala Mornings. Check all the Pakistan Cooking recipes in Urdu of Masala TV. Also Check Lemon Pie in a Jar Recipe , ingredients and complete Method.
Lemon Pie in a Jar is a burst of flavor that you very much need to tantalize your taste buds!
Watch this Masala TV video to learn how to make Lemon Pie in a Jar ,Sizzling Dhuwan Dahi Kabab and Fish Broast Recipes. This show of Masala Mornings with Chef Shireen Anwar aired on 8 October 2021.
Ingredients for base:
Lemon cream cookies crushed 2 cups
Melted butter 4 ounce
Ingredients for filling:
Curd cheese ½ cup
Cream cheese 8 ounce
Lemon juice 2 tbsp
Condensed milk ¾ tin
Yellow color few drops
Whipped cream 4 ounce + 4 ounce
Lemon slices for garnish
Gelatin dissolved 1 tbsp
Method for base:
Crush cookies, mix with melted butter, spread them on the base of glass jars, press to level base and sides.
Method for filling:
Beat curd cheese, cream cheese, add condensed milk, yellow color, lemon juice, dissolved gelatin, fold in whipped cream, pour filing on top of the biscuits base, leave it to set until firm, give a final layer of whipped cream with some cookies and lemon slices, serve chilled.
Ingredients for kabab :
Beef Mince ½ kg
Onion chopped ½ cup
Green chilies 6
Allspice 1 tsp
Roasted & crushed cumin 1 tsp
Coriander crushed 2 tsp
Bread slice 1 large
Coriander leaves 4 tbsp
Salt 1 tsp
Chili powder 1tsp
Coal to smoke
Ingredients for masala:
Onion chopped 1 cup
Ginger garlic 1 tbsp
Oil ¼ cup
Yogurt ½ cup
Tomato chopped ½ cup
Chili powder 1 tsp
Turmeric ½ tsp
Coriander powder ½ tsp
Mint leaves as required
Coriander leaves as required
Green chilies 2 chopped
Method:
Put all the ingredients in chopper, grind well into a smooth paste, grease your hands, make small seekh kebabs, shallow fry and give dum of coal.
Method:
Heat oil in a wok, add chopped onion, fry for 2 – 3 mins, add in tomatoes, fry well, add ginger garlic with dry seasonings and ¼ cup water, cook for 5 mins, add in smoked kebabs, cover and cook for 10 mins. In a bowl mix onion rings, mint, coriander, green chilies, remove this mixture on a heated sizzler, top with whipped curd, then top with veggies and serve with nan
Ingredients to marinate :
Fish 1 kg
Egg 1
Vinegar ¼ cup
Green chili paste 1 tbsp
Garlic paste 1 tbsp
Salt 1 ½ tsp
Crushed red pepper 1 ½ tsp
Ingredients for seasoned flour:
Flour 2 cups
Garlic powder 1 ½ tsp
Baking powder 1 tsp
Salt 1 ½ tsp
Chili powder 1 ½ tsp
Bread crumbs ½ cup
Oil for frying
Method for seasoned flour:
Mix all the ingredients in a bowl.
Method:
Marinate fish with all the given ingredients for 1 hour then spread in below dry seasonings, deep fry, serve with fries.

Lemon Pie in a Jar Recipe in Urdu and English
At Masala TV you can check complete Lemon Pie in a Jar Recipe in Urdu and English. This is one of the best recipes by chef Shireen Anwar at Masala TV show Masala Mornings. Check out the other best recipes of chefs Shireen Anwar.
Top relevant recipes of Lemon Pie in a Jar Recipe in Urdu