Machli ka Salan Recipe | Mehboob's Kitchen | Chef Mehboob Khan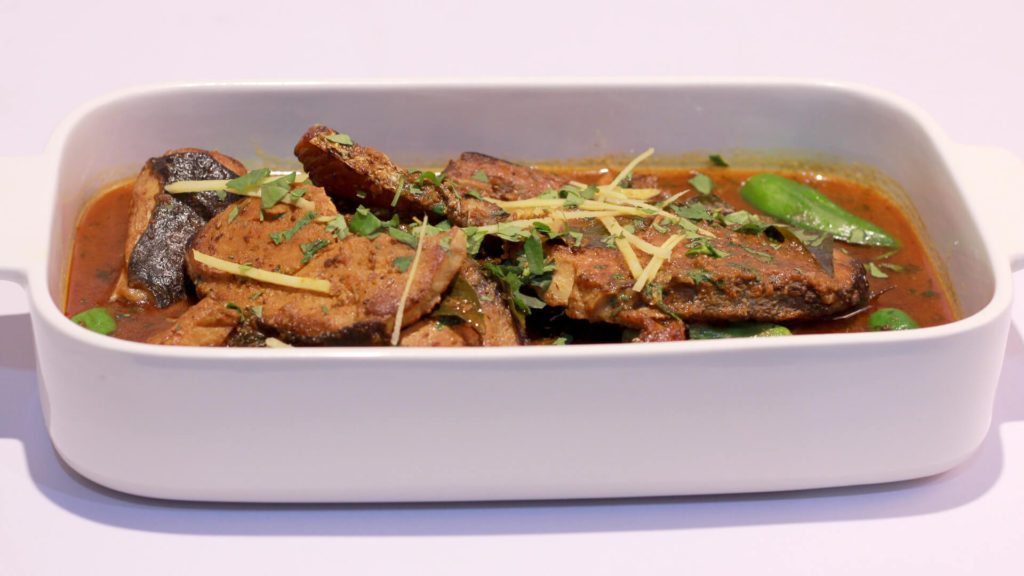 Sep 23, 2023 at 06:48 AM (GMT -04:00)

Check out the Machli ka Salan Recipe in Urdu. Learn how to make best Machli ka Salan Recipe, cooking at its finest by chef Mehboob Khan at Masala TV show Mehboob's Kitchen. Check all the Pakistan Cooking recipes in Urdu of Masala TV. Also Check Machli ka Salan Recipe, ingredients and complete Method.
A must try Machli ka Salan (Fish Curry) Recipe for you to try at home.
Watch this Masala TV video to learn how to make Machli ka Salan,Chicken Cheese Samosa and Maamoul Date Cookies Recipes. This show of Mehboob's Kitchen with Chef Mehboob Khan aired on 23 December 2019.
Ingredients:
Boneless Fish 1 kg
Onions 2
Green Chilies 10
Coriander Leaves ½ bunch
Garlic 2 tbsp
Carom Seeds 1 tsp
Oil ½ cup
Curry Leaves ½ bunch
Cumin 1 tbsp
Coriander Seed 1 tbsp
Red Chili Powder 2 tbsp
Ginger (chopped) 1 tsp
Salt 1 tsp
Turmeric 1 tsp
Lemon Juice 3 tbsp
Method:
Marinate fish with lemon juice, red chili powder, salt and garlic. Leave it for half an hour.Now fry fish on high flame with oil for 5 minutes .Now fry onion with oil in another pot, add red chili powder, cumin, coriander and carom seeds. Cook for 1 minute. Add 2 cups water and cook for a while.Lastly add fried fish, curry leaves, ginger, lemon juice and serve
Ingredients:
Chicken chapli kabab 1 packet
Cheddar cheese 2 cup
Samosa Pattie 1 packet
Onion slice 2 medium
Oil for frying
Egg 1
Flour 4 tbsp
Garlic chopped 2 tbsp
Ginger 1 tbsp
Method:
In a pan heat oil and fry chapli kabab .then add onion and ginger garlic and fry for a minute .then remove it .now in a bowl add egg ,flour and 3 tbsp of water then mix it .and set aside .then in samosa Pattie place the mixture and seal with egg and flour mixture .finally heat oil and fry for 5 to 6 minutes then serve it .
Ingredients for filling:
Date 250gm
Cinnamon powder 1tbsp
Butter 2tbsp
Cardamom powder 1tsp
Ingredients for dough:
Semolina 1-1/2 cup
Flour 1-1/2 cup
Sugar ½ cup
Salt 1tsp
Milk ½ cup
Clarified butter 1cup
Baking powder 1-1/2 tsp
Rose water 4tbsp
Milk powder ½ cup
Method:
In a pan add ingredients of filling and cook on high flame for 3 to 4 min remove and cool . now make small date balls , to make dough mix all ingredients and leave it for 1 hour . now make balls and flatten and place the date ball in center and cover . now put the dough in Maamoul mould and press well, now put this in tray , lastly bake on 170 deg oven for 15 min and serve .

Machli ka Salan Recipe in Urdu and English
At Masala TV you can check complete Machli ka Salan Recipe in Urdu and English. This is one of the best recipes by chef Mehboob Khan at Masala TV show Mehboob's Kitchen. Check out the other best recipes of chefs Mehboob Khan.
Top relevant recipes of Machli ka Salan Recipe in Urdu