Machli Muthia Recipe | Masala Mornings | Shireen Anwar | Sea Food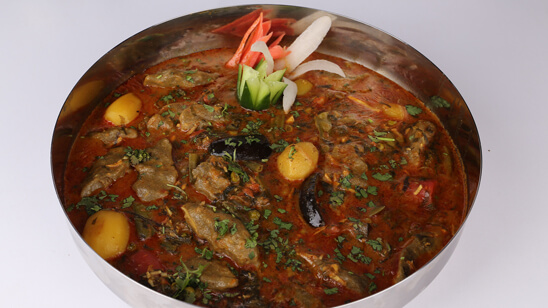 Sep 23, 2023 at 08:00 AM (GMT -04:00)

Check out the Machli Muthia Recipe in Urdu. Learn how to make best Machli Muthia Recipe , cooking at its finest by chef Shireen Anwar at Masala TV show Masala Mornings. Check all the Pakistan Cooking recipes in Urdu of Masala TV. Also Check Machli Muthia Recipe , ingredients and complete Method.
Machli Muthia is the perfect way to Fish. Try this Aromatic style of cooking fish tonight!
Watch this Masala TV video to learn how to make Machli Muthia and Chouri Kay Laddu Recipes. This show of Lazzat with Samina Jalil aired on 8 January 2021.
Ingredients for muthia:
Millet flour ½ kg
Rice flour ½ cup
Fresh coconut grated 3 tbsp
Clarified butter ¾ cup
Garlic paste ½ tsp
Salt 1 tsp
Haldi ½ tsp
Cumin powder 1 tsp
Coriander powder 1 tsp
Coriander leaves grinded 2 tbsp
Green chilies ground 6 small
Ingredients for vegetable gravy:
Spinach finely chopped ½ kg
Fenugreek small 6 bunches
Soya ½ bunch
Potatoes ½ kg
Carrots 3
Peas 1 ½ cup
Fresh beans ½ cup
Sem 1 cup
Broad beans 1 cup
Onion 2 large sliced
Tomatoes 4 chopped
Oil 1 cup heaped
Chili powder 3 tsp heaped
Turmeric ½ tsp
Cumin roasted / crushed 2 tsp
Coriander powder 2 tsp
Salt 1 ½ tsp
Bringles 2 cut
Ingredients for fried fish:
King fish 1 kg sliced
Chili powder 2 ½ tsp
Cumin 1 ½ tsp
Turmeric ½ tsp
Coriander powder ½ tsp
Garlic 1 ½ tsp
Vinegar ¼ cup
Water ¼ cup
Method for muthiya:
Put all these together, knead with lukewarm water to form into a smooth dough, make onto muthias as shown, keep aside.
Method for vegetable gravy:
Heat oil add onions, fry till very light golden, add methi with all the dry spices, chopped tomatoes, salt, and all the vegetables chopped with 4 cups water, cook till vegetables tender, when water boiling add muthias one by one, cook for at least 15-20 mins, lastly add coriander leaves chopped, whole green chilies 4, fresh coconut grated 2-3 tbsp.
Method:
Mix all the spices together in a bowl with vinegar and water into a thick paste, apply on fish and fry, serve muthias with fried fish.
Ingredients:
Wheat flour 4 cups
Flour 1 ½ cup
Fine sugar 1 ½ cup
Clarified butter 1 ¼ – 1 ½ cup
Pure Clarified butter ½ cup
Almonds 125 gm
Pistachio 125 gm
Poppy seeds ½ cup
Edible gum (ground) 250 gm
Cardamom powder 1 tbsp
Nutmeg 1 tsp grounded
Saffron 1 tsp
Mace grounded ½ tsp
Method:
Heat a large pan, add ghee, add both the flours and start stirring on medium flame until nice smell starts coming, fry edible gum little by little in ghee in a separate pan, remove and coarsely ground. Now mix the fried gound to the flour with grounded pistachio and almonds, nutmeg, mace, cardamom powder, zafran, mix very well, the mixture should be on low flame, lastly add fine sugar, keep stirring till sugar melts, remove in a tray and quickly give shape of laddu.

Machli Muthia Recipe in Urdu and English
At Masala TV you can check complete Machli Muthia Recipe in Urdu and English. This is one of the best recipes by chef Shireen Anwar at Masala TV show Masala Mornings. Check out the other best recipes of chefs Shireen Anwar.
Top relevant recipes of Machli Muthia Recipe in Urdu