Madrasi Chicken Curry Recipe | Zarnak Sidhwa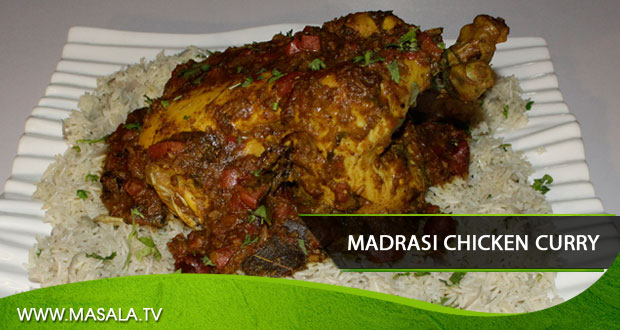 Jun 04, 2023 at 04:01 PM (GMT -04:00)

Check out the Madrasi Chicken Curry Recipe in Urdu. Learn how to make best Madrasi Chicken Curry Recipe, cooking at its finest by chef Zarnak Sidhwa at Masala TV show . Check all the Pakistan Cooking recipes in Urdu of Masala TV. Also Check Madrasi Chicken Curry Recipe, ingredients and complete Method.
Ingredients
To Marinate:
Coriander seeds 2 tbsp
Fenugreek seeds 2 tbsp
Mustard seeds 1 tbsp
Cumin seeds 1 tsp
Fennel seeds ½ tsp
Black peppercorns 1 tsp
Cinnamon stick 1
Cloves 5
Cardamom pods (seeded) 3
Ground turmeric 1 tbsp
Bay leaves, crushed 2
Oil 2 tbsp
Whole chicken 1
Ingredients for the Curry:
Oil 1 tbsp
Finely chopped onion 1
Finely chopped red chillies 2
Finely chopped garlic 2 cloves
Fresh ginger 2-inches piece
Curry leaves 10
Chopped tomatoes 3-4
Chicken stock 200 ml
Tamarind paste 2 tsp
Fresh coriander leaves 2 tbsp
Ingredients for the Rice:
Oil 2 tbsp
Thinly sliced onion 1
Green cardamom pods (crushed) 3
Cinnamon stick 1
Cloves 4
Rice 400 gm
Methods
In a pan, add the coriander seeds, fenugreek seeds, mustard seeds, cumin seeds, fennel seeds, black peppercorns, cinnamon stick, cloves, and cardamom seeds.
Once they start to pop, add them to a grinder and grind until you have a fine powder.
Place the spices, turmeric powder, and bay leaves in a bowl along with the oil and mix.
Apply half the marinade all over the chicken and leave to marinade for 24 hours.
Put the chicken in a deep pan and cook till done.
You may also cook the chicken in the oven for 1-1 ½ hours depending on the size of your chicken.
To check if the chicken is cooked piece the chicken by the leg and thigh and if the juices run clear, the chicken is cooked.
Meanwhile, in another pan add oil, once hot add the rest of the marinade paste and cook for a couple of minutes.
Add the onion, garlic, chilli, ginger and curry leaves and cook.
Add the tomatoes, stock and cook further.
Add the cooked chicken to the sauce and mix well.
For the rice, heat oil and add the onion.
Cook until the onions are golden in colour.
Add the cardamom, cinnamon, cloves and stir.
Add the rice and stir.
Add the water and bring to the boil, turn down the heat to low and cover with a lid.
Cook for 15 minutes then turn off the heat, leaving the lid on and leave to steam few minutes.

Madrasi Chicken Curry Recipe in Urdu and English
At Masala TV you can check complete Madrasi Chicken Curry Recipe in Urdu and English. This is one of the best recipes by chef Zarnak Sidhwa at Masala TV show . Check out the other best recipes of chefs Zarnak Sidhwa.
Top relevant recipes of Madrasi Chicken Curry Recipe in Urdu