Madrasi Vegetable Curry Recipe | Dawat | Abida Baloch | Indian Food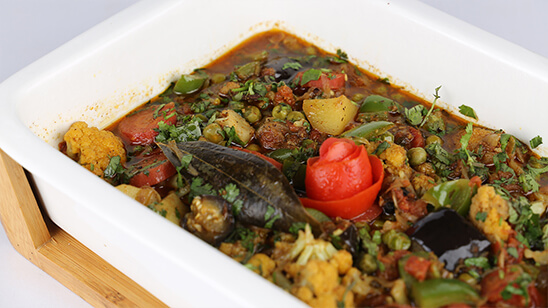 Nov 28, 2023 at 07:27 AM (GMT -05:00)

Check out the Madrasi Vegetable Curry Recipe in Urdu. Learn how to make best Madrasi Vegetable Curry Recipe , cooking at its finest by chef Abida Baloch at Masala TV show Dawat. Check all the Pakistan Cooking recipes in Urdu of Masala TV. Also Check Madrasi Vegetable Curry Recipe , ingredients and complete Method.
Madrasi Vegetable Curry will feel like a burst of flavor in your mouth. It tastes incredibly delicious so don't miss out on this recipe!
Watch this Masala TV video to learn how to make Madrasi Vegetable Curry and Peri Peri Pizza Recipes. This show of Dawat with Chef Abida Baloch aired on 10 December 2020 .
Ingredients:
Sweet Potato (cubed) 1 large
Oil 1/4 cup
Onion (sliced) 1⁄2 cup
Cloves (whole) 4
Green cardamom pods 2
Cinnamon stick 1
Bay leaves 2
Ginger garlic (minced) 1 tsp
Madras curry powder 2 tbsp
Tomatoes (chopped) 1 cup
Carrot (cubes) 1
Cauliflower (chopped) 1 cup
Eggplant cubed 1
Peas 1⁄2 cup
Fresh coriander (chopped) 1⁄4 cup
For Madras Powder:
Coriander seeds 1 tbsp
Cumin seeds 1 tbsp
Black peppercorns 1 tsp
Fennel seeds 1 tsp
Mustard seeds 1/2 tsp
Cinnamon 1
Bay leaf 1
Fenugreek seeds 1 tsp
Star anise 1
Curry leaves 20
Green cardamom pods 2
Turmeric powder 1/2 tsp
Cayenne pepper 1
Red chili powder 1/2 tsp
Method:
For Madras powder:
Roast each of the different whole spice types individually as different spices roast faster than others. Transfer the spices and chili, turmeric powder to a bowl to cool.
When cool, grind them together into a fine powder in a spice grinder set aside. In a large frying pan, heat oil till hot Stir in onion, cloves, cinnamon, cardamom, bay leaves & cook till onion begins to brown. Stir in garlic ginger, curry powder with little bit of water & cook till flavors are released. Add tomatoes & cook for 3 minutes. Reduce heat to low, stir in carrot, cauliflower; eggplant & simmer till vegetables are tender, stirring continuously. Remove whole spices & bay leaves. Stir in peas, season to taste salt, stir in the fresh coriander, sweet potato & serve hot.
Ingredients:
Flour 2 cups
Yeast 2 tsp
Caster sugar 2 tsp
Salt ½ tsp
Egg 1
Oil 4 tbsp
Warm water ½ cup
Garlic (ground) ½ tsp
For The Filling:
Chicken cubes 300 gm
Ginger garlic paste 1 tbsp
Soy sauce 2 tbsp
Peri peri sauce 3 tbsp
Cheese (grated) as required
Black pepper 1 tsp
Salt ½ tsp
Ketchup 1 tbsp
Pizza sauce as required
Capsicum ½ cup
Green chilies 3
Red chili flakes 1 ½ tsp
Oil as required
Method:
For the dough, mix all the ingredients and prepare dough. Leave it for an hour. Then spread the dough evenly and place it on the greased tray. Now heat oil and fry ginger garlic paste and chicken cubes. Then add soy sauce, peri peri sauce, black pepper, salt, ketchup and water. Cook well. Now add red chili flakes, green chilies, capsicum and chicken. Mix well. Then spread pizza sauce onto the dough and add cheese on top. Now bake it in an oven on 180 c for about 30 minutes. Lastly remove and serve hot.

Madrasi Vegetable Curry Recipe in Urdu and English
At Masala TV you can check complete Madrasi Vegetable Curry Recipe in Urdu and English. This is one of the best recipes by chef Abida Baloch at Masala TV show Dawat. Check out the other best recipes of chefs Abida Baloch.
Top relevant recipes of Madrasi Vegetable Curry Recipe in Urdu