Mandi Recipe | Masala Mornings | Shireen Anwar | Middle Eastern Food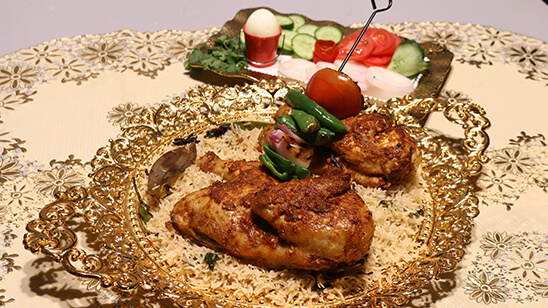 Nov 28, 2023 at 09:20 PM (GMT -05:00)

Check out the Mandi Recipe in Urdu. Learn how to make best Mandi Recipe , cooking at its finest by chef Shireen Anwar at Masala TV show Masala Mornings. Check all the Pakistan Cooking recipes in Urdu of Masala TV. Also Check Mandi Recipe , ingredients and complete Method.
Mandi is a classic Middle Eastern dish that has gained popularity in Pakistan in the recent times. Now you can make it at home too with this recipe.
Watch this Masala TV video to learn how to make Mandi and Kunafa Recipes. This show of Masala Mornings with Shireen Anwar aired on 4 February 2021.
INGREDIENTS:
Chicken with skin cut into half 1 kg
Oil ½ cup
Cinnamon 1 piece
Black pepper whole 3 to 4
Cumin seeds ½ tsp
Sliced onion 1
OTHER INGREDIENTS:
Chicken cube 1
Sliced onion as required
Sliced cucumber as required
Boiled eggs 1-2
Capsicums as required
Green sauce 1-2 tbsp
Mint leaves as required
Coriander leaves as required
Tomatoes as required
Salt to taste
Garlic 2 cloves
Green chilies 1-2
Lemon as required
Paprika 1 tsp
Cumin powder 1 tbsp
Vinegar 4-5 tbsp
Crushed red chilies ½ tsp
Red chili powder 1 tsp
Salt to taste
METHOD :
Fry chicken in little oil along with these whole spices and sliced onion. Once the color appears add water and chicken cubes n let it cook till tender. Once done remove from pot. Keep the stock for rice. In a bowl add paprika, cumin powder, vinegar, red chili powder, crushed chili and salt to taste. Apply this on yr chicken n bake.
For The Rice Boil the rice in stock. Then heat oil add whole spices add rice along with stock n add green chilies some mint leaves n coriander leaves dum. Serve hot.
INGREDIENTS:
Shredded filo pastry 250 grams
Clarified butter melted 1/4 cup
Full fat milk 1 cup
Corn flour 1 tbsp
Lemon juice 1 tbsp
Cream 1/2 cup
Sugar 1/2 cup
Green cardamoms 2
Cardamom powder 1 tsp
Pistachio as required
Rose water 1 tbsp
Orange Blossom water as required
Mozzarella cheese 1/2 to 1 cup
METHOD:
SYRUP:
In a pan add 1 cup of sugar. Half cup of water 02 Cardamom n let it boil. Once sugar is dissolved add lemon juice n let it cook on low flame for 4 to 5 min. Turn the heat off n add 1/4 tsp of rose water n orange blossom water each.
Syrup is ready
CREAM (MALAHBEEH):
In the milk add cream, half cup of sugar, corn flour and let it cook till gets little thickens. Add cardamom powder and Mozzarella cheese. Add rose water n orange blossom water.
CRUST:
Crush the kunafeh dough well. Mix clarified butter in it very well. Press half of the dough well in baking tin. Then pour cream n spread remaining kunafeh dough on top n let it rest for a while. Pre heat oven at 180 °C n bake it till golden brown ( 35 to 40 min). Remove from oven n pour sugar syrup generously while its oven hot. Garnish with rose petals n Pistachio n Serve hot.

Mandi Recipe in Urdu and English
At Masala TV you can check complete Mandi Recipe in Urdu and English. This is one of the best recipes by chef Shireen Anwar at Masala TV show Masala Mornings. Check out the other best recipes of chefs Shireen Anwar.
Top relevant recipes of Mandi Recipe in Urdu