Mini Pizza Recipe | Tarka | Rida Aftab | Italian Food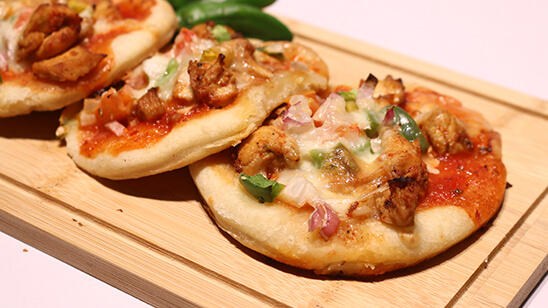 Mar 25, 2023 at 01:59 PM (GMT -04:00)

Check out the Mini Pizza Recipe in Urdu. Learn how to make best Mini Pizza Recipe , cooking at its finest by chef Rida Aftab at Masala TV show Tarka. Check all the Pakistan Cooking recipes in Urdu of Masala TV. Also Check Mini Pizza Recipe , ingredients and complete Method.
Learn to make Mini Pizzas at home that taste incredible. Give yourself and your loved ones a treat with these beautiful looking Pizzas.
Watch this Masala TV video to learn how to make Mini Pizza , Spicy Wings and Zafrani Doodh Recipes. This show of Tarka with Chef Rida Aftab aired on 11 January 2021.
Ingredients For The Dough:
Flour ½ kg
Dry milk ½ cup
Oil ½ cup
Egg 1
Yeast 1 tbsp
Salt ½ tsp
Lukewarm water for kneading
For The Chicken:
Chicken (cubes) ½ kg
Tomato ketchup 1 cup
Garlic 1 tsp
Oregano 1 tsp
Salt ½ tsp
Red chili powder 2 tsp
Chili sauce 2 tbsp
Soy sauce 2 tbsp
Vinegar 2 tbsp
Cheddar cheese 1 packet
Oil 2 tbsp
Tomato 1
Onion 1
Capsicum 1
Method:
For the dough, in a bowl add all the ingredients and knead the dough with lukewarm water. Leave it for half an hour. For the chicken, in the chicken add red chili powder, salt, chili sauce and soy sauce. Mix well. Now heat oil and cook chicken for 10 minute on medium heat until the chicken is tender. Then make small balls of out of dough and spread it evenly. Leave it for 10 minutes. Now in tomato ketchup add oregano, garlic and vinegar. Mix well. Now onto the dough spread ketchup mixture and add chicken. Then add tomato, onion and capsicum. Now sprinkle cheddar cheese and bake it in an oven at 200 c for about 15 minutes. Serve hot.
Ingredients:
Chicken wings ½ kg
Garlic powder ½ tsp
Black pepper ½ tsp
Salt ½ tsp
Onion (grinded) 2tbsp
Paprika ½ tsp
Lemon juice 2tbsp
Vinegar 1tbsp
Oregano ½ tsp
Flour 4tbsp
Oil 2tbsp
Ingredients for Thai sauce:
Tomatoes (boiled) 4
Vinegar 4tbsp
Red chilies 6
Garlic chopped 1tbsp
Ginger chopped ½ tsp
Tomato ketchup 1tbsp
Salt ½ tsp
Sesame oil 1tbsp
Coriander ½ bunch
Method:
Marinate chicken wings with garlic powder, black pepper, salt, grinded onion, paprika, lemon juice, vinegar, oregano and flour. Now bake this on 200 degree for 30 minutes.
For sauce grind tomatoes, now put all ingredients in a pan and cook till it gets thick then add wings, and sprinkle coriander and serve hot.
Ingredients:
Milk ½ liter
Sugar 2-3 tbsp
Condensed milk 2 tbsp
Ice as required
Almonds, pistachios as required
Saffron ½ tsp
Method:
In the blender add milk, condensed milk, sugar, saffron, almonds, pistachios and ice. Blend it well. Lastly add to the serving glasses and serve.

Mini Pizza Recipe in Urdu and English
At Masala TV you can check complete Mini Pizza Recipe in Urdu and English. This is one of the best recipes by chef Rida Aftab at Masala TV show Tarka. Check out the other best recipes of chefs Rida Aftab.
Top relevant recipes of Mini Pizza Recipe in Urdu