Mint Chocolate Ice Cream Recipe | Food Diaries | Zarnak Sidhwa | Dessert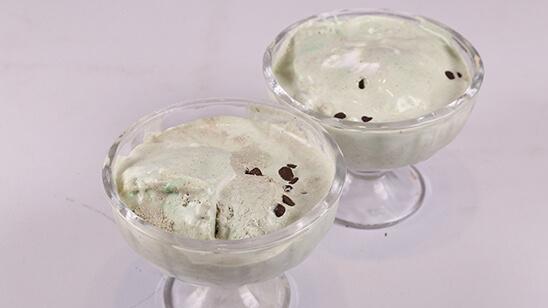 Nov 27, 2022 at 07:35 PM (GMT -05:00)

Check out the Mint Chocolate Ice Cream Recipe in Urdu. Learn how to make best Mint Chocolate Ice Cream Recipe , cooking at its finest by chef Zarnak Sidhwa at Masala TV show Food Diaries. Check all the Pakistan Cooking recipes in Urdu of Masala TV. Also Check Mint Chocolate Ice Cream Recipe , ingredients and complete Method.
We never knew that a Mint Chocolate Icecream tasted so great until we tried this recipe; you must try making this at home too.
Watch this Masala TV video to learn how to make Mint chocolate Ice Cream, Cappuccino popsicles and Peanut Butter Caramel Parfait Recipes. This show of Food Diaries with Chef Zarnak Sidhwa aired on 20 October 2020.
Ingredients:
Milk 1 cup
Caster sugar 3/4 cup
Cream 2 cups
Peppermint essence 1–2 tsp
Chocolate, chopped 4 oz
Green food colour 1 drop
Method :
Mix milk and sugar until dissolved. Stir in cream, green colour and peppermint essence. Beat well and lastly fold in chopped chocolate. Transfer ice cream in airtight container and let freeze overnight.
Ingredients:
Water 1 cup
Sugar ⅔ cup
Corn syrup 2 tbsp
Coffee powder 2 tbsp
Milk 1 cup
Cinnamon 1 tsp
Method:
Bring 1 cup of water and sugar to a boil in a saucepan, cooking until sugar dissolves. Cool for a few minutes and then stir in the corn syrup. Reserve ¼ cup of this sugar syrup and set aside. Mix the remaining sugar syrup with the coffee powder while it is still warm. Cool to room temperature. Combine the milk with the reserved ¼ cup of sugar syrup. Whisk the cinnamon into the milk mixture. Divide the milk mixture among 8 ice pop molds. Divide the coffee mixture evenly among them. Cover and insert popsicle sticks. Freeze and enjoy.
Ingredients:
caster sugar 300g
salted butter 50g
cream 284ml
eggs yolks only 5
milk 500ml
Peanut Butter Caramel:
caster sugar 100g
crunchy peanut butter 2 tbsp
salt as required
Method:
Make the peanut butter caramel by heating the sugar in pan over medium heat. Keep cooking until the sugar caramelises to a dark gold. Take off the heat and leave to cool a little before adding the peanut butter and a pinch of salt and re-melting the lump of caramel it will form. Pour onto an oiled lid and let set. For the ice cream, melt the sugar in the same way, once it is caramelised, add the butter and cream and re-melt everything together. Pour this mixture into the egg yolks and whisk everything together. Add the milk and then strain the lot back into a clean pan. Cook gently over a medium heat, stirring all the time until the mixture begins to thicken a little. don't overcook it or it will scramble. Strain into an airtight box and freeze until the mixture is almost set. Then beat the mixture vigorously once or twice while it firms up. Meanwhile break the peanut butter caramel into chunky pieces. Stir these into the ice cream but don't over mix. Freeze overnight. Serve in scoops.

Mint Chocolate Ice Cream Recipe in Urdu and English
At Masala TV you can check complete Mint Chocolate Ice Cream Recipe in Urdu and English. This is one of the best recipes by chef Zarnak Sidhwa at Masala TV show Food Diaries. Check out the other best recipes of chefs Zarnak Sidhwa.
Top relevant recipes of Mint Chocolate Ice Cream Recipe in Urdu